VASTU NEWS
Pictures have to be pretty
FOR VAASTU INTERNATIONAL COURSES - CLICK HERE
Readers Questions and Answers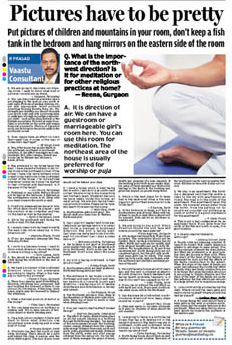 Pictures have to be pretty
Put pictures of children and mountains in your room, don't keep a fish tank in the bedroom and hang mirrors on the eastern side of the room
- Rameshwar Prasad, Vastu Consultant, Delhi, India.
Q. We are going to decorate our drawing room. I want to know what kind of pictures I should put up there.
— Kalpana, Faridabad
A. You can have natural sceneries which are pleasing to the eyes on your north or east walls. Pictures of smiling children, etc, are also appropriate. Avoid pictures depicting burning forests, fires, etc. For strength and stability you should decorate your south- west wall with a picture/ poster or wallpaper of a high mountain peak without water – such as the Alps, Everest or the Kailash mountains. Pictures of water fountains or a tortoise on the north wall means financial prosperity. Photos of departed souls can be hung on the south walls in the southwest corner.
Q. Does vaastu have an effect on one's marriage? Can it come in the way of someone's marriage?
— SP Singh, Delhi
A. Yes, if the house has vaastu faults in the northeast, southeast or southwest direction, it can affect marriages and relationships. But, after remedy, almost any house can be blessed and become a haven of love.
Q. The entrance to my home faces the east. I have placed a fishtank in my living room in the northeast corner of the house. I have one more fishtank which is kept in my bedroom in the southwest corner of the house. I've noticed that whenever I enter my house I've started to feel irritated and depressed. Is it because of the tanks?
— Joy Ghosh, Faridabad
A. Fishtank or any water feature should not be kept in the bedroom. A fishtank in the northeastern corner is ok. Sleep with your head towards the south or east.
Q. Could you please advise me as to how my office desk should be placed – and the position of my computer and files on the desk as well as the seating.
— Patrick Verghese, Delhi
A. Sit in the southwest side facing the north or east. It's that simple.

Q. I usually sleep with my head towards the east side while sleeping. Is this direction ok?
— Manisha Bhalla, Noida
A. If you are regularly sleeping like this, then yes, it's fine.
Q. I work in a business house. I want to know which direction I should be sitting in while working in my office?
— Kirti Lamba , Delhi
A. You should be sitting in the southwest while facing the southwest or the east or the north.
Q. We have a borewell in the southwest direction which is not preferable according to Vaastu . What is the remedy to rectify this problem?
— Varun K Tyagi, Gurgaon
A. There is no remedy, apart from filling it. However, rebuilding your compound wall and locating the borewell outside it can reduce its vibrations. Otherwise, keep heavy plants near the borewell to balance the vibrations.
Q. What is the best position of mirror in the house?
— Vikas Gaur, Faridabad
A. You can hang mirrors on northern or eastern wall. Try to keep mirrors of bedroom closed or inside dressing area.
Q. I'm a high school student in Delhi and want to know what direction one should face while studying and in what kind of room?
— Heena Kunder, Delhi
A. Students can face the north or east when studying. There should be a solid wall behind the chair. A window near the study table is good. The door of your room should not be behind your chair.
Q. What is the importance of the northwest direction? Is it for meditation or for other religious practices at home?
— Reena, Gurgaon
A. It is direction of air. We can have a guestroom or marriageable girl's room here. You can use this room for meditation. The northeast area of the house is usually preferred for worship or puja.
Q. I have a house which is west facing but its entry / exit door is at south- west corner. We are living in this house from last fourteen years. Whatever decision we have taken inside this house, all went wrong. We are also facing financial growth problem. Please tell us remedy apart from leaving the house.
— Akhil Bedi, Delhi
A. Southwestern gate is not good. You should shift your main door in Western Northwest side.
Q. Can I plan for master bed room elevated and car garage below it in cellar. Bed room is planned in Southwest direction. The plot is facing west. Can I plan one more bed room in Northeast for children? Can I plan a sump below it?
— Satyendu Mishra, Faridabad
A. Car location is not good in Southwest under master bedroom. Car garage should be in Northwest. Kid's room can be in Northeast. Don't worry about the sump pump.
Q. My plot is facing southwest. Is that good or bad??
— Diksha Singh, Delhi
A. Southwestern plots are least preferred. Northeast facing plots are best.
Q. The entrance to my house is both in Northeast and east direction and master bedroom is towards South east direction. I am facing a lot of mental disturbance and disturbance in money and career.
— Om Prakash, Noida
A. Use Northeast entrance. Also, sleep in Southwestern or Western side room if possible. Keep top of head to south or east when sleeping down.
Q. How can vaastu shastra affect human beings?
— Supriya Dasgupta, Ghaziabad
A. The effect of vaastu shastra takes place on all the people staying in a building through the following energies - bio energy of the environment around the building, cosmic energy obtained from the cosmos, solar energy obtained from east, north and south poles, gravitational energy obtained from the earth, water and wind energy obtained from the nature etc. On the balance of these energies the peace of mind, health and progress of a man depends. If the building is not built as per vaastu shastra some of these energies are obstructed leading to the faults in the building and gives bad impact on people living there.
Q. Which is the best place for to keep bed in the bedroom? What is the best place for mirror? Best direction for sofa in the hall?
— S Karuna, Delhi
A. If the bedroom is large, put bed in Southwestern area of room. Sleep with top of head to south or east. Mirror should not be exposed. Sofa can be on Southern or western wall.
Q. We are going to buy a plot. Which direction should the plot face and where should the main gate be?
- Rinku Agarwal, Gurgaon
A. All cardinal directions N, E, W and S are accepted. The orientation should not be twisted. Each cardinal orientation has its effect. North and west are for wealth, east is for all good benefits and south is for liberation. For householders E, W, and N are recommended. South- facing plots are not considered good, but the plot with southeast main gate can be taken. The main gate can be in north, east, northeast, western northwest and southern southeast portion of the plot.
Q. We purchased a house about 12 years ago and the well is situated at exactly at south direction. Family members are facing health problems regularly. Is it due to this well? Any suggestion for it?
— Uday Trikha, Delhi
A. If you can do without the well fills it up with earth and rock. If you need a well you can make a new well in the Northeast.
Q. Can staircase be constructed in anticlockwise direction? How many steps should be in stairs?
— Gayatri Rao, Noida
A. Staircase needs to circulate clockwise as it goes up. Number of steps should be odd number.
Q. I am going to move in a north facing house that has a 15 degree tilt in the western direction. The bedrooms are in southeast, south and southwest while kitchen is in the north. What does the vaastu say about this?
— Nisha Kashyap, Faridabad
A. North facing house should have an east rotation not a west rotation. Bedroom of the southwest can be used as master bedroom. Kitchen in the north is also not correct.
Q. We stay in an apartment. The building is designed such that the centre is open to the sky with apartments all round. The road is to the south of the apartment. The apartment faces the south. We however always enter from the north, from the parking lot. So should we consider our entrance as south or north? Is it a good orientation for the apartment?
— R. Mani, Noida
A. This is not a bad configuration for an apartment block. If you enter from the north of the flat and north is open, it is good location.
Q. Is Vaastu shastra related to astrology?
— Monica Grover, Delhi
A. Vaastu rules are planning oriented. It cannot be denied that vaastu shastra is related to astrology to some extent. If in the horoscopes of people the stars Saturn and Mars are prominent or in good position they get success in their work. When the stars of the head of the family are prominent he does not feel the effects of the faulty construction to the extent. When the stars of the head of family are under bad influence the double bad effect of faulty stars and faulty construction are to be borne. But when the entire structure is according to Vaastu Shastra and the stars of the head of the family are under bad influence the bad effects are reduced to a large extent due to auspicious energy.
Q. I am constructing a home facing the west. Where should the main gate and bedroom be located? Where should the bed be placed?
— Lovleen Kaur, Delhi
A. A house facing the west should have a main gate in the west or western northwest corner and the master bedroom in the southwest. When you sleep the top of your head should be towards the southern or the eastern wall.
Mail Today
FOR VASTU SHASTRA IN HINDI CLICK HERE
FOR 45 DEVTAS OF VASTU PURUSHA MANDALA IN HINDI CLICK HERE
FOR 16 VASTU ZONES IN HINDI CLICK HERE
FOR FIVE ELEMENTS OF VASTU IN HINDI CLICK HERE
FOR AYADI VASTU IN HINDI CLICK HERE
FOR GEOPATHIC STRESS VASTU IN HINDI CLICK HERE
FOR VASTU AND COSMIC ENERGY IN HINDI CLICK HERE
FOR VASTU TIPS IN HINDI - CLICK HERE
VASTU TIPS FOR PAINTINGS - CLICK HERE
VASTU TIPS FOR CLOCK IN HINDI - CLICK HERE
VASTU TIPS FOR REMOVING NEGATIVE ENERGY IN HINDI - CLICK HERE
VASTU TIPS FOR POSITIVE ENERGY IN HINDI - CLICK HERE
VASTU TIPS FOR CAREER IN HINDI - CLICK HERE
VASTU TIPS FOR MONEY IN HINDI - CLICK HERE
VASTU TIPS FOR HAPPY MARRIED LIFE IN HINDI - CLICK HERE
VASTU TIPS FOR PLOTS IN HINDI - CLICK HERE
VASTU TIPS FOR BEDROOM IN HINDI - CLICK HERE
VASTU TIPS FOR KITCHEN IN HINDI - CLICK HERE
FOR VAASTU MEDITATION - CLICK HERE
FOR AROMA VASTU TIPS - CLICK HERE
FOR CRYSTAL VASTU (RATNADHYAYA) - CLICK HERE

Rameshwar Prasad invites you to Read Published Articles Written by Him.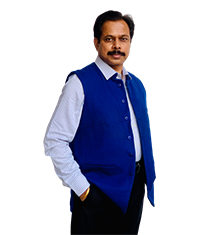 Engineer Rameshwar Prasad
(B.Tech., M.Tech., P.G.D.C.A., P.G.D.M.)
P: (+91-11) 22615299, 22615833
M: (+91) 9810105218, 9654255234