VASTU SHASTRA
Vastu For Griha Arambha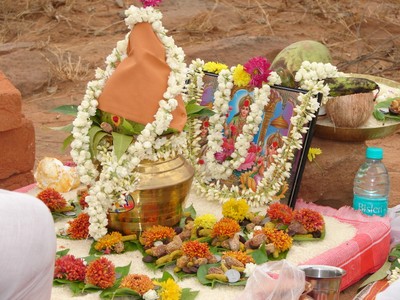 It is extremely necessary to worship the plot (land) before starting the construction. This  pooja, prayer should be done in the north-east corner of the plot on any auspicious Vastu Muhurat for house by a learned Pandit. The first digging must be done by the owner on a auspicious Vastu Muhurat as set by a learned astrologer.
An auspicious day means the "Panchanga" or the five components (Dina, Nakshatra, Thithi, Yoga, Karan) of that  particular date or day is. These components are dependent on the position of the moon and the earth. Good panchanga does not means that particular day is good for every person.
Vaastu Muhurat puja
The day is Good or bad is decided on the "Janma Nakshtra" (Birth Star) of that  person. If that person's Janma Nakshtra is auspiciously compatible with the Nakshtra of that particular day, then that day, date is read to good date for him.
Auspicious Moment or a Suba muhurtha is to be calculated for a particular geographic position within the frame of an auspicious day using the sunrise time for that particular position as the starting point.
Duration of a auspicious moment is usually 3 – 4 minutes.
Monday, Wednesday, Thursday, Friday and Saturday are good days to start construction of Vastu house. Sunday or Tuesday are not good days to start construction of house. So they should be avoided.
House (Vastu) construction started in Shukla Paksha brings happiness, while Vastu Muhurat for construction of house in Krishna Paksha brings loss. So it is better to start the house construction work after well consideration of the Shukla or Krishna Paksha.
Before shifting or starting to Live or work in any new place it is very important to perform a Vaastu Puja. To Start any work on Bhumi (Land), laying of foundation stone, starting excavation and construction, putting the main door are to be done on particular dates of specific months, to make the house good for human habitation with comforts, health and longevity, peace and prosperity.  Vaastu Purush must be remembered and worshipped when you start any new Construction or Renovation.
Generally there will no Muhurat for house construction, temple, palaces, house warming (griha-pravesh) etc. during the period of Ashadh Shukla to  Kartik Shukla, when gods are in sleep (Dev Shayan).
Vastu Muhurat Pooja
1. Digging of the foundation should always be done in the North-East, the logic behind this principle is to keep the North-East level low and light.
2. Construction work of a building is to be always started only after Vaastu Puja (Bhumi Pujan). The construction of building should be started at South-West and proceeds towards North-West/South-East and should end at North-East.
Here are the effects in which month the Construction work is started.
Month                        Effect
March-April                  Results in financial loss and fearfulness
April-May                     It will bring good results
May-June                      It will lead to the fear of death
June-July                       It will result in the loss of cattle wealth
July-August                  Good for the welfare for the family
August-September       Good for the welfare for the family
September-October      It will result in unnecessary fight and enmity
October-November      Ensure acquisition of wealth
November-December   Cause fear of many things
December-January      Result in fear of fire and other troubles
January-February        Good for the entire family
February-March          Ensure gain in wealth, richness etc.
Here we give some of the effects of building the house in a particular day of the week.
Day                        Effect
Sunday                                   Fear of Fire
Monday (Shukla  Paksha)    Happiness and all round prosperity
Monday (Krishna Paksha)    Should not start the work at all
Tuesday                                  Bad effects, fear of fire and death
Wednesday                             Gain in wealth and richness, happiness, family welfare etc.
Thursday                                Long life, happiness & children will attain name and fame
Friday                                   Happiness & peace of mind, full of good activities and functions
Saturday                                 Even if the life of the building will be long, life of inmates will be full of debt, sorrow, misery, laziness and other bad effects
Gruh Pravesh: Once the construction work is completed, the next step is the "Gruh Pravesh".
For the Gruh Pravesh in the new house, The months of January – February – March – April – May – June are considered most auspicious and bring all the benefits.
All days except Tuesdays (Sunday, Saturday in some part of India) are considered auspicious.
The Gruh Pravesh should always be done in the day time.
Er. Rameshwar Prasad invites you to the Wonderful World of Vastu Shastra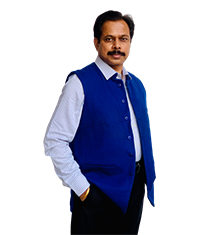 Engineer Rameshwar Prasad
(B.Tech., M.Tech., P.G.D.C.A., P.G.D.M.)
P: (+91-11) 22615299, 22615833
M: (+91) 9810105218, 9654255234