NUMBER EIGHT
Number 8

Number Eight – The Big Shot
FOR VASTU NUMEROLOGY COURSES - CLICK HERE
FOR VAASTU INTERNATIONAL COURSES - CLICK HERE
Famous Number Eight Personalities: Elizabeth Taylor, George Bernardshaw, Pablo Picasso, Jane Fonda, Edgar Cayce
Number Eight Good Traits: Professional, Judgmental

Number Eight Bad Traits: Blunt, Bossy

Number Eight Lucky Color: Red
Your lucky number is 8
Your ruling planet is Saturn.
You are hardworking, daring, courageous and work painstakingly, You are of introvert nature and your life will be full of struggles, miseries and accidents. You will also have to fight with your enemies but emerge always as a winner. You will always have the feeling of revenge. You are very intelligent and serious. You look at things very minutely and have foresight. The amount of struggle you have seen in your life cannot be seen by an ordinary person in his life. And no one can have the amount of patience and tolerance, that you have.
You will be greatly influenced by the planet Saturn , especially if you are born between 20th January to 20th February or from 20th September to 25th October. In that case you will be very successful in business instead of service.
You can succeed in the Business of oils, coal, petrol, iron, machinery, motor parts, contractor of forests, poultry, type and shorthand, computers and printing press etc
For success and progress in your business and job the directions of south, south-west, south-east will be favourable to you. The directions of north, north-west and north-east will not be favourable to you.
For MARRIAGE purpose, the persons born on 3, 4, 5, 7 or 8 of any month will be suitable to you and they can be your FRIENDS also. But the people born on 1, 2, 6, or 9 of any month will not be suitable to you as a marriage partners and will be your enemies.
Caution- Every year during the months of January, March and April, take special care of your health and unnecessary expenditures.
The period from 20th January to 20th February and from 20th September to 25th October brings prosperity and good luck to you. The dates favourable to you are 8, 17, 26 and specially if they fall on Saturday, including Wednesday and Thursday You are advised to do all your important works on these days. You have the chance of getting an unexpected money around the age of 35years. And you have the chances of your progress by leaps and bounds between the age of 35 to 70 years.
The colours favourable to you are black, dark blue and dark grey. To avoid accidents and bad luck you should prefer the Car and two wheelers of the same colours. You should prefer the clothes of same colours and keep handkerchief, pens in your pocket of same colours. The Red and White colours are not suitable to you.
Your lucky year of your life will be the 26, 35, 44, 53,and 62th.
You are likely to suffer from the constipation, arthirities, gout, weekness of bladder, teeth trouble, diseases related to ear and nose. You may suffer from paralyses during your last days. You should keep fast on Saturdays to avoid the health problems.
Your luck can change immediately, solving all of your problems if you have a Yantra suitable to you.
For good luck and the best of health you must wear Sapphire (Neelum) in iron ring made out of the horse shoe of black horse. You can also wear amethist in silver ring.
Lucky Year
It's very favorable year for those who is in their 1st, 3rd, 5th, 6th, 10th, 12th, 14th, 15th, 20th, 21st, 23rd, 24th, 28th, 30th, 32nd, 33rd, 37th, 39th, 41st, 42nd, 46th, 48th, 50th, 51st, 55th, 57th, 59th, 60th, 64th, 66th, 68th, 69th year etc.
Celebrities
Narendra Modi (17/Sep), Dr Manmohan Singh (26/Sep), Sourav Ganguly (8/Jul), Benjamin Franklin (17/Jan), Asin (26/Oct), Shilpa Shetty (8/Jun), Asha Bhosle (8/Sep), John Abraham (17/Dec), Mother teresa (26/Aug)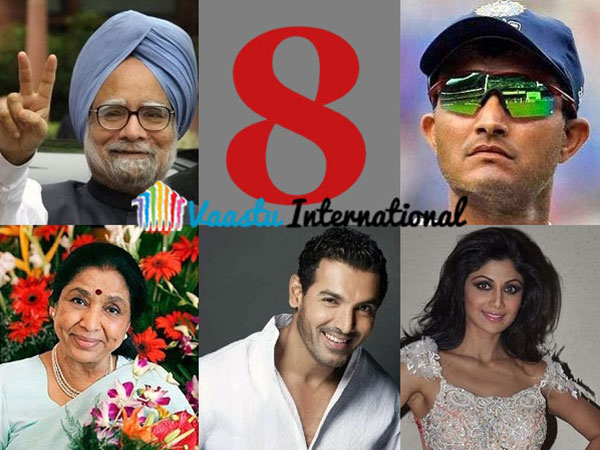 Signature
Number 8 persons should start their signature from zero degrees to nineteen degrees and it should slant upwards. It should have no dots or lines below the signature.

Name characteristics of number eight
Lucky name is devised after careful study of sum number, birth number and planetary details at the time of birth. Still number 8 persons should have their name that sums up top 1, 5 and 6.
Here are characteristics of name numbers of persons whose name sums up to 8, 17, 26, 35, 44, 53 ----
Name number 8
Persons whose name sums up to 8 have no family or domestic life. Most of these persons are sanyasis. They will meet accidents and dangers. They will have success after great struggle.
Name number 17
Person having name number 17 will rise superior in spirit to trials and difficulties of earlier life. they will lose many times and have success less times. They will be strong enough to withstand all the troubles in life. They will get great offices and appreciation. The later part of their life will bring fame to them.
Name number 26
26 number is full of contradictions. It warns of dangers disappointments, failure and unhappy partnerships. Persons whose name sums up to number 26 are debtors. Their business will be crippled because of indirect enemies. They will not have lasting friends. They will have lasting confusion in their life.
Name number 35
Their expenses are more than their income. they will climb and fall down in their life. they will find it very difficult to save their face when they lose. They will have to face litigations in their respective lives. They will have bad health.
Name number 44
They will have fertile thoughts and will earn through arts. But some number 44 persons may bring shame to themselves due to bad deeds. They may be punished by government for bad deeds. They will have stomach, nervous and physical problems. they are benefited in steel, oil, chemicals and vehicles. But business may be crippled due to natural reasons.
Name number 53
They will meet many failures before they could achieve success in their life. they will often be troubled by sadness in their life. business and domestic partnerships are not good for those whose name sums up to number 53. there will be no personal development in life. the number gives success after great troubles. Anything related to public service will prove good for them.
Similarly there are characteristics of persons whose name sums up to 62, 71, 80, 89, 98, 107 and 116.
Numerology 2023 Forecast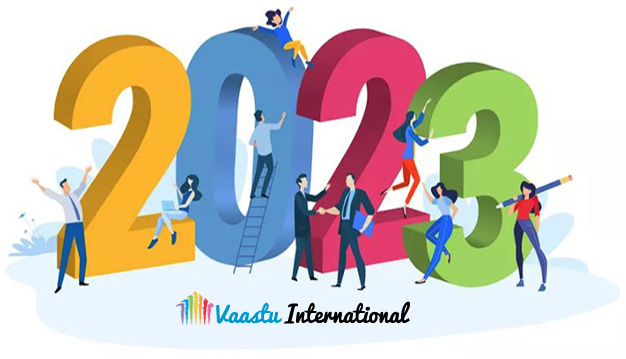 Because of your robust physical energy, you will be able to keep going through the year's trials. You might expect hostility from other folks. Do your best to avoid taking things to heart in whatever matters, be it career or relationship, or health.
Observant, Watchful, Approach, Blueprint and Approach
This year, you will have to deal with the material and financial prospects of your life. It might either be about your properties or your living standards. Apart from that, this year, you will only be moving up and above. The people around you will witness a meteoric rise in whatever field you dedicate yourself to. This will be even more of a surprise to them, given that your 2022 was relatively stagnant. Therefore, it would do you good to get your financial and other documentation word organised, as you will be getting lots of new opportunities in 2023. Also, if you are a shy person, then brace yourself, as you will be under the spotlight at a lot of events. Your finances and career growth depend a lot on your decisions. So, before making a decision, consider it carefully. It is not a good time for you to be changing jobs. That is to say, since this year is a mix of favourable and unfavourable times. So, it would be good for you to be extra cautious. Also, pay special attention to your communication skills. Take care of who you are placing your trust on. It is not very favourable for you to form new relationships, especially with people you have yet to learn about. Lastly, your romantic partner will need your care and assurance, so try to be generous with your time and affection for them.
Number 8 Numerology 2023 Prediction: Career and Money
As per numerology career 2023 for number 8, your career and financial growth in 2023 will be a mix of ups and downs. You will be successful in your decisions if you make them with proper planning and after considering all available alternatives. It is advised that you exercise caution when entering any kind of partnership and think carefully before speaking to others to prevent any miscommunications. If you work in the job sector, it is not advised that you change jobs in 2023 because this year will bring both good and bad times. This year will present you with many opportunities, but you should only seize them in January, August, and October.
Number 8 Numerology 2023 Prediction: Love, Relationship and Marriage
In 2023, those in love should exercise care and avoid placing their blind faith in strangers. Be careful in your relationships and spend as much time as possible with your partners to prevent frustration and misunderstandings. You must consider the bigger picture before concluding any relationship, and only then should you make your decision. As you know, relationships take time to develop, so if you decide to commit to someone, ensure you give them quality time. You may get negative at some point, but you must ignore the negativity and stay positive in your relationship. You should not break the relationship on very few little mistakes of your partner. Overall, this will be average for married people, but you must treat each other with respect, care, and trust so that your bond grows stronger.
Number 8 Numerology 2023 Prediction: Family and Social Life
In 2023, your family will be very encouraging and will inspire you greatly in all areas of your life. You'll feel energized and be able to easily strike a balance between your work and personal life with the help of your family. It is advised that you resolve any disagreements with your families as soon as possible because 2023 will be the best year for your family life. However, you will experience ups and downs in your social life. People may gossip behind your back, but you must remain patient, calm, and mindful of the changing seasons. There doesn't seem to be much support in social life. Therefore, it is advised that you consider your actions carefully before acting to avoid any frustration.
Number 8 Numerology 2023 Prediction: Education
As you are under Saturn's influence, some sort of frustration may be related to your studies. Maintain your focus and confidence in your academic performance. Take excellent care of yourself, and ensure that you get enough rest, eat a healthy diet, and take breaks between study sessions to mentally prepare for the results this year. You will be able to fulfill your dream of studying abroad in another country. It is not advised to make friends this year because people may take advantage of you, so please be cautious when trusting anyone. Overall, students will see 2023 as an average year for their studies, and the only way you can unblock your success this year is to become more independent and less reliant on others.
Number 8 Numerology Remedy for the Year 2023
Your lucky charm is the evil eye. Select a wearable eye evil like a bracelet. Using blue or yellow colored bed sheets or curtains or even clothes will help in the enhancement of your luck and fortune. Fasting on Thursday or Wednesday can help you to implement your strategy easily in your career.
Seek Lord Shani's blessings and light a mustard oil diya (earthen lamp) in a Shani temple.
Offer black sesame seeds to Shivling to remove all obstacles and increase luck.
Lucky Colors - Sky Blue and Green
Lucky Numbers - 1, 3, 5 and 6
Lucky Directions - West and North
Lucky Days - Saturday and Wednesday
Lucky Months - April, June, January
Avoid Colors - Red and Golden
Avoid Numbers - 2 and 9
Avoid Directions - South
Avoid Day - Sunday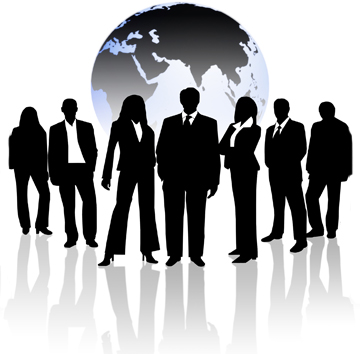 Click on your date of birth to find out the business suitable to you, your marriage partner, your lucky stone, your enemies & friends and the colour of car/ two wheeler suitable to you. Make 2023 your Best Year Ever with the help of our extremely useful forecast.
1 2 3 4 5 6 7 8 9 10 11

12 13 14 15 16 17 18 19 20 21

22 23 24 25 26 27 28 29 30 31