Starting of Work

Staring the construction holds a major part in the appliaction of Vastu.

Things to do Before starting Construction

Determination of Direction
Cleaning of Land
Leveling of Land
Well in East, North or North-East
Raw Material
Construction
Bhumi Pujan
Excavation
Temporay Shed
Determination of Direction The directions of the plot should be dermined with the help of compass, and all the corners of the plot should be 90 degree aligned and boundry wall should always be constructed only after the proper alignment of the corners.
Cleaning of Land The plot should be cleaned before any furnither work is done on the land. Any type of pits, stones, throny bushes etc must be removeed while cleaning the land. If there is a gun arabic tree(babool) in theland, it should be uprooted first. Levelling of Land South-West of the plot should be gently raised in comparison to the north-east side of the plot. If the land contains any well or other depressions, they should be filled up and leveled. Well in East, North or North-East A well or temporary sump should be dug in the east, north or north east and only water from this sump/well should be used for cunstruction and water from any other souurce must not be used for construction.
Raw Material
Raw material to be used for construction like cement, bricks etc. should be kept in the south, west or south-west of the plot, and never in the north east.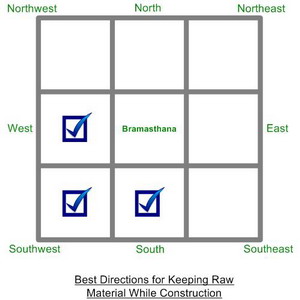 Construction The construction of the house must be started within 90 days from the day of coomplition of the boundry wall. Bhumi Pujan

Its is extremely necessary to worship the land before starting the construction. The prayer should be done in the north-corner of the plot by a learned Pandit.The first digging must be done by the owner or the architect on a aspitious time as set by a learned astrologer. The aspisius munths for starting work are:
March - April
April - May
July - August
October - November
January - February
And the best days for starting the work are:
Wednesday
Thursday
Friday
Excavation
Excavation for the main house or any other portion including the boundry wall should only started from the north-east direction of the house, and it should progress from north to west ot east to south. An when these excavations are to be filled i.e while laying foundation, while starting the construction, they must be filled from south to east and from west to north.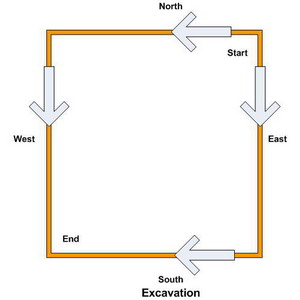 Temporay Shed
A temporary shed, if needed to be constructed, for a watchman or for storage purposes, should be counstructed in the south-west of the plot. And the door of the shed should be in the north-east. The construction of this shed in accordance with Vastu prevents thefts and helps in smooth flow of the constructon work. After the completion of the work/construction of the builing this shed must be demolished; and should not be used for further storage/living etc.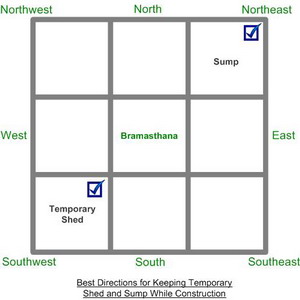 CLICK HERE FOR PRINCIPLES AND TIPS OF VAASTU ARCHITECTURE
CLICK HERE TO KNOW OUR SERVICES AND CHARGES
Rameshwar Prasad invites you to the Wonderful World of Vastu Shastra
CONTACT THE CONSULTANT
Engineer R. Prasad (B.Tech., M.Tech., P.G.D.C.A., P.G.D.M.) VAASTU INTERNATIONAL
49 C (Second Floor), Pocket- B, SFS Flats,
Mayur Vihar,
Phase-III,
New Delhi - 110096,
INDIA
TeleFax : +91-11-22615299 (Landline), Mobile : +91- 9810105218
e-mail : vaastuinternational@yahoo.com vaastuinternational@gmail.com
Languages


English


Franšais


Espa˝ol


Deutsch


Italiano


Portugues