NUMBER TWO
Number 2

Number Two – The Peacemaker
FOR VASTU NUMEROLOGY COURSES - CLICK HERE
FOR VAASTU INTERNATIONAL COURSES - CLICK HERE
Famous Number Two Personalities: Edison, Napoleon III, Bill Clinton, Orlando Bloom, Thomas Hardy, David Beckham
Number Two Good Traits: Friendly, Diplomatic

Number Two Bad Traits: Haughty, Overconfident

Number Two Lucky Color: Turquoise
Your lucky number is 2.
The planet governing you is the MOON, the planet of imagination.
You are very sensitive, imaginative, lover of art, peace loving and of social nature. You may not be strong physically but you are very strong mentally.
You will be more influenced by Moon specially if you are born between 20 June to 25th July. You will have a very active mind and keep your views changing.. This will result in failures in many jobs you undertake Women trust you very easily as you are soft spoken and compassionate. You cannot say no to anyone, and due to that reason, sometimes you have to tolerate the harsh words of your elders.
You can do business in the field of drinks, silver, milk, ghee, curd, sugar, pearls, diamonds, land, agriculture, dentistry etc. Ladies can go in the field of teaching and nursing. They can also succeed in the field of acting, music and dance. You will have the opportunity to travel by sea many times in your life
For your business, house and employment, the directions of north, north-east and north-west will be favourable to you. The directions of south and south-west are not favourable to you.
For MARRIAGE purpose, the persons born on 2, 4, 6, or 9 of any month will be suitable to you and they can be your FRIENDS also. But the persons born on 3, 5 and 8, of any month are not suitable to you as a marriage partners and will be your enemies.
Every year during the months of January, February and December, take special care of your health and keep control on your expenditures.
The period from 20 June to 25th July brings progress and happiness in your life. The dates 2, 11, 20, 29. Also on 1, 4, 7, 10, 13, 16, 19, 22, 25 and 28 your pending jobs will be completed. Sundays, Mondays and Fridays are good to start any work. Your business can flourish in cities situated on the bank of rivers or seas.
The colours favourable to you are Green, Light yellow, White, and light blue. To avoid accidents you should prefer the Car and two wheelers of these colours. You should prefer the clothes of these colours and keep handkerchief, pens in your pocket of same colours. Avoid using black, red & dark blue colours
The 20, 29, 38, 47, 56, 65 and 74th year of your life will be lucky for you. But be careful during 14, 23, 32, 41,50, 51, and 68st year of your life.
You may suffer from problems of lungs, heart, eyes, sleep, asthma etc. if you are not careful.
For improvement in your luck and health , you must keep a fast on Mondays. . For gaining a lot of wealth and success in business, you must keep a suitable Yantra with you and at the place of worship in your house .
For your luck and good health wear Pearl (Moti) in silver ring.
Lucky Year
It's a very favorable year for those who is in their 10th, 11th, 16th, 19th, 20th, 25th, 28th, 29th, 34th, 37th, 38th, 43rd, 46th, 47th, 52nd, 55th, 56th, 61th, 64th, 65th, 70th year etc…
Celebrities
Amitabh Bachchan (11/Oct), Shahrukh Khan (2/Nov), Rajesh Khanna (29/Dec), Vinoba Bhave (11/Sep), Mohandas Gandhi (2/Oct), Ajay Devgan (2/Apr), Sonakshi Sinha (2/Jun).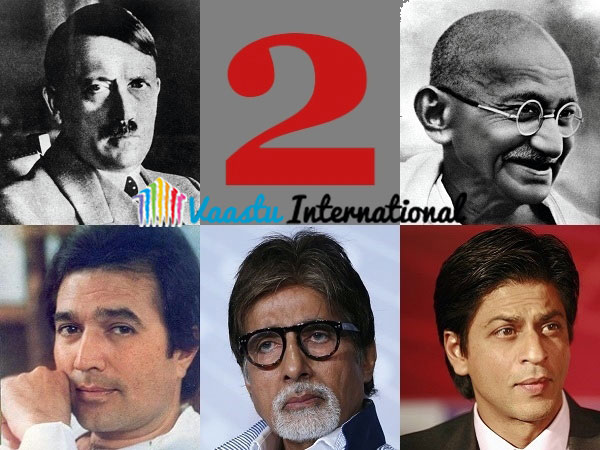 Signature
The signature should slant upwards and length of signature should be from 4 cm to 6 cm. The signature should begin at a point, turn clockwise and slant upwards.

Name characteristics of number two
Number 2 persons should not have name in number 2. Number 2 is influenced by moon and as moon waxes for fifteen days and wanes for 15 days, so there will be ups and downs in the native's life. Number 2 persons should have their names on lucky numbers 1, 5, 3 and 6. But they should avoid their name on 2, 4, 8 and 9. If the birth number is not lucky then name should be devised on the sum number. And suppose you choose 1 as your name number then status of planets associated with it should be taken into account. For example you choose 46 then status of Rahu and Venus should be taken into account. And if you choose 37 as your lucky number then the status of Ketu and Jupiter should be taken into account.
Here are the characteristics of number 2 people whose name number sums up to 2, 11, 20, 29, 38, 47, and 56 and so on.
Name number 2
It represents imagination, parenthood, conception, childhood and dreams. It applies both to both people and entities. They are extremely imaginative and inventive but not as forceful as could be in carrying out their plans and ideas. But development in their life will not be constant. Mostly they are secretive and never let anyone know what the next move might be. At times they may lack self confidence.
Name number 11
It represents two numbers of the same or the opposite situations. Two forces or two desires stand apart and must ultimately unite for happiness. They will do many business and will succeed. But disappointments and sudden accidents are part of their lives. They have to be very careful in money matters.
Name number 20
It is not a material number so it is doubtful regarding financial success. People having name number 20 may have occasional delays and obstacles in their plans but these obstacles may be removed through their developing patience. They will serve society with a sense of dedication.
Name number 29
Life of these people is filled with uncertainty, treachery, deception from others, unreliable friends and unexpected dangers. These people should certainly change the spellings of their name as this number is not satisfactory in many respects.
Name number 38
With the passage of time this number can give fame and position. They can rise to heights in their career. Though number of positive indications is there in life but still they may have to face unexpected incidents in life. Also they may have dangers from hidden enemies.
Name number 47
They will have great development in terms of money. But again unexpected incidents and unreliable people may surround them. They should follow the path of the spiritually to have peaceful and successful life.
Name number 56
These people lives extravagantly luxurious life. But some of these persons earn through foul manners. They will be successful in competitions, games etc. They will not stick to one job or they try to do many things in their life.
Similarly there are characteristics of persons having name numbers like 65, 74, 83, 92 and 101.
A combination of good letters can bring success to those having negative effects on them in their life.
Numerology 2023 Forecast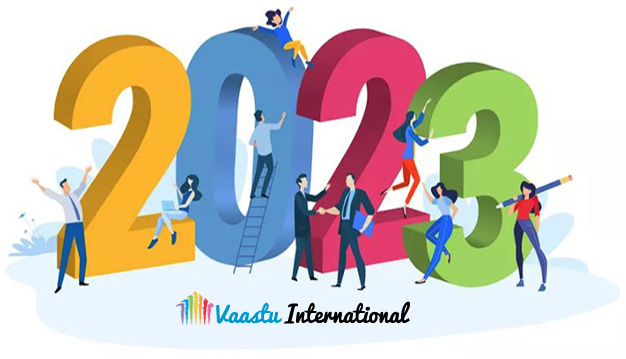 The goals you've set for 2023 numerology for number 2 predictions are, in fact, very much achievable. All you got to do now is maintain your focus. Folks or friends who constantly pull you down should be ignored.
Focus, Achievement, Concentration, Goals, Objectives
You may have had your share of a lone wolf's life. But this year, it will help you better seek out and strengthen meaningful relationships. You may have left behind loads of people when you detach yourself for personal reasons, but now is the time to reconnect with them. Pick up your phone, catch up with people, and do your part in maintaining a relationship. That doesn't mean you have to reconnect with everyone. Select your circle according to your comfort levels. Rest assured, whatever you have worked for will be with you. As for your work sphere, you will meet people, and you have to gel in with them. Your interpersonal skills are going to be tested many times this year. You may face severe consequences if you fail to handle delicate situations correctly. But don't think your efforts will go in vain. People will notice your opinions and ideas, and you will get your due appreciation. Also, you will spend a large chunk of this year looking out for a partner in a true sense. You will not settle down for meaningless flings as you seek genuine and long-lasting connections. Also, control your impulsive actions as they may drag you into a problem.
Number 2 Numerology 2023 Prediction: Career and Money
The numerology career 2023 for number 2 predicts that it will be the best year for career and money growth overall and that there are good chances for people who want to settle abroad, as 2023 is a good year to get a visa. Life can have minor ups and downs, but this year's career and financial growth are positive. You must also take care of your health because increased work demands may cause mental stress or other health problems. Be careful and make every effort to maintain a healthy balance. For number two, you must practice self-love and maintain a relaxed attitude. You would require a revitalizing break to balance work and personal life in 2023. This year, you can save, but you'll need to keep an eye on your spending. You should work while taking brief breaks because although money is important, wealth also includes good health.
Job seekers, in particular, will be able to secure a good job, and those already employed can expect a good year for promotions and increments this year. People looking for job transfers will have a great year this year and can expect transfers. Businesspeople in the export and import industries will have a great time in 2023 and will be able to succeed. You will undoubtedly be successful if you consider new projects, particularly in import and export. Decisions made in February, April, and July can be especially fruitful. You will be able to launch new products or make job changes with success. Overall, you will have plenty of money, but take it easy and avoid adding to your mental stress this year.
Number 2 Numerology 2023 Prediction: Love, Relationships and Marriage
As per numerology love 2023 for number 2, this year could be a good year for love relationships and those who have been having trouble convincing their families to approve of their love marriage. This year will bring you your desired love life and partners. If you are looking for a romantic partner, you have a good chance of finding one, and your parents will likely favor you as well. If your parents initially disapproved of the relationship, they will now support you in your romantic relationships this year.
Married couples can anticipate good relationship growth in 2023, but a stronger bond can only be expected if they spend enough time together. Spending time with your partner will make you feel emotionally and mentally stable. You and your spouse will provide each other with excellent support in both your personal and professional lives this year. Couples without children should expect good news this year regarding starting a family and planning for children. Traveling is also possible this year. Number 2 people will be more spiritual. Overall, numerology prediction 2023 for number 2 indicates that you will feel more energetic and powerful if you and your partner support each other; this will make it easier to deal with mental stress. So, best wishes to all couples and lovers.
Number 2 Numerology 2023 Prediction: Family and Social Life
People with numerology number 2 will experience stress this year, but they will still be able to balance their social and family lives. Your patience and willingness to serve others, which God has endowed them with, will aid you in balancing your family and social lives and even finding solutions to various issues. You will be able to resolve long-standing family issues this year. There may be family get-togethers this year, but despite being under pressure, you will be able to handle everything very well. You will be able to handle many things in your social lives as well, and this year will bring you a lot of goodwill. You have a very good chance of succeeding in their legal endeavors as well. Even in cases that have been pending for a while in court, they will also receive favorable outcomes.
Numerology Prediction 2023 for Number 2 says that they should especially put what they have learned into practice and keep their level of patience constant. They must also keep up their good deeds through the end of 2023. If you manage to balance your social and family life, success will be all yours.
Number 2 Numerology 2023 Prediction: Education
Numerology 2023 for Number 2 education predicts that students who are still completing their studies or who wish to pursue higher education in another country will be successful. The year 2023 is a good and favorable time for everyone to apply for further studies abroad. Higher education abroad can be planned, but there may be some stress this year because number 2 natives will be more passionate and competitive, and you will want to succeed. However, you must maintain your composure and concentration to succeed more readily. Additionally, if you are looking for government jobs, you will be able to find good positions in government agencies this year, so it's best to stay focused on your goals to succeed.
If you set goals and plan to achieve them, you will be able to see yourself shining. Number 2 students tend to become demotivated, negative, and distraught easily; as a result, you must avoid being insecure and read positive thoughts, inspiring stories, and inspiring quotes that will be helpful to you at this time and may contribute to your success. So please keep yourself in a positive environment and negative people at a distance.
Number 2 Numerology Remedy for the Year 2023
Remedy for number 2 to stay focused and on track.
While painting your bedroom, make sure they are sky-blue in color. Wearing Golden colored or Sky-Blue colored clothes will be favorable for you. Fasting on Monday can help you to implement your strategy easily in your career.
Every Monday, take some water, add milk and white till, and do Abhishek on Shivling. This will be extremely beneficial to you.
Reciting the Maha Mrityunjaya mantra will help you stay focused and succeed in whatever you set your mind to.
Lucky Colors - Golden and Sky Blue
Lucky Numbers - 1, 2, 7
Lucky Directions - north/west and north/east
Lucky Days - Sunday and Friday
Lucky Months - February, May, September, December
Avoid Colors - Dark Brown and Gray
Avoid Numbers - 5
Avoid Direction - South-West
Avoid Day - Wednesday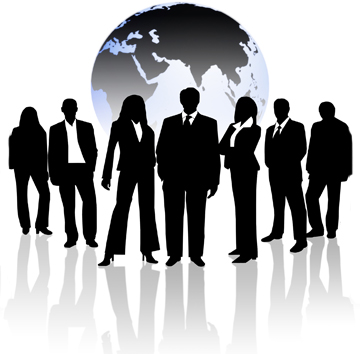 Click on your date of birth to find out the business suitable to you, your marriage partner, your lucky stone, your enemies & friends and the colour of car/ two wheeler suitable to you. Make 2023 your Best Year Ever with the help of our extremely useful forecast.
1 2 3 4 5 6 7 8 9 10 11

12 13 14 15 16 17 18 19 20 21

22 23 24 25 26 27 28 29 30 31