Desigining Your Office

| | |
| --- | --- |
| A few decades ago , offices were treated like machines , catering only to organizational requirements , with little consideration given to the 'people' factor which played almost no role in determining the design of the office. Offices are trying to move away from airless , box-like rooms , to better ventilated , well lit , ergonomically sensitive spaces. Increasingly these are being designed by professionals who , apart from seeing that the spaces work with optimum utilization are able to add an aesthetic touch. | |
Nowadays offices are considered to be a status of a person. In India ,previously the offices were either a part of the home or the royal court. The equipment that made these function were no more than the pen , paper and ink. The first sign of automation or mechanization came with the introduction of the typewriter in the nineteenth century. Then the second bit of mechanization came with the telephone and the cyclostyling machines. In the fifties and sixties , offices were rather simply organized. A very strong hierarchical system prevailed and the office was divided between the bosses who had their rooms , the junior managers who had their small personal cabins , and the general staff who sat in the hall. Then the revolution started with the introduction of mainframe computer in seventies and then there was no looking back , these were followed by mini computers , then with the arrival of personal computers in early eighties and the office set-up began to change dramatically.

The strong hierarchical system was no longer relevant , and a new office order , namely the open office , came into being. The open office had light , air and privacy for all. Typically low height partitions were erected between pieces of furniture to give visual privacy but they were not able to provide the acoustic privacy and the noise was the biggest hurdle. The open plan system can accommodate a wide range of functions from reception to conference room. Here ,both executives and staff are placed in an open area divided into individual or shared workstations , defined by independent storage units or partitions of varying heights. The heights of the dividing panels will depend on their function. Low panels upto 4' , create a feeling of privacy when seated , yet allow one to see or reach over when standing . 5' high panels offer more visual privacy and though the extra tall can still see over are usually high enough for Indian users. Taller panels can be used to define different departmental areas. Partitions can be useful in concealed old unmatched furniture so that this does not clash with modern additions , which would ruin the aesthetic appeal of the office

Then there were so much developments in the designs and now is the trend of modular offices. Designing new offices involves making thousands of decisions . Some of these are easy , others may take more time. Then the difference between a well designed office and a poorly designed one is enormous . get it wrong and you are faced with high overheads , little design flexibility and worst of all the unhappy staff and in the last the work suffers. Space in the office as always at a premium. The key is to use it as well as you can. By coming up with an adaptable partition system to customize your floor space , and full filling all the furniture needs , the designer can help you maximize the use of the space available. In recent years , India has been waking up to another genre of furniture that has long been popular in the west well made modular furniture in wood and particle board. So now the question comes , what exactly is the modular furniture ?? Quite simply , furniture that can be broken down into modules and put back together at will. Machine made for the most part , it is devoid of frills . The advantage of this kind of furniture- often referred to in the trade as CKD (Complete Knock Down) are many.

- For the largest segment , going modular is the key to better living.
- Because it can be dismantled , it is ideal for people who have to move a lot.
- It is cost-effective and convenient , and gives one the freedom to play around with color and form.
- It being light and simply structured , is ideally suited to the match box sized dimensions of modern day apartments.

The atmosphere in the office can greatly influence work output and an increasing emphasis is being placed on making the modern office as pleasant as it is functional. This is not always easy , given the increasingly smaller work spaces to contend with. In such a set-up , going modular is a great idea. Stylish , color co-ordinated contemporary and both environment friendly and practical modular furniture is here to stay. Most furniture lines come is a range of models, to be selected as per individual requirements and budgets. With multiple work surfaces and storage areas above and below the working levels , space is used very effectively. One can add draw units , cabinets , display panels and pin boards whenever and wherever one needs them. All these systems are easy to install , upgrade or relocate and they adapt well to all modern communication data and computer equipment.

Thus , Image is a subtle component that is affected by several variables , some of which may not be possible to change; like the location itself. Image also conveys an important message to those who work in the office. Design requirements will vary from office to office , according to function , organizational style , budget and of course , the image the company wants to present to the world. A pleasant work environment is the management's way of showing that it cares about its people.
Design of Office
The office , where we spend the most significant portion of our working lives in our work places , which is the reason that one should always be very careful about the functionality décor of the working space. Our work space , where we spend at least half our walking time , six days a week , is as important a part of our lives as our homes. The working conditions and the environment in the offices directly affect the way people interact with the family and friends at the end of the day. These also have an influence on our productivity , mental well-being and general health.
PLANNING THE OFFICE : To plan an office effectively , the designer should have a thorough understanding of the functional and aesthetic requirements of the client , followed by an in-depth evaluation of the possibilities and constraints of the given space , including columns , beams , existing plumbing and so on. An office should ideally have enough space not merely to seat its employees , but to locate ancillary and support services , from the stately boardroom to the humble pantry , as well as for circulation between these areas , with adequate access to stairs and fire escapes. When planning a given space , it is important to conceive a long term master plan , keeping in mind planned growth and future requirements , even if the intention is only to implement part of the plan now and execute the rest as needs and funds arise. The master plan would ensure that what is installed now will not have to be dismantled or relocated when new developments take place. This would help eliminate unnecessary wastage of material and labour .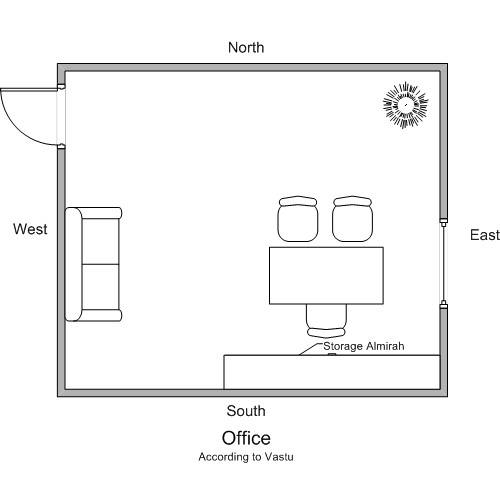 THE RECEPTION AREA : It is the reception area that makes the first impact on the visitor and which colors his expectation of the space ahead. If the business of the company calls for continuous interaction with guests who need to be suitably impressed , then it is important that the reception area be adequately dressed.
The reception can be used to display the company's product or operations with visuals or models.
Alternatively , paintings or aesthetic accessories in the room can be chosen to reflect the company's taste and style.
The receptionist should have direct visual access to be able to keep an eye on office comings and goings .
CONFERENCE ROOM : Conference room is the central area of any office and can give impressions to anyone new having meeting in that room
Conference should ideally be easily accessible from the entrance , so that the visitors do not have to travel all over the office.
The facility of a nearby toilet will be an advantage for the same reason.
The equipment necessary for presentations , such as a screen , TV , video monitor , black board , flip chart etc , needs to be provided .
The design should provide a calm , neutral background for visual presentation and adequate lighting.
The furniture and ambience should be designed so that the participants can communicate with each other
CEILINGS : It is well to remember that ceilings , like any other surface , reflect light and sound , and contribute significantly to the lighting and acoustic qualities of a space.
Suspended ceilings are available in different materials , and increasingly , acoustic tiles and panels are becoming standard , especially in open offices and where no special ceiling treatment is required. Usually made of non-combustible which prevents sound waves being reflected back into the room.
Holes for recessed lights can be cut out wherever required.
Plaster or gypsum board is harder and reflects more sounds then it absorbs .
Exposed structural ceiling are sometimes used to create a hi-tech image , as a stylistic alternative to the typical office interior.
LIGHTING : Good lighting is crucial for effective work , besides which , lighting accounts for a considerable part of the energy consumed in an office. Therefore , two basic elements which the designer must keep in mind are the cost and the efficiency of lighting . On the other hand , it is lighting which makes design come alive and it should be exploited accordingly. It can create a warm , inviting and dramatic interior , or result in a cold and monotonous office.
One effective use of the standard bulb is as a wall wash , which tends to imbue the whole space with incandescence and makes the room warm and friendly.
Incandescent downlights , halogens included , can complement fluorescents and can be used to highlight specific objects , such as desks , plants , paintings , objects , etc.
To reduce eye strain and fatigue , high contrasts should be avoided . Use of job oriented , task lights can be practical , if complemented by general lighting .
Suspended or pendant lights can serve a dual function in this regard , and while providing overall illumination , can be lowered to concentrate on a given space.
A system of selective switching and operational control areawise , or where possible even deskwise , can help restrict usage and operating costs of lighting to only as and when required.
FLOORING : Office flooring is subjected to more wear and tear than any other surface in the room , and it is therefore imperative that it be hardy and resilient.
Flooring materials vary greatly . hard flooring , such as stone , granite , marble , kota , etc. Wood , cement , terrazzo , ceramic tiles , are usually noisier
Soft coverings such as vinyl or carpeting , but they are hardier.
Choice of flooring material will depend on the function of a given area and its requirements where durability , appearance , cost and maintenance are concerned.
Flooring can be used as a design tool not only in an obvious choice of material and color , but to demarcate departments , private/public areas and circulation paths , by a selective use of different hues and surfaces.
STORAGE : While providing enough storage the emphasis today should be on eliminating unnecessary garbage .
The basic storage units such as the cupboards , filing cabinets , drawer unit , open shelf , are still as useful as ever , whether they are free standing or built into walls , or used in lieu of the partitions to save space.
In addition we have certain new innovations such as filing shelves which move on tracks , and which completely fill a given space.
Furniture too can be designed to save space , using the space above and below work tops..
PANTRY: For offices that can afford the space , a clean well designed and pleasant looking cafeteria or canteen will help employees relax.
Pantries should be designed to incorporate all the essentials , such as a hot plate or gas burner with cylinder space below and a sink , a stainless sink is hardy and easy to clean.
A storage cupboard , shelves or hooks can hold the cups and saucers , plates , cutlery , tea , coffee , sugar , etc. A small compact refrigerator is useful for storing milk , cold drinks , preserving food items , etc.
A good garbage storage system will help circumvent the inevitable mass of tea dregs , papers etc.
Disposable plastic cups , plates , if economically viable can save on maintenance and cleaning.
ESSENTIAL SERVICES : coming to the toilets , which perhaps more than any other room , reveals the true class of a company , its attitude to cleanliness and the activity of its employees and visitors.
Bathrooms don't have to be exotic , but they do have to be adequate in number for the staff employed and they have to be clean.
They should have tiled surface , preferably in light plain shades which are not overpowering and which cannot be scrubbed down easily.
Separate toilets for men and women are statutory to a given number of employees . The traps , the Indian and the western WC with the urinals to accommodate all the users.
If ventilation is less than ideal , an exhaust or ceiling fan may help , for there are few things as off-putting as a smelly toilet.
Facilities for dispensing toilet paper , towel , hand dryer etc , should be provided.
Thus, planning the ideal offices large and small , opulent and spartan , the professionals can help make the complicated thing , simple to understand and to work out.
CLICK HERE FOR PRINCIPLES AND TIPS OF VAASTU ARCHITECTURE
CLICK HERE TO KNOW OUR SERVICES AND CHARGES
Rameshwar Prasad invites you to the Wonderful World of Vastu Shastra
CONTACT THE CONSULTANT
Engineer R. Prasad (B.Tech., M.Tech., P.G.D.C.A., P.G.D.M.) VAASTU INTERNATIONAL
49 C (Second Floor), Pocket- B, SFS Flats,
Mayur Vihar,
Phase-III,
New Delhi - 110096,
INDIA
TeleFax : +91-11-22615299 (Landline), Mobile : +91- 9810105218
e-mail : vaastuinternational@yahoo.com vaastuinternational@gmail.com
Languages


English


Français


Español


Deutsch


Italiano


Portugues