PYRAMID VASTU
New Pyramid Products
Promax 3G Gold
Introducing the Fastest, Smallest and the best in results....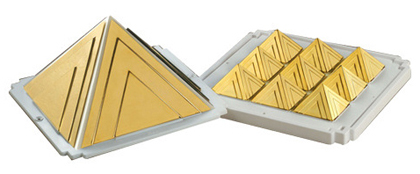 Promax (introducing the ultimate pyramid yantra !)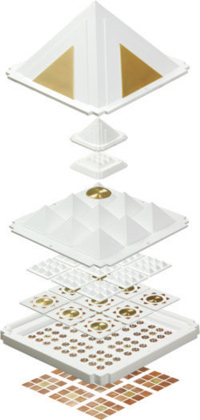 After the success of Max & SuperMax Prof. Dr. Jiten Bhatt have invented the Ultimate Pyramid Yantra - PRO-MAX. With many new applications for fast results.
Must for-
Comercial Property activation
Project Idea / Map activation
Process activation
Procurement activation
Land & Building activation
Finance activation
Marketing activation
Residential / Industrial property activation
Investment property activation
Farm or Spiritual property activation
SECRET FEATURES
Empowered with nine layer energy grid.
First time ever Multi-Action ProMax top with mini max at the top.
4 side Gold triangular interacting plates on the top.
Micro-Max at the optimum energy center of the ProMax.
Supported by the cosmic harmonizing plate at the bottom with 81 PyraDevine.
Max Chips, 9 Gold booster ring plate with 72 directional copper arrows 81 copper yantra with radiating crystals in the center. Plus power of 9 Gold and 72 support plates.
MYSTIC BENEFITS
Due to it's powerful 9 energy grid it generates and transmits positive.
motivating force in your property.
Great results can be achieved with this innovative ProMax due to it's design.
Can solve problem which normally look impossible.
EASY TO USE
It can be use in two ways, one at the place or at the site and secondly at a distance at your home or office. Just place your wish in between the seventh and eight grid i.e. on the crystals and copper yantra.
Use for three months to crystalize beneficial results.
You can replace Max or SuperMax where ever you need more power.
ProMax is 9 times more powerful than Max. For bigger properties 9 ProMax can be used in the center.
For small property it is recommended to use 8 Max and one ProMax in the center.
Multier Advance (Now you have in hand most ADVANCE version of Multier)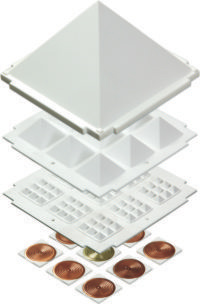 The simplest and most powerful tool " Multier 9x9 " is an innovation of Prof. Dr. Jiten Bhatt for Vastu and Fengshui corrections and energy balance. Now you have in hand it's most ADVANCE version, Multier - Advance.
Widely used for center activation, spiritual room shifting, land charging & so on. Made up of 'Neutron' Polymer for more accurate results and perfection.
Multier - Advance contains one PyraTop, one Pyraplate and nine Pyrachip Plate with Gold & Copper discs.
The Top fits into the plate and chip-plate is to be fixed at the bottom with an adhesive. It can be installed on the wall, ceiling or under ground as per requirement.
The number of Multier will increase in multiples of 9 such as 27, 81 and 405… but this depends on the area and the strength of the problem.
advance design
New computerized design is the result of the high-tech advance techology and innovative research. This advance design will lead to fast results, easy fixing and installations also.
fast results!
The 4 Layer concept of Mulier - Advance add more power to the Original Multier. This is responsible for fast results.
time saving
Due to inbuilt chips and 3 easy fixing modules arrangement of Top, Plate and Chip-Plate it is a boon to all. This saves the time and fixing is very fast.
easy installation
Very simple and time saving installation method is also evolved in this Advance model. Simple 2 screw for fixing on wall or ceiling and fix 3 layer with glue incase of installing under ground.
Booster 9x9 (to boost the power of multier and bemor)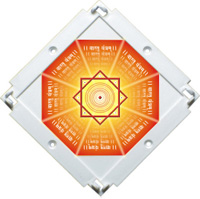 To get better results in PyraVastu, the new Booster plate is enriched with a special 'Vastu Yantram'. This booster plate is to be fixed at the bottom of versatile Pyravastu tools like the Multier 9x9 and Bemore. This booster plate is not only to enhance the power of these tools, but also to take care of their easy fixing on the wall or ceiling. Using this plate saves time as the chips to be fixed at the bottom are held in place by the booster plate.
Divine Aum 9x9 (Divine Aum 9x9)
Gives support to past, present and future.
Helps you to raise from small everyday problems towards finding solutions.
Opens Possibilities and brings out your potential.
Ideal for those who want personal growth and want to understand deeper meaning of life.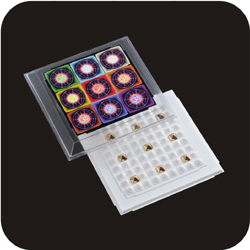 Mystic Eye 9x9 (Mystic Eye 9x9)
Protects from the Evil eye.
Use in shops, offices, homes and factories.
Ideal for Prosperous and flourishing businesses.
Helps to get harmony, peace and happiness.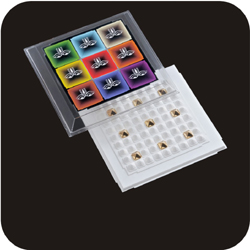 Triple Luck 9x9 (Triple Luck 9x9)
Improves fortune by removing blocks in luck.
Use for shops, offices, homes and factories.
Ideal for home and especially at workplace.
Helps in improving results by controlling fate.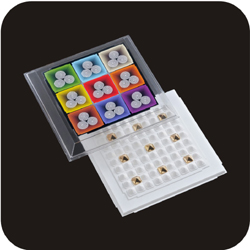 Er. Rameshwar Prasad invites you to the Wonderful World of Pyramids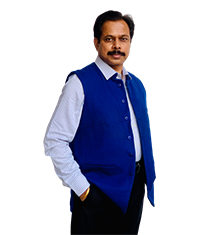 Engineer Rameshwar Prasad
(B.Tech., M.Tech., P.G.D.C.A., P.G.D.M.)
P: (+91-11) 22615299, 22615833
M: (+91) 9810105218, 9654255234

Pyracard Calculator : Click Here For Finding Missing Numbers in your Birth Date for using Pyra Card