VASTU SHASTRA
Vastu Devta - ROGA (रोग)
This square is a drainer and a weakener, related to the immune system and timely support. Samarangana Sutradhara identifies 'Rog, as 'Jvara or Fever'. Alternative Name of this square is Vayu. Vayu is lord of the winds. Vayu is described in Rig Veda as having 'exceptional beauty: ideally the first partaker of soma juice which he seems to be especially fond of. The name Vayu comes from the root, 'Va, which means 'to blow'. He is also known as Marut (Immortal), Anila (Breath of life), Vata (Wandering, He who is in perpetual movement), Pavana ('the Purifier') and sometimes Prana ('the breath').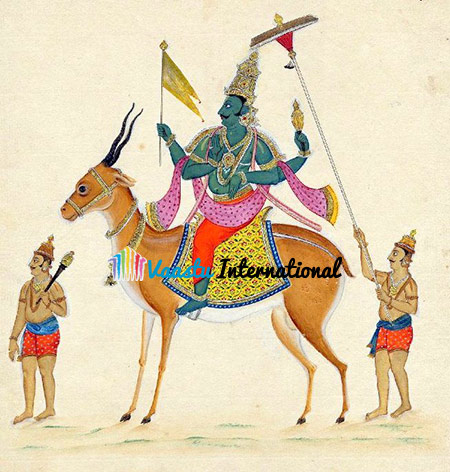 FOR VAASTU INTERNATIONAL COURSES - CLICK HERE
Vayu is the 'deity of Life', who is sometimes referred to as 'Mukhya-Vayu' (the chief Vayu) or 'Mukhya Prana' (the chief of Life) for clarity. Invisible, Vayu moves in the heavens as well as in the human body as the vital breath (prana).
Vata, an additional name for Vayu, is the root of Sanskrit and Hindi term for atmosphere i.e., 'Vatavaran' meaning atmosphere. His task is to guard the north-west 'horizon'. Vayu is the lord of Swati Nakshatra.
Vayu is a trusted friend of Indra and a hero who shares glory of victory with the latter. He is swift as mind, thousand-eyed and the Lord of thought. He is praised in Vedic hymns as the Intelligence, who illumines the earth and heaven and makes the dawn to shine. Vayu is described ·as moving noisily in his shining coach, driven by two or fourty-nine or one-thousand white and purple horses. His main attribute is a white banner. Like other atmospheric deities, he is a fighter and destroyer, powerful and heroic.
25. ROG (NW) :
• Drainer of energies, Fever.
• If balanced, it destroys diseases and gives abilities to deal with tough times.
• Death like pain if entrance here.
• If balanced, makes a person energetic and supportive.
• Toilet - fails to receive support.
• Mother of the family is more disturbed if imbalanced.
• Grey Stones or similar photos kept here give stability.
• If someone claims - "boss is not supporting, keep his own photo with boss here"
• Family photo also recommended here.
• Brass element is good here.
• "Izzat ki dhajjiya ud jaati hai if entrance here.
Devta (देवता)

ROGA (रोग)

Alternative Name
Roga, Vayu, Samirana, Marut, Vyadhi, Jvar
God
Vayu (वायु)
Direction
NW
Planet
SATURN
Attributes
WEAKNER
Samagri
घी, भात, मेद (वसा)
Mantra
ऊँ शिरीमे श्रीर्यशो नमः
समराङ्गण सूत्रधार
मारुतो वायुरुद्दिष्टः ॥
मन्त्र
(विश्वकर्म प्रकाश)
आ वायो भूष शुचिपाऽउप नः सहस्रन्ते नियुत विश्ववार ।
उप तेऽअन्धो मद्य-. मयामि यस्य देव दधिषे पूर्खपेराँवायवे त्वा ॥ ॥
धातु
सोना
वनष्पति
सर्वोषधि, कुल्थी, चिरायता
रत्न
नीलम
चिन्ह
वर मुद्रा, पाश, मृग
रंग
लाल
हवन सामग्री
सर्वोषधि, कुल्थी, चिरायता. भात, घी, हल्दी
Role
Weakner, Fatigue
Grocery
Roman Coriander (धनिया)
TO KNOW MORE ABOUT 45 VASTU DEVTAS [ENERGY FIELDS] - CLICK ON BUTTONS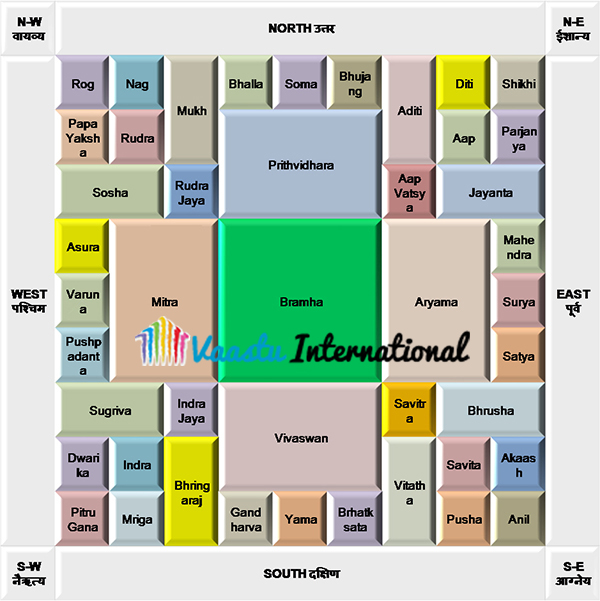 Like Rudra, Vayu also brings medicines to cure people. Having medicinal qualities, this square is thus suitable for doctor's clinic and medication. It has been said that cows yield milk for Vayu's sake. As vayu is related to milch cows, cowshed is also auspicious in this square. Vayu is a protector of people.
Māruta (मारुत) - The Wind God, appointed father of Bhīma. He was appointed to destroy the Asuras with Agni; He is the lord of gandhas or scents.
Marut is also the foster father of Hanuman, the carrier of Sanjivani Buti. The proper management of the five vayus keeps the person fit.
Good For Bedroom for Guests, bedroom for marriageable daughters, servant quarters.
If unfavorable - Residents are greedy, insatiable, always unhappy - unsatisfied, gloomy, show off in society, suffering from diseases due to imbalance vayu, Main door here may result in legal issues.
Remedies - Use kulthi for garbh vinyas, Yajna with sarvoshadhi, ghree, haldi and cooked rice.
He represents speed. This zone is in continuous movement. Nothing here can stay here permanenty. Speed must be controlled or guided else becomes uncontrollable.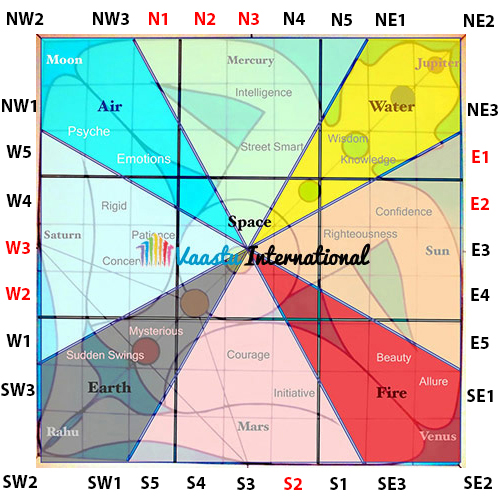 FOR VASTU SHASTRA IN HINDI CLICK HERE
FOR 45 DEVTAS OF VASTU PURUSHA MANDALA IN HINDI CLICK HERE
FOR 16 VASTU ZONES IN HINDI CLICK HERE
FOR FIVE ELEMENTS OF VASTU IN HINDI CLICK HERE
FOR AYADI VASTU IN HINDI CLICK HERE
FOR GEOPATHIC STRESS VASTU IN HINDI CLICK HERE
FOR VASTU AND COSMIC ENERGY IN HINDI CLICK HERE
FOR VASTU TIPS IN HINDI - CLICK HERE
VASTU TIPS FOR PAINTINGS - CLICK HERE
VASTU TIPS FOR CLOCK IN HINDI - CLICK HERE
VASTU TIPS FOR REMOVING NEGATIVE ENERGY IN HINDI - CLICK HERE
VASTU TIPS FOR POSITIVE ENERGY IN HINDI - CLICK HERE
VASTU TIPS FOR CAREER IN HINDI - CLICK HERE
VASTU TIPS FOR MONEY IN HINDI - CLICK HERE
VASTU TIPS FOR HAPPY MARRIED LIFE IN HINDI - CLICK HERE
VASTU TIPS FOR PLOTS IN HINDI - CLICK HERE
FOR VASTU TIPS ON BEDROOM IN HINDI - CLICK HERE
FOR VAASTU MEDITATION - CLICK HERE
FOR AROMA VASTU TIPS - CLICK HERE
FOR CRYSTAL VASTU (RATNADHYAYA) - CLICK HERE
FOR ART OF GIVING - CLICK HERE
FOR VASTU NUMEROLOGY - CLICK HERE

Er. Rameshwar Prasad invites you to the Wonderful World of Vastu Shastra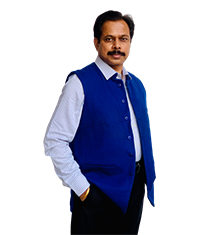 Engineer Rameshwar Prasad
(B.Tech., M.Tech., P.G.D.C.A., P.G.D.M.)
P: (+91-11) 22615299, 22615833
M: (+91) 9810105218, 9654255234