VASTU SHASTRA
Vastu Devta - Nag (नाग)
Naga or sarpa is a Sanskrit word for an Indian cobra. Naga is a deity or class of entity or being, taking the form of a very great snake. Hindu texts refer to three prominent naga deities - Shesha, Vasuki and Takshaka. This square is also related to craving and lusty graving. Samarangana Sutradhara identifies 'Naag' as, vasuki, the king of snakes. Importance of Naga is also found in Shrimadbhagvad Geeta, where Lord Krishna says, "Of sarpas (snakes) I am Vasuki'.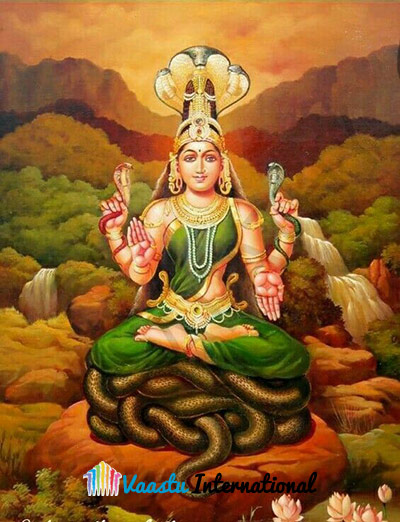 FOR VAASTU INTERNATIONAL COURSES - CLICK HERE
Vasuki is the great king of nagas and has a gem (Nagamani) on his head. Manasa, another naga, is his sister. Vasuki is famous for coiling around the neck of Lord Shiva. Lord Shiva blessed Vasuki and wore him as an ornament. Vasuki also took part in the incident of Samudra-manthan, the churning of the ocean of milk. He allowed devas (gods) and asuras (anti-gods or demons) to bind him to Mount Mandara and use him as their churning rope to extract the ambrosia of immortality from the ocean of milk. As this square is deeply related to Yoga-nidra and Samudra-manthan, it becomes the right place to review one's daily karmas, performing deep meditation, introspection and self-development too.
26. NAG (NW) :
• Generates Lust and desire.
• Entrance causes jealousy.
• Imbalance here will attract people but they will be jealous.
• Products here will attract people.
• Mirror here may increase materialistic desires manifold.
• Ironing table is not recommended here. 
• Shoe-rack is not allowed.
• Residents are less liked by others if dustbin if kept here. People don't want to attach themselves to such residents.
• Lakshmi ji Silver Moorti is excellent for Financial Gains
Devta (देवता)

NAGA (नाग)

Alternative Name
वासुकि
God
Vayu (वायु)
Direction
NW
Planet
RAHU
Attributes
CRAVING
Samagri
फल-पुष्प, नागकेशर, दूध का दान, जायफल, घी, खीर
Mantra
ऊँ नमोऽस्तु सर्पभ्योयेकेच नमः
समराङ्गण सूत्रधार
भुजङ्गमानामधिपः श्रीमान् नागस्तु वासुकिः ।
मन्त्र
(विश्वकर्म प्रकाश)
ॐ नमोस्तु सर्पेभ्यो ये के च प्रथिवी मनु ।
ये अंतिरिक्षे ये दिवि तेभ्यो: सर्पेभ्यो नमः ॥
धातु
वनष्पति
जायफल, नागकेशर
रत्न
चिन्ह
मूसल, शूल
रंग
लाल
हवन सामग्री
जायफल, नागकेशर, घी, लजा, गाय का दूध, खीर
Role
PA, Secretary
Grocery
जायफल, नागकेशर, घी
TO KNOW MORE ABOUT 45 VASTU DEVTAS [ENERGY FIELDS] - CLICK ON BUTTONS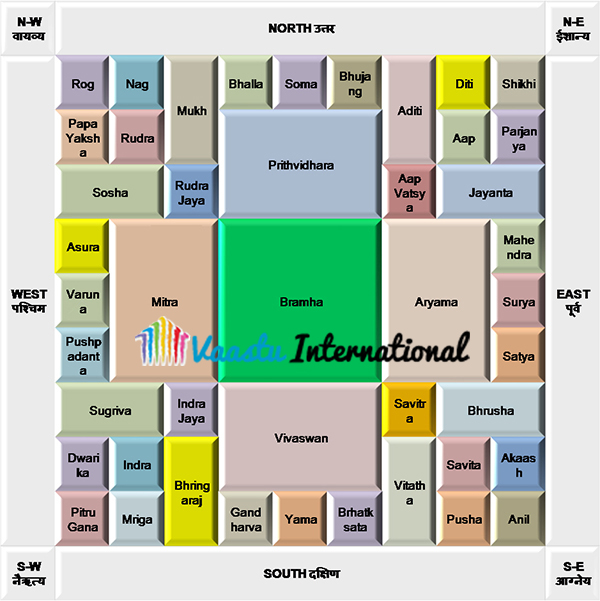 Nāga-bhasma can destroy all the premaha-rogas, vātaja-rogas, specially dhanurvāta-rogas etc., and also twenty types of śleṣmaja-(kaphaja)-rogas undoubtedly. Rasaśāstra (रसशास्त्र, rasashastra) is an important branch of Ayurveda, specialising in chemical interactions with herbs, metals and minerals.
Vasuki is a giant snake, the king of all serpents. Some stories put the name of the king of serpents as Takshaka, who was the snake who was responsible for Parikshit's death.
Vasuki was used as the rope with which mount meru was bound to churn the ocean. The strain caused him to exhale Halahal, the most potent venom in the universe. वासुकि presides over Paratāla (also called Varatāla) refers to one of the seven 'subterranean lokas'.
Good For Pond, Chamber for PA/Secretary, Eye Specialist.
If unfavorable - Resident becomes cruel, dominant in a negative aspect, gets bad name.
Remedies - Perform Yajna with Jayfal, Ghee and Laja (fluffed rice).
This is the zone best for chemistry labs, labs for producing medicines.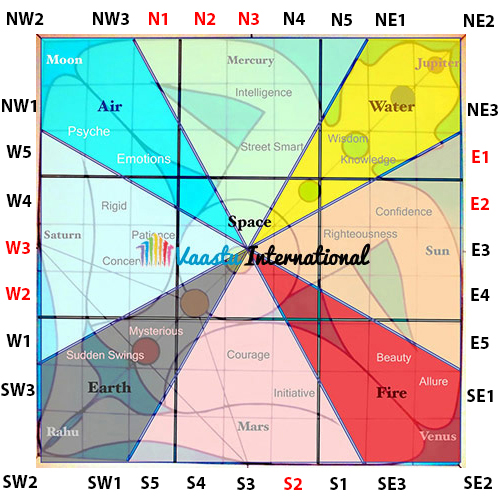 FOR VASTU SHASTRA IN HINDI CLICK HERE
FOR 45 DEVTAS OF VASTU PURUSHA MANDALA IN HINDI CLICK HERE
FOR 16 VASTU ZONES IN HINDI CLICK HERE
FOR FIVE ELEMENTS OF VASTU IN HINDI CLICK HERE
FOR AYADI VASTU IN HINDI CLICK HERE
FOR GEOPATHIC STRESS VASTU IN HINDI CLICK HERE
FOR VASTU AND COSMIC ENERGY IN HINDI CLICK HERE
FOR VASTU TIPS IN HINDI - CLICK HERE
VASTU TIPS FOR PAINTINGS - CLICK HERE
VASTU TIPS FOR CLOCK IN HINDI - CLICK HERE
VASTU TIPS FOR REMOVING NEGATIVE ENERGY IN HINDI - CLICK HERE
VASTU TIPS FOR POSITIVE ENERGY IN HINDI - CLICK HERE
VASTU TIPS FOR CAREER IN HINDI - CLICK HERE
VASTU TIPS FOR MONEY IN HINDI - CLICK HERE
VASTU TIPS FOR HAPPY MARRIED LIFE IN HINDI - CLICK HERE
VASTU TIPS FOR PLOTS IN HINDI - CLICK HERE
FOR VASTU TIPS ON BEDROOM IN HINDI - CLICK HERE
FOR VAASTU MEDITATION - CLICK HERE
FOR AROMA VASTU TIPS - CLICK HERE
FOR CRYSTAL VASTU (RATNADHYAYA) - CLICK HERE
FOR ART OF GIVING - CLICK HERE
FOR VASTU NUMEROLOGY - CLICK HERE

Er. Rameshwar Prasad invites you to the Wonderful World of Vastu Shastra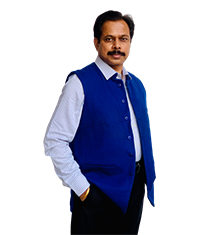 Engineer Rameshwar Prasad
(B.Tech., M.Tech., P.G.D.C.A., P.G.D.M.)
P: (+91-11) 22615299, 22615833
M: (+91) 9810105218, 9654255234