VASTU SHASTRA
Vastu Devta - Bhudhar (भूधर)
'Kshitidhar' or 'Bhudhar' means, dwelling in the earth, earth supporting, mountain etc. Bhudhar is an allusion to mount Meru, a sacred mountain. According to the ancient Indian cosmological representation, it was situated at the centre of the universe and thus constituted the axis of the world. It was a dwelling, meeting and resting place for the gods. The pole star, situated directly above this mountain, is the Sudrishti, the divinity 'who never moves'.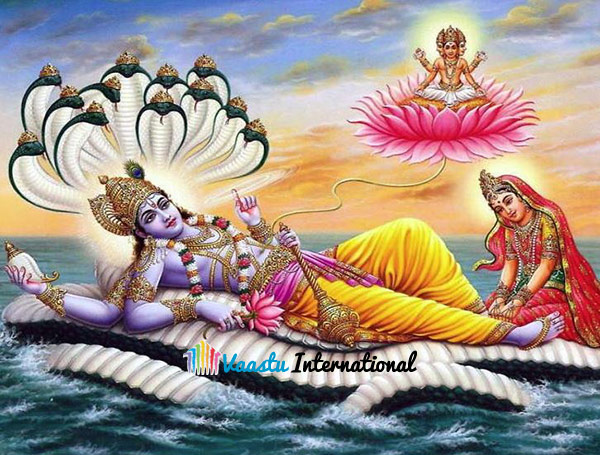 FOR VAASTU INTERNATIONAL COURSES - CLICK HERE
Samaranganasutradhara identifies Kshitidhar as, 'Ananta'. Ananta (endless) or Shesha (Sesha, the serpent) is also known as Sheshanaga or Adishesha (the first Sesha). He is the nagaraja or king of all the nagas and one of the primal beings of creation. Naga also means mountain or 'That which does not move'. 'Shesha' in Sanskrit texts, especially those relating to mathematical calculation, also implies the 'remainder' - that which remains when all else ceases to exist because when the world is destroyed at the end of the kalpa, Shesha remains as he is. It is said that when Adishesa uncoils, time moves forward and creation takes place and when he coils back, the universe ceases to exist.
41. BHUDHAR (NNW, N, NNE) :
• Power of Manifestation.
Devta (देवता)

BHUDHAR (भूधर)

Alternative Name
शेषनाग
God
Prithwidhar (पृथ्वीधर)
Direction
NNW, N, NNE
Planet
VENUS
Attributes
POWER OF MANIFESTATION
Samagri
दूध, पुष्प
Mantra
ऊँ पृथ्वीच्छन्दो अन्तरिक्षच्ँछनदः नमः
समराङ्गण सूत्रधार
क्षितिध्रोऽनन्त उच्यते ॥
मन्त्र
(विश्वकर्म प्रकाश)
पृथ्वी छंदोन्तरिक्ष्म छंदो द्यौश्छन्दः समाश्छन्दो नक्षत्राणि छंदो वाक् छंदो मनश्छन्दः क्रिषिश्छन्दो हिरण्यं छंदो गौश्छन्दोजाछंदोश्वश्छन्दः ॥
धातु
वनष्पति
रत्न
पन्ना
चिन्ह
कमल, पाश
रंग
लाल
हवन सामग्री
खीर, कुम्हड़ा
Role
Regular Activities, Task Master
Grocery
Bag of Wheat Flour
TO KNOW MORE ABOUT 45 VASTU DEVTAS [ENERGY FIELDS] - CLICK ON BUTTONS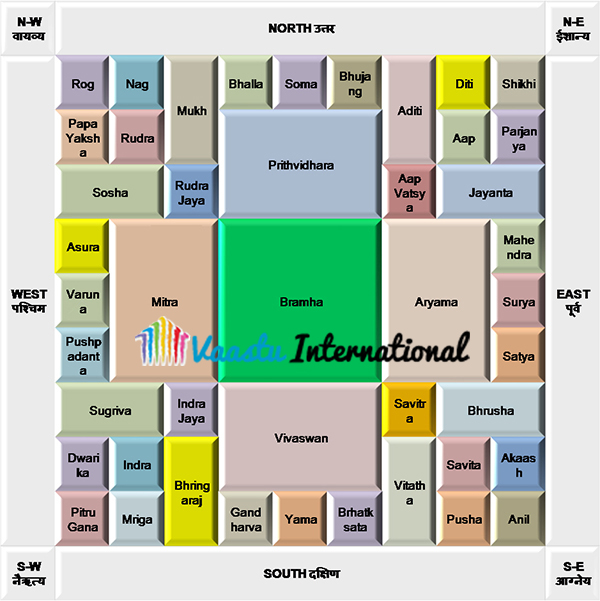 In Shrimadbhagvad Geeta, Shri Krishna while describing seventy-five of his common manifestations, declares, 'anantashchasmi naganaam'. It means 'of the nagas, I am Ananta'. In the Puranas, Shesha is said to hold all the planets of the universe on his hoods and to constantly sing the glories of the god Vishnu from all his mouths. Vishnu is often depicted as resting on Shesha. Shesha is also considered a servant as well as a manifestation of Vishnu.
As per the Mahabharata (Adi Parva), Shesha was born to sage Kashyap and his wife Kadru. Kadru gave birth to a thousand snakes, of which-Shesha was the eldest. Shesha, disgusted by the cruel acts of his mother and brothers, left his mother and kin and took to austere penances. Brahma, convinced of Shesha's will, asked Shesha to request a boon. Shesha asked that he be able to keep his mind under control so that he could continu to perform ascetic penances. Brahma gladly accepted the request and asked a favour of Shesha, that of to go beneath the unstable earth and stabilise it. Shesha agreed and went to the netherworld and stabilised her with his hood. He is known to support her even today, thus making Patala his perennial residence.
Bhudhar means One Who Holds or Carries The Earth. According to Vedic Leterature it's Sheshnag or sometimes Lord Varah (Incarnation of Lord Vishnu) is shown as supporting the Earth. It also represents Northern Face of Chaturmukh Brahma and The Atharvaveda. Prithwidhar expresses itself as Bhallat (The Moon) and Mrig (Bhujang or Serpant) in Paisach Vithi. Moon is the मन and is cold prakrit whereas - Mrig is full of venom (the Hot Prakriti). Balance between the two creates Som (Kuber - The Wealth).
मन is not stable - moves in all directions and Bhujang too moves erratically. If the life is unstable, finances are not working out as desired, Mind is confused focus in this sector. Sheshsayi Vishnu with Mother Goddess Lakshmi will bring peace and show the right path.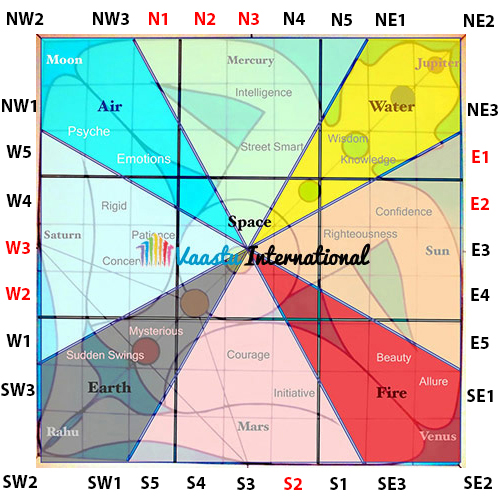 FOR VASTU SHASTRA IN HINDI CLICK HERE
FOR 45 DEVTAS OF VASTU PURUSHA MANDALA IN HINDI CLICK HERE
FOR 16 VASTU ZONES IN HINDI CLICK HERE
FOR FIVE ELEMENTS OF VASTU IN HINDI CLICK HERE
FOR AYADI VASTU IN HINDI CLICK HERE
FOR GEOPATHIC STRESS VASTU IN HINDI CLICK HERE
FOR VASTU AND COSMIC ENERGY IN HINDI CLICK HERE
FOR VASTU TIPS IN HINDI - CLICK HERE
VASTU TIPS FOR PAINTINGS - CLICK HERE
VASTU TIPS FOR CLOCK IN HINDI - CLICK HERE
VASTU TIPS FOR REMOVING NEGATIVE ENERGY IN HINDI - CLICK HERE
VASTU TIPS FOR POSITIVE ENERGY IN HINDI - CLICK HERE
VASTU TIPS FOR CAREER IN HINDI - CLICK HERE
VASTU TIPS FOR MONEY IN HINDI - CLICK HERE
VASTU TIPS FOR HAPPY MARRIED LIFE IN HINDI - CLICK HERE
VASTU TIPS FOR PLOTS IN HINDI - CLICK HERE
FOR VASTU TIPS ON BEDROOM IN HINDI - CLICK HERE
FOR VAASTU MEDITATION - CLICK HERE
FOR AROMA VASTU TIPS - CLICK HERE
FOR CRYSTAL VASTU (RATNADHYAYA) - CLICK HERE
FOR ART OF GIVING - CLICK HERE
FOR VASTU NUMEROLOGY - CLICK HERE

Er. Rameshwar Prasad invites you to the Wonderful World of Vastu Shastra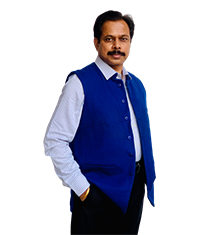 Engineer Rameshwar Prasad
(B.Tech., M.Tech., P.G.D.C.A., P.G.D.M.)
P: (+91-11) 22615299, 22615833
M: (+91) 9810105218, 9654255234