VASTU SHASTRA
Vastu Devta - Bhujang (भुजंग)
Sarp here symbolises ever active mind. This pada is also named as Bhujang. It's movement is like the movement of lightening, zig-zag and fast. They are believed to protect hidden wealth, specially the wealth left by our ancestors. This square governs immunity, core strength and kundalini of the inhabitants. Samaranganasutradhara identifies it as 'Charak' or Vyavasaya (business).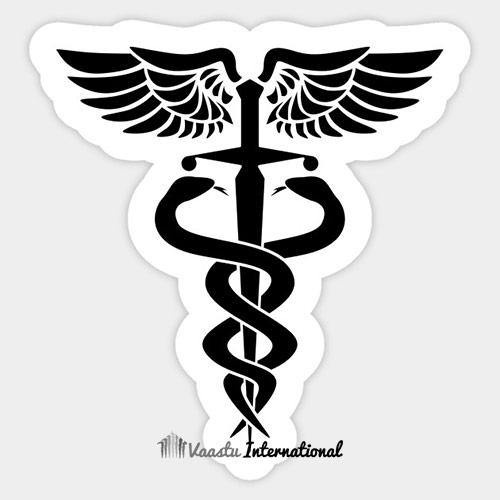 FOR VAASTU INTERNATIONAL COURSES - CLICK HERE
Serpents are connected with poison and medicine as well. Snake's venom is associated with the chemicals of plants and fungi that have the power to either heal or poison or to provide the expanded consciousness (and even the elixir of life and immortality) through divine intoxication. Snake was often considered as one of the wisest animals, connected to the after-life and immortality. The serpent, when forming a ring with it's tail in it's mouth, is a clear and widespread symbol of the 'All-in-All', the totality of existence, infinity and the cyclic nature of the cosmos. Sarpa (serpent) is the lord of Ashlesha Nakshatra, which has appearance like a wheel.
30. BHUJANG (N) :
• Anant Naga. Protects the treasure of health.
• If imbalance, the person is very rude and talks very ill. Can disregard anyone. 
• Mind is restless and easily irritable.
• Dustbin will cause irritation in throat.
• Heavy goods will cause problem in Jaws and mouth area. 
• Water storage will cause continuous cold and cough. 
• Kitchen is worst here. 
• Store will only give diseases. 
• Door, Toilet, Dampness will cause major illness.
Devta (देवता)

BHUJANG (भुजंग)

Alternative Name
चरक, सर्प
God
सर्प
Direction
N
Planet
Moon
Attributes
IMMUNITY
Samagri
पौष्टिक भात व धूपदान
Mantra
ऊँ उदृत्स ज्तबेदस नमः
समराङ्गण सूत्रधार
चरको व्यवसायाख्यः ।
मन्त्र
(विश्वकर्म प्रकाश)
ॐ उदुत्यं जात वेदसं देवं वहन्ति केतवः |
दृशे विश्वाय सूर्यम् स्वाहा ॥
धातु
वनष्पति
रत्न
चिन्ह
शूल, मौली, खड्ग, मृगमुख
रंग
गहरा नीला
हवन सामग्री
सत्तू
Role
Doctor, Healer
Grocery
Turmeric
TO KNOW MORE ABOUT 45 VASTU DEVTAS [ENERGY FIELDS] - CLICK ON BUTTONS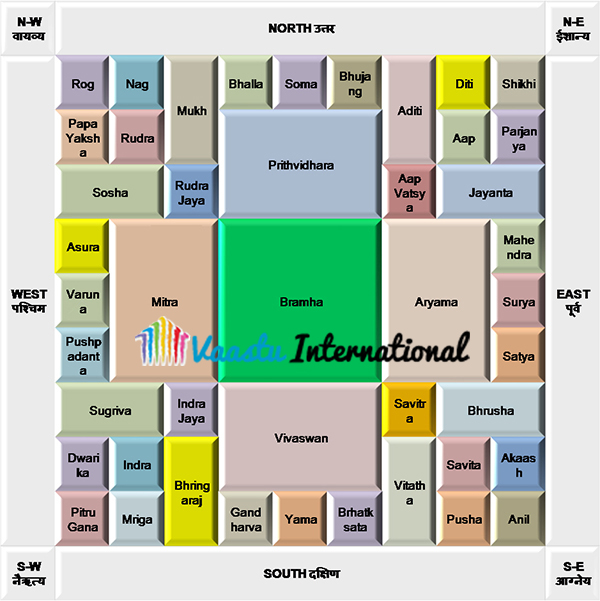 Sarpa or serpent represents the dual expressions of good and evil. Historically, serpents represent fertility or the creative life force. As snakes shed their skin through sloughing, they are symbols of death, rebirth,. transformation, immortality, continual renewal of life and healing. The serpent also represents the sexual desire. In Yoga Shastra, Kundalini is equated to a coiled serpent, the residual power of pure desire. Serpents are represented as the potent guardians of temples, treasures of sacred sites and sacred spaces. Snakes represented freedom in Hindu mythology because they can't be tamed. Serpents are also connected with vengefulness and vindictiveness.
'चरक संहिता' आज भी आयुर्वेद का अद्वितीय ग्रंथ माना जाता है।
This pada is an extension and expression of inner pada Bhudhar, which again represents Shesh Nag.
Good For Masseurs, Bedroom, Pond, Study, Storage for valuables, fragrance etc.
If unfavorable - Makes the resident confused, keeps changing vocations, Never completes a job.
Remedies - Perform yajna with Sattu.
Represents hidden wealth, specially the wealth left by our ancestors.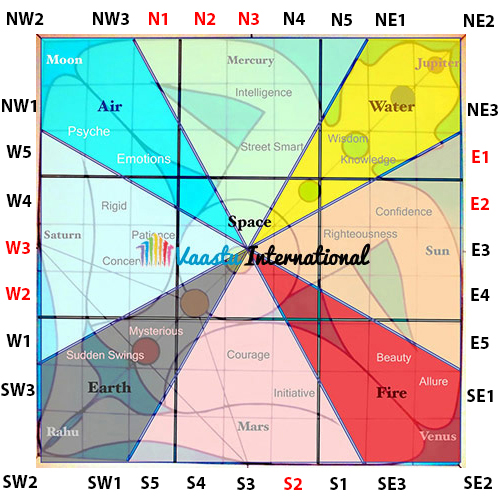 FOR VASTU SHASTRA IN HINDI CLICK HERE
FOR 45 DEVTAS OF VASTU PURUSHA MANDALA IN HINDI CLICK HERE
FOR 16 VASTU ZONES IN HINDI CLICK HERE
FOR FIVE ELEMENTS OF VASTU IN HINDI CLICK HERE
FOR AYADI VASTU IN HINDI CLICK HERE
FOR GEOPATHIC STRESS VASTU IN HINDI CLICK HERE
FOR VASTU AND COSMIC ENERGY IN HINDI CLICK HERE
FOR VASTU TIPS IN HINDI - CLICK HERE
VASTU TIPS FOR PAINTINGS - CLICK HERE
VASTU TIPS FOR CLOCK IN HINDI - CLICK HERE
VASTU TIPS FOR REMOVING NEGATIVE ENERGY IN HINDI - CLICK HERE
VASTU TIPS FOR POSITIVE ENERGY IN HINDI - CLICK HERE
VASTU TIPS FOR CAREER IN HINDI - CLICK HERE
VASTU TIPS FOR MONEY IN HINDI - CLICK HERE
VASTU TIPS FOR HAPPY MARRIED LIFE IN HINDI - CLICK HERE
VASTU TIPS FOR PLOTS IN HINDI - CLICK HERE
FOR VASTU TIPS ON BEDROOM IN HINDI - CLICK HERE
FOR VAASTU MEDITATION - CLICK HERE
FOR AROMA VASTU TIPS - CLICK HERE
FOR CRYSTAL VASTU (RATNADHYAYA) - CLICK HERE
FOR ART OF GIVING - CLICK HERE
FOR VASTU NUMEROLOGY - CLICK HERE

Er. Rameshwar Prasad invites you to the Wonderful World of Vastu Shastra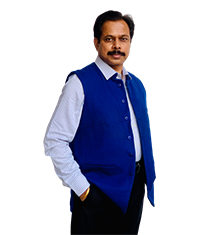 Engineer Rameshwar Prasad
(B.Tech., M.Tech., P.G.D.C.A., P.G.D.M.)
P: (+91-11) 22615299, 22615833
M: (+91) 9810105218, 9654255234