VASTU SHASTRA
Vastu Devta - Soma (सोम)
Soma, one of the most popular gods of the Rigvedic hymns, is the god of inspiration. He rules the intoxicant that stirs the minds, lures the gods and brings them to the place of worship. Also known as Indu or Soma Pavamana, he brings joy into the lives of people, cures them from diseases and leads them to the world of bliss and immortality. He gives strength not only to the mortals, but to the gods as well. It is because of him that Agni maintains his sway and Indra was able to slay Vratrasura (Vratra, the demon). The square of Soma governs the qualities of transformation and treasure.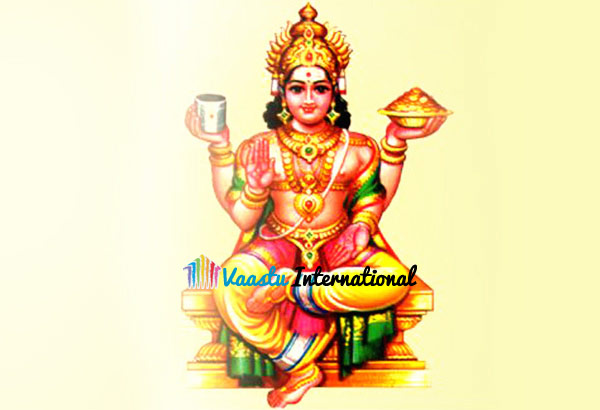 FOR VAASTU INTERNATIONAL COURSES - CLICK HERE
Som is Kuber as per Samarangansutradhar. The word Som may be an apabhrans of Somya. Kubera (Sanskrit: कुबेर) is the Lord of Wealth and the god-king of the semi-divine Yakshas. He is regarded as the regent of the North (Dik-pala), and a protector of the world (Lokapala). His many epithets extol him as the owner of the treasures of the world. Kubera is often depicted with a plump body, adorned with jewels, and carrying a money-pot and a club.
29. SOMA (N) :
• Power to earn profits.
• Associated with Moon.
• Understanding of money.
• Gate here makes fire weak and thus makes a person satisfied.
• He is the lord of Speech also called "Vachaspati".
• He rules over the mind.
Devta (देवता)

SOMA (सोम)

Alternative Name
कुबेर
God
Som
Direction
N
Planet
SUN
Attributes
TREASURER
Samagri
घृत, खीर, दही मिश्रित अन्न
Mantra
ऊँ वयं सोमव्रते तव नमः
समराङ्गण सूत्रधार
कुबेरः सोमसंज्ञितः ।
मन्त्र
(विश्वकर्म प्रकाश)
वयं सोम व्रते तव मनस्तनूषु बिभ्रत: ।
प्रजावन्त: सचेमहि ॥
धातु
चांदी, पारा
वनष्पति
रत्न
मोती
चिन्ह
चांदी का चन्द्रमा, घोडा या दर्पण, भरा कलश, रत्नपात्र, सोने का शंख, गदा, कमल
रंग
श्वेत
हवन सामग्री
शहद, कपूर, तिल, मूंग, भात, दूध, खीर
Role
Solution, Divine
Grocery
Poppy Seeds (खसखस)
TO KNOW MORE ABOUT 45 VASTU DEVTAS [ENERGY FIELDS] - CLICK ON BUTTONS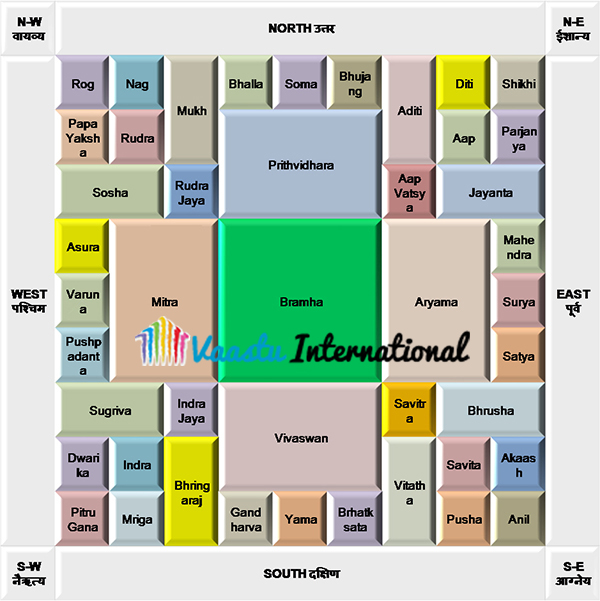 Kubera is the treasurer of the gods and overlord of the semi-divine Yakshas, the Guhyakas, Kinnaras and Gandharvas, who act as his assistants and protectors of the jewels of the earth, as well as guardians of his city. Kubera is also the guardian of travelers and the giver of wealth to individuals, who please him. The scriptures describe that Kubera once ruled Lanka, but was overthrown by his demon half-brother Ravana, later settling in the city of Alakapuri. The nidhi treasures Padma and Shankha stand beside him in human form, with their heads emerging from a lotus and a conch respectively. Kubera also developed as minor marriage-divinity. He is invoked with Shiva at weddings and is described as Kameshvara ("Lord of Kama - pleasure, desire etc.").
Good For Living Room, Bedroom, Treasury, Labor Room, religious assemble.
If unfavorable - Loss of wealth, Lazy, Addict.
Remedies - Decorate this area with Silver Horse, Silver Mirror, for Garbh Vinyas use conch shell / Lotus made of Gold.
Kuber pada is giver of all the worldly pleasures, riches and wealth. A very positive zone for storing money and jewellery. With the help of the energy of Mrig (Snakes), the hidden wealth is protected and venom of the Serpent remains cold and calm due to presence of Moon in Bhallat Pada.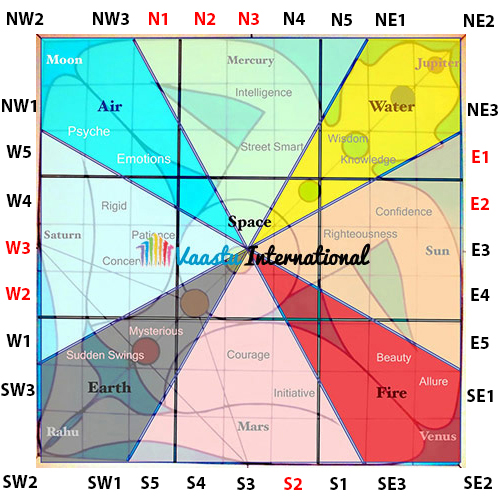 FOR VASTU SHASTRA IN HINDI CLICK HERE
FOR 45 DEVTAS OF VASTU PURUSHA MANDALA IN HINDI CLICK HERE
FOR 16 VASTU ZONES IN HINDI CLICK HERE
FOR FIVE ELEMENTS OF VASTU IN HINDI CLICK HERE
FOR AYADI VASTU IN HINDI CLICK HERE
FOR GEOPATHIC STRESS VASTU IN HINDI CLICK HERE
FOR VASTU AND COSMIC ENERGY IN HINDI CLICK HERE
FOR VASTU TIPS IN HINDI - CLICK HERE
VASTU TIPS FOR PAINTINGS - CLICK HERE
VASTU TIPS FOR CLOCK IN HINDI - CLICK HERE
VASTU TIPS FOR REMOVING NEGATIVE ENERGY IN HINDI - CLICK HERE
VASTU TIPS FOR POSITIVE ENERGY IN HINDI - CLICK HERE
VASTU TIPS FOR CAREER IN HINDI - CLICK HERE
VASTU TIPS FOR MONEY IN HINDI - CLICK HERE
VASTU TIPS FOR HAPPY MARRIED LIFE IN HINDI - CLICK HERE
VASTU TIPS FOR PLOTS IN HINDI - CLICK HERE
FOR VASTU TIPS ON BEDROOM IN HINDI - CLICK HERE
FOR VAASTU MEDITATION - CLICK HERE
FOR AROMA VASTU TIPS - CLICK HERE
FOR CRYSTAL VASTU (RATNADHYAYA) - CLICK HERE
FOR ART OF GIVING - CLICK HERE
FOR VASTU NUMEROLOGY - CLICK HERE

Er. Rameshwar Prasad invites you to the Wonderful World of Vastu Shastra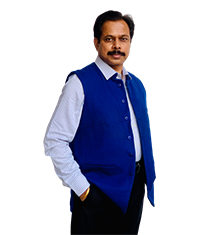 Engineer Rameshwar Prasad
(B.Tech., M.Tech., P.G.D.C.A., P.G.D.M.)
P: (+91-11) 22615299, 22615833
M: (+91) 9810105218, 9654255234