VASTU SHASTRA
Vastu Devta - Mitra (मित्र)
Mitra, along with Varuna, is lord of the heaven. They are guardians of the world, who sit in a gold hued chariot from day break and behold the infinity. Mitra is associated with the morning light, while Varuna with the night sky. Together they uphold the law, cause the cows to stream and the plants to flourish. They scatter the swift drops and send down the rain-flood. Mitra and Varuna rule Anuradha and Shatabhisha Nakshatras respectively.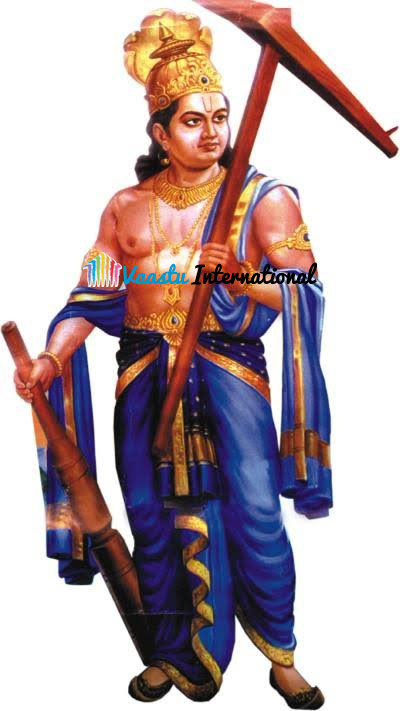 FOR VAASTU INTERNATIONAL COURSES - CLICK HERE
Samaranganasutradhara identifies Mitra as, 'Haldhar; the plough bearer' and 'Mali, the Gardener'. Balaram, also known as Baladeva, Balabhadra and Halayudha, may have originated in the Vedic times as a deity of agriculture and fertility. Narratives of Balarama are found in the Mahabharata, Harivamsha Purana, Bhagavata Purana and other Puranas. He is considered an avatar of Aadishesh in Dwapara Yuga, as Lakshman in Tretayuga and as Patanjali (original practitioner who wrote the first book on Yoga Shastra and writer of Mahabhashya to Panini's grammar) in Kaliyuga.
Balram is brother of Lord Krishna. As per Vedic Literature, both of them represent Nar and Narayan, the two faces of Dvaita Sidhant. Lord Krishna is black but represents the Shukla while Balram is fair but represents the Krishna sidhant. One complements the other. Mitra is the God who mantains the natural order which regulates and coordinates the operation of the universe and everything within it. Mitra is responsible for the proper functioning of the natural, moral and sacrificial orders upholding Dharma, and the action of the individual in relation to Karma. It is one of the most important religious conceptions of the "Rigveda".
44. MITRA (WSW, W, WNW) :
• Motivator.
• Inspires. 
• Power of stimulation and coordination. 
• Power of holding the world together.
Devta (देवता)

MITRA (मित्र)

Alternative Name
हलधर 
God
Mitra
Direction
WSW, W, WNW
Planet
SATURN
Attributes
MOTIVATOR
Samagri
घी, चावल, मधु, दूर्वा इनकी सामग्री है।
Mantra
ऊँ तन्मित्रस्य वरुणास्यभिचक्षे नमः या स्वाहा
समराङ्गण सूत्रधार
मित्रो हलधरो माली ।
मन्त्र
(विश्वकर्म प्रकाश)
तन्मित्रस्य वरुणस्याभिचक्षे सूर्यो रूपं कृणुते द्योरुपस्थे ।
अनन्तमन्यद्रुशदस्य पाजः कृष्णमन्यद्धरितः सं भरन्ति ॥
धातु
वनष्पति
दूर्वा 
रत्न
नीलम
चिन्ह
पाश, अंकुश
रंग
श्वेत
हवन सामग्री
घी, दुग्ध, दूर्वा, चावल
Role
Friend, Arbitrator
Grocery
Sugary Bread/Tortila
TO KNOW MORE ABOUT 45 VASTU DEVTAS [ENERGY FIELDS] - CLICK ON BUTTONS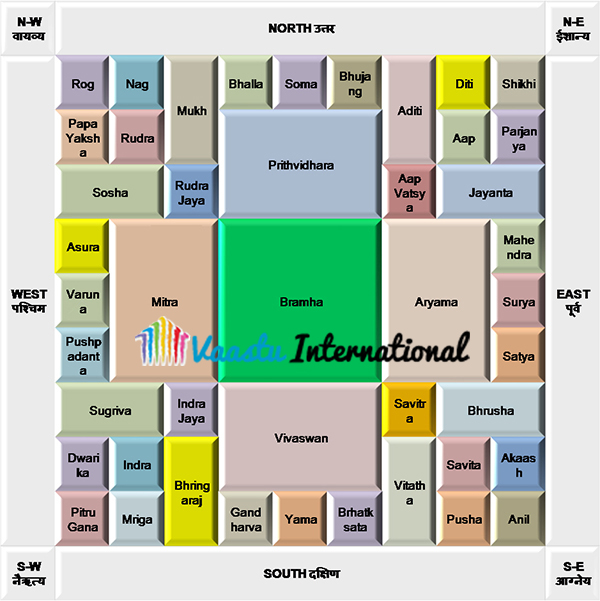 This is the binding force that binds Arth, Dharma, Kam and culiminates in Moksha. Mitra expresses itself with The Speed of Garud in Pushpadant and negative mental force of Rahu in Asura with the balancing force of Varuna. Another location to control from and coordinate all zones is Mitra Pada.
In the Rig Veda, he is mostly addressed in the dual as Mitra-Varuna. His association with Varuna is so tight, that there is only one hymn [R.V.3.59] where he is addressed separately. He is the protector of oaths and contracts. Mitra is associated with day and Varuna is connected with night.
If one is feeling alone and is not getting any help from friends, family members (specially wife), adult children, senior employees and others - it shows that the energy of the zone is deficient.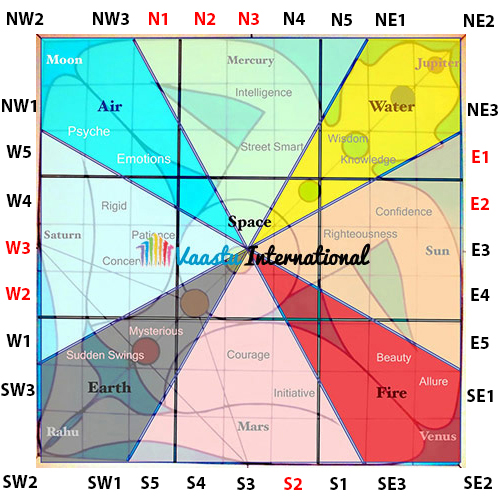 FOR VASTU SHASTRA IN HINDI CLICK HERE
FOR 45 DEVTAS OF VASTU PURUSHA MANDALA IN HINDI CLICK HERE
FOR 16 VASTU ZONES IN HINDI CLICK HERE
FOR FIVE ELEMENTS OF VASTU IN HINDI CLICK HERE
FOR AYADI VASTU IN HINDI CLICK HERE
FOR GEOPATHIC STRESS VASTU IN HINDI CLICK HERE
FOR VASTU AND COSMIC ENERGY IN HINDI CLICK HERE
FOR VASTU TIPS IN HINDI - CLICK HERE
VASTU TIPS FOR PAINTINGS - CLICK HERE
VASTU TIPS FOR CLOCK IN HINDI - CLICK HERE
VASTU TIPS FOR REMOVING NEGATIVE ENERGY IN HINDI - CLICK HERE
VASTU TIPS FOR POSITIVE ENERGY IN HINDI - CLICK HERE
VASTU TIPS FOR CAREER IN HINDI - CLICK HERE
VASTU TIPS FOR MONEY IN HINDI - CLICK HERE
VASTU TIPS FOR HAPPY MARRIED LIFE IN HINDI - CLICK HERE
VASTU TIPS FOR PLOTS IN HINDI - CLICK HERE
FOR VASTU TIPS ON BEDROOM IN HINDI - CLICK HERE
FOR VAASTU MEDITATION - CLICK HERE
FOR AROMA VASTU TIPS - CLICK HERE
FOR CRYSTAL VASTU (RATNADHYAYA) - CLICK HERE
FOR ART OF GIVING - CLICK HERE
FOR VASTU NUMEROLOGY - CLICK HERE

Er. Rameshwar Prasad invites you to the Wonderful World of Vastu Shastra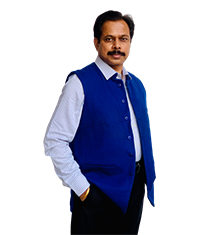 Engineer Rameshwar Prasad
(B.Tech., M.Tech., P.G.D.C.A., P.G.D.M.)
P: (+91-11) 22615299, 22615833
M: (+91) 9810105218, 9654255234