VASTU SHASTRA
Vastu Devta - Vivasvan (विवस्वान)
'Vivasvan' means "The Sun". Samaranganasutradhara identifies Vivasvaan as, 'Death which takes away this physical body'. In some references, Vivasvan is identified as Vivasvat, Vivasvant, Martanda, Marttanda, Martamda, Surya and Savitri. Vivasvat and Martanda are often used interchangeably. Vivasvan is the God of midday and the lord of fire.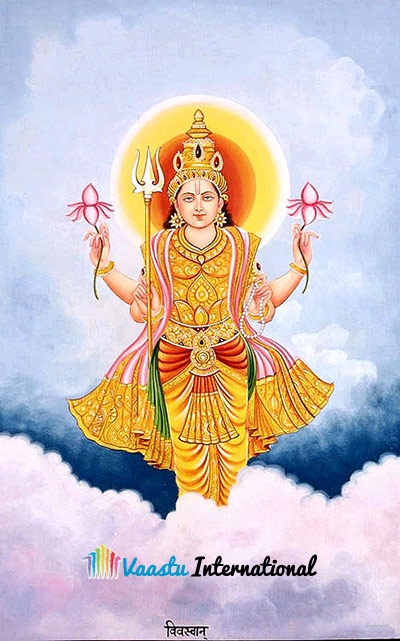 FOR VAASTU INTERNATIONAL COURSES - CLICK HERE
Martanda is etymologically derived from Marta meaning 'dead or undeveloped'. The word Martanda is connected with mrita the past participle of 'mri' i.e., 'to die' and anda, an egg or a bird. Thus his name literally means 'dead-egg'. It denotes a dead sun, or a sun that has sunk below the horizon or the sun causing death due to its scorching rays in the south direction.
According to the Rigveda, Aditi originally had only seven sons but later gave birth to an eighth son named Martanda, who she cast away (presumably because he was dead). She brought Martanda thitherward to spring to life and die again. The Taittiriya Aranyaka reads: tat para Martandam a abharat (she set aside Martanda for birth and death). In the post-Vedic period, when number of Adityas increased to twelve, another name Vivasvat and Martanda are often used interchangeably. Martanda is exclusively identified with Surya and Vivasvant in Mahabharata.
The energy and life that we get from Vivasvan is used to nourish plants and fruits that are later consumed as food. Jatharagni (the digestive fire in our digestive system) is also a form of the Agni of Vivasvan. Vivasvan is the husband of Saranyu and father of the twin Aswins, Vaivasvata Manu (the eighth Manu), Yama and Yami.
43. VIVASWAN (SSE, S, SSW) :
• Controller of Change.
• Initiates and moves the manifestations process ahead.
Devta (देवता)

VIVASWAN (विवस्वान)

Alternative Name
सूर्य 
God
Vivaswan
Direction
SSE, S, SSW
Planet
MERCURY
Attributes
CHANGE-CONTROLER
Samagri
पुष्प एवं दही
Mantra
ऊँ विवस्वान्ना दित्येवते सोमपीथु नमः
समराङ्गण सूत्रधार
मृत्युः शरीरहर्तासौ विवस्वानिति स स्मृतः ।
मन्त्र
(विश्वकर्म प्रकाश)
सुविस्वन्नादित्यैव ते सोमंपीथस्तस्मिनमतस्व श्रधस्मै नरो वचसे दधातन यदाशीर्दा दम्पतीवाम मश्नुतः पुमान्पुत्रो जायते विन्दते वस्वधा विश्वहारपयेधते गृहे ॥
धातु
स्वर्ण
वनष्पति
तिल
रत्न
Cat's Eye, लहसुनिया
चिन्ह
अंकुश, पाश
रंग
सफ़ेद
हवन सामग्री
तिल, भात, दही
Role
Celebrity, Well-Positioned
Grocery
Earthen lamp lit with cow ghee
TO KNOW MORE ABOUT 45 VASTU DEVTAS [ENERGY FIELDS] - CLICK ON BUTTONS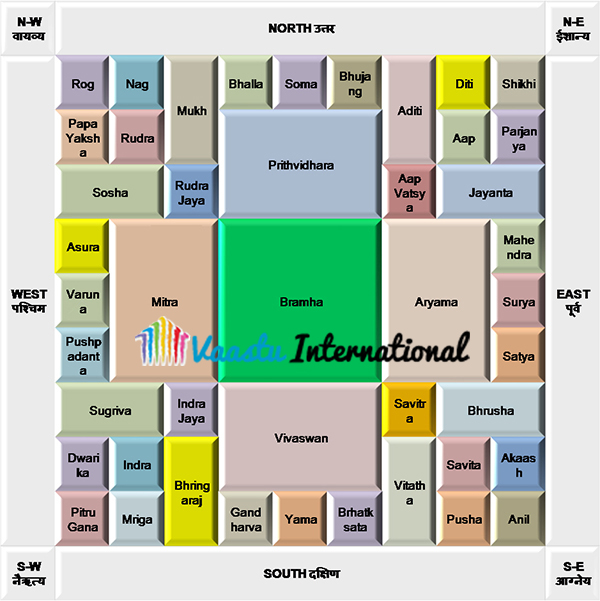 Vivaswan is The Sun shining above the head. It is harsh and hot. It may punish if you are not protected by Right Karmas. The Indicator of the manifested Fruits of the Karma. It also represents the Southern Face of Chaturmukh Brahma and The Yajurveda. It then expresses itself as Grihkshat (Budh) and Gandharva (The Narad). In between is Yama (The Judge) in Paisach Vithi. Budh represents intellect, Narad represents communication, the speech. Intellect is hidden like Krishna Yurveda and Speech is 'Baikhari' like Shukla Yajurveda.
If we have performed our Karma with intellect (Budhi) rooted in Dharma we enjoy Name, Fame (Kirti) else are punished. This is the Admininistrative Zone, decision taking and branding offices. The harshness of the sun may result in being deficient in energy, always feeling low, frightened, fear of death etc.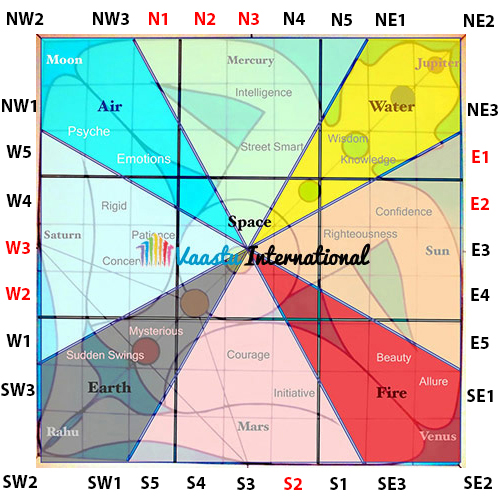 FOR VASTU SHASTRA IN HINDI CLICK HERE
FOR 45 DEVTAS OF VASTU PURUSHA MANDALA IN HINDI CLICK HERE
FOR 16 VASTU ZONES IN HINDI CLICK HERE
FOR FIVE ELEMENTS OF VASTU IN HINDI CLICK HERE
FOR AYADI VASTU IN HINDI CLICK HERE
FOR GEOPATHIC STRESS VASTU IN HINDI CLICK HERE
FOR VASTU AND COSMIC ENERGY IN HINDI CLICK HERE
FOR VASTU TIPS IN HINDI - CLICK HERE
VASTU TIPS FOR PAINTINGS - CLICK HERE
VASTU TIPS FOR CLOCK IN HINDI - CLICK HERE
VASTU TIPS FOR REMOVING NEGATIVE ENERGY IN HINDI - CLICK HERE
VASTU TIPS FOR POSITIVE ENERGY IN HINDI - CLICK HERE
VASTU TIPS FOR CAREER IN HINDI - CLICK HERE
VASTU TIPS FOR MONEY IN HINDI - CLICK HERE
VASTU TIPS FOR HAPPY MARRIED LIFE IN HINDI - CLICK HERE
VASTU TIPS FOR PLOTS IN HINDI - CLICK HERE
FOR VASTU TIPS ON BEDROOM IN HINDI - CLICK HERE
FOR VAASTU MEDITATION - CLICK HERE
FOR AROMA VASTU TIPS - CLICK HERE
FOR CRYSTAL VASTU (RATNADHYAYA) - CLICK HERE
FOR ART OF GIVING - CLICK HERE
FOR VASTU NUMEROLOGY - CLICK HERE

Er. Rameshwar Prasad invites you to the Wonderful World of Vastu Shastra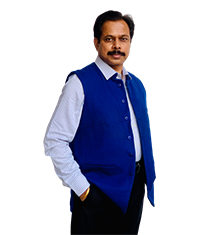 Engineer Rameshwar Prasad
(B.Tech., M.Tech., P.G.D.C.A., P.G.D.M.)
P: (+91-11) 22615299, 22615833
M: (+91) 9810105218, 9654255234