VASTU SHASTRA
Vastu Devta - Indra (इंद्र)
Samaranganasutradhara identifies 'Indra' as, 'Mighty Hari'. Hari is the Supreme God in Hinduism. Hari is derived from the verbal root hra, meaning 'to take away or remove evil or sin'. He is also known as Vishnu and Narayana.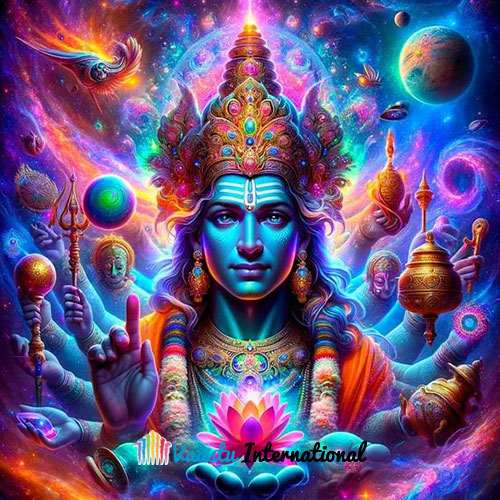 FOR VAASTU INTERNATIONAL COURSES - CLICK HERE
The word Hari appears as 650th name of Vishnu in the Vishnu Sahasranama of the Mahabharata. Vishnu is He who destroys samsara, along with ignorance as its cause. Samsara is the entanglement in the cycle of birth and death. Vishnu is usually described as having dark complexion of water-filled clouds and having four arms. He is also depicted as a pale blue being, as are his incarnations Rama and Krishna. He holds a padma (lotus flower), the Kaumodaki Gada (mace), the Paanchjanya Shankha ( conch) and the Sudarshana Chakra (discus) in his four hands.
Vishnu made Indra's success possible. Traditional explanation of the name Vishnu involves the root vish, meaning 'to settle' or also (in the Rigveda) 'to enter into, to pervade'. Thus, Vishnu means 'the All Pervading One'. He is not limited by space, time or substance. According to the Nir:ukta, Vishnu is the 'one who enters everywhere' and 'that which is free from fetters and bondages: Indra's other name 'Shakra', also means 'powerful' or 'having strength'.
Indra doesnot mean Indra, the Ruler of the Gods. As per Nighantu, the meaning is given as Hari (may not be Lord Vishnu).
39. INDRA (SW) :
• Family stability, basic growth, thought process.
Devta (देवता)

INDRA (इंद्र)

Alternative Name
पालक
God
Indra
Direction
SW
Planet
SUN
Attributes
PROTECTOR
Samagri
धृत, हरिताल, भत, मूंग का चूर्ण (बकरी का मेद भी कहा है)
Mantra
ऊँ इन्द्रस्थुन्नाम स्वर्षा नमः
समराङ्गण सूत्रधार
रुइन्द्रो बलवान् हरिः ॥
मन्त्र
(विश्वकर्म प्रकाश)
सुइन्द्रस्थुन्ना स्वाषम ॥
धातु
वनष्पति
रत्न
हीरा
चिन्ह
पाश, कमल, कल्पवृक्ष, गज
रंग
श्वेत
हवन सामग्री
चंपा का फूल, मूंग
Role
Business Developer
Grocery
Black Musturd Seeds, Baking Soda
TO KNOW MORE ABOUT 45 VASTU DEVTAS [ENERGY FIELDS] - CLICK ON BUTTONS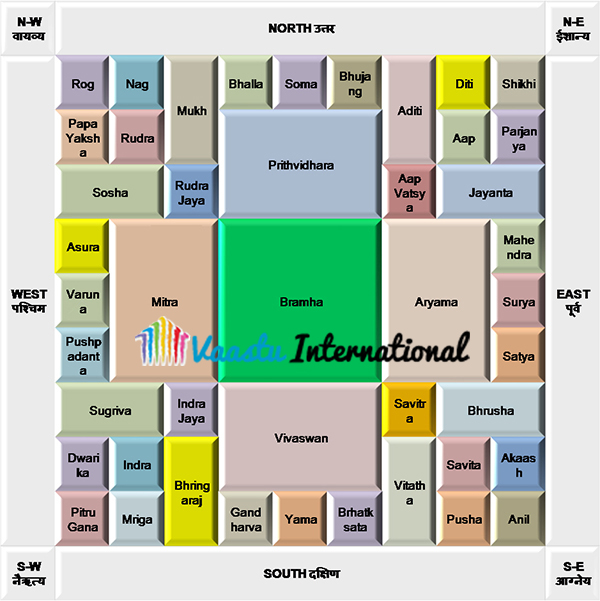 Indra and Indrajaya expresses itself and expands in pisach vithi as Mrish, Pitri and Dauvarik (Nandi). Pitrilok is believed to be gaurded by Nandi and protected by Dharma (Mrish).
Here, Indra represents the Father figure, the Head of the Family, the bread earner.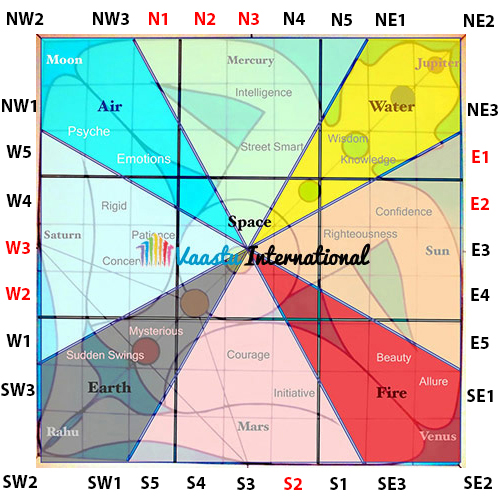 FOR VASTU SHASTRA IN HINDI CLICK HERE
FOR 45 DEVTAS OF VASTU PURUSHA MANDALA IN HINDI CLICK HERE
FOR 16 VASTU ZONES IN HINDI CLICK HERE
FOR FIVE ELEMENTS OF VASTU IN HINDI CLICK HERE
FOR AYADI VASTU IN HINDI CLICK HERE
FOR GEOPATHIC STRESS VASTU IN HINDI CLICK HERE
FOR VASTU AND COSMIC ENERGY IN HINDI CLICK HERE
FOR VASTU TIPS IN HINDI - CLICK HERE
VASTU TIPS FOR PAINTINGS - CLICK HERE
VASTU TIPS FOR CLOCK IN HINDI - CLICK HERE
VASTU TIPS FOR REMOVING NEGATIVE ENERGY IN HINDI - CLICK HERE
VASTU TIPS FOR POSITIVE ENERGY IN HINDI - CLICK HERE
VASTU TIPS FOR CAREER IN HINDI - CLICK HERE
VASTU TIPS FOR MONEY IN HINDI - CLICK HERE
VASTU TIPS FOR HAPPY MARRIED LIFE IN HINDI - CLICK HERE
VASTU TIPS FOR PLOTS IN HINDI - CLICK HERE
FOR VASTU TIPS ON BEDROOM IN HINDI - CLICK HERE
FOR VAASTU MEDITATION - CLICK HERE
FOR AROMA VASTU TIPS - CLICK HERE
FOR CRYSTAL VASTU (RATNADHYAYA) - CLICK HERE
FOR ART OF GIVING - CLICK HERE
FOR VASTU NUMEROLOGY - CLICK HERE

Er. Rameshwar Prasad invites you to the Wonderful World of Vastu Shastra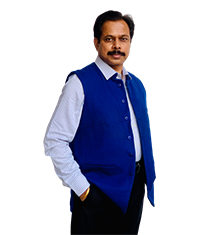 Engineer Rameshwar Prasad
(B.Tech., M.Tech., P.G.D.C.A., P.G.D.M.)
P: (+91-11) 22615299, 22615833
M: (+91) 9810105218, 9654255234