VASTU SHASTRA
Vastu Devta - Savitra (सावित्र)
Samaranganasutradhara identifies Saavitr as, 'Gayatri, the mother of Vedas. Goddess Gayatri is considered the Veda-mata, mother of all the Vedas. She is Saraswati, mother and source of all the knowledge and the embodiment of pure knowledge. Gayatri is the feminine form of gayatra, a Sanskrit word for a song or a hymn. Gayatri is the name applied to the most sacred Vedic hymn consisting of twenty-four syllables.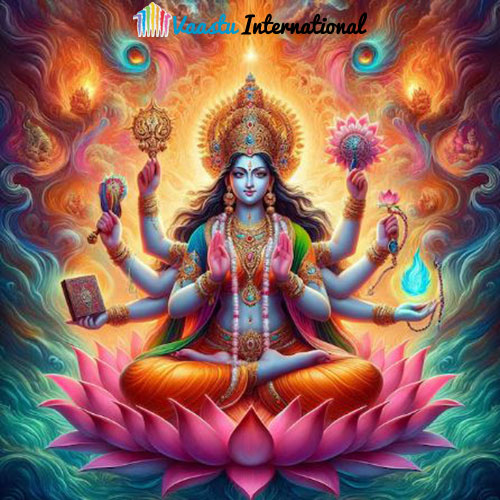 FOR VAASTU INTERNATIONAL COURSES - CLICK HERE
Goddess Gayatri is the Gayatri mantra personified. She is seated on a red lotus, signifying wealth. She has five heads (Mukta, Vidruma, Hema, Neela and Dhavala) with ten eyes looking in eight directions plus the earth and sky. The four heads of Gayatri represent the four Vedas and the remaining one represents the Almighty Lord himself. In her ten hands she holds all the weapons of Lord Shiva ) Lord Vishnu and Lord Brahma. She is also accompanied by a white swan, holding a book to portray knowledge in one hand and a cure in the other as the Goddess of education.
Importance of Gayatri is also found in Shrimadbhagvad Geeta, where Lord Krishna says, "Of Vedic rhythms I am the Gayatri". This hymn is addressed to god Surya (Sun) as the supreme generative force. On translation this hymn means, 'We meditate on that glorious light of the divine Surya (Sun)', may He, the lord of light, illuminate our minds. It is ordained that repeating this hymn again and again leads to salvation.
38. SAVITRA (SE) :
• Unlimited capabilities to work.
• Gayatri mantra is dedicated to this Deity. 
• Shree Yantra is beneficial here.
Devta (देवता)

SAVITRA (सावित्र)

Alternative Name
गायत्री
God
सावित्र
Direction
SE
Planet
MERCURY
Attributes
PUSHER
Samagri
कुशोदक सुगन्धित जल, गुड़ के गुलगुले या मालपुआ
Mantra
ऊँ सवितात्वा सवानाँ सुवता नमः
समराङ्गण सूत्रधार
देवी गङ्गात्र विद्वद्भिः सवितेति प्रकीर्तिता ॥
मन्त्र
(विश्वकर्म प्रकाश)
सविता त्वा सवानां सुवतामेष वोऽमी राजा सोमोऽस्माकं ब्राह्मणानां राजेति ब्राह्मणानेवापोद्धरत्यनाद्यान्करोति ॥
धातु
वनष्पति
रत्न
पुखराज 
चिन्ह
कमल, सिंह, अंकुश, पाश
रंग
श्वेत
हवन सामग्री
जल, गुड़
Role
Money, Financer
Grocery
Mango Powder, Khoya, Peda
TO KNOW MORE ABOUT 45 VASTU DEVTAS [ENERGY FIELDS] - CLICK ON BUTTONS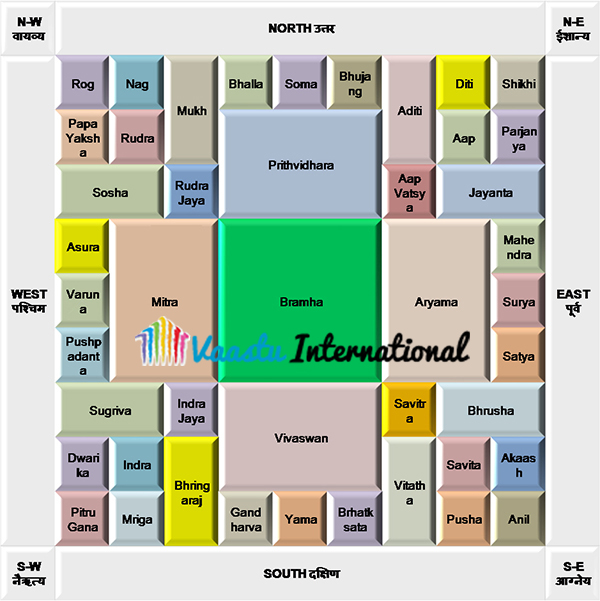 One thing we should understand that in Sanskrit by putting vowel 'a' after the first consonant, the word then represent the Offspring of the first. Like Vasudev and Vaasudev etc. In Mahabharat, Karn is also called by the name Saavitra.
As per Sanskrit Dictionary - Saavitra means 'Descended from the sun, belonging to the solar dynasty (of kings); यत् सावित्रैर्दीपितं भूमिपालैः' - An embryo or a foetus. The sacrificial thread; जनेऊ - (शान्तिहोमांश्च कुर्वीत सावित्राणि च धारयेत्) – (Mahabharat) Saavitra is the name of one of the eleven Rudras, Saavitra is also the name of an Auspicious Muhurt.
After the Life Force, the Pran Shakti is re-established, Saavitra activates the five Karmendriyas towards action. Savita/Savitra is the Mother figure and Saavitra is the one who operates the life force in the Embryo and causes the creation of body parts.
Savitr and Saavitra along with it's expansion Padas are good for newly wed couples and/or for ladies desiring motherhood.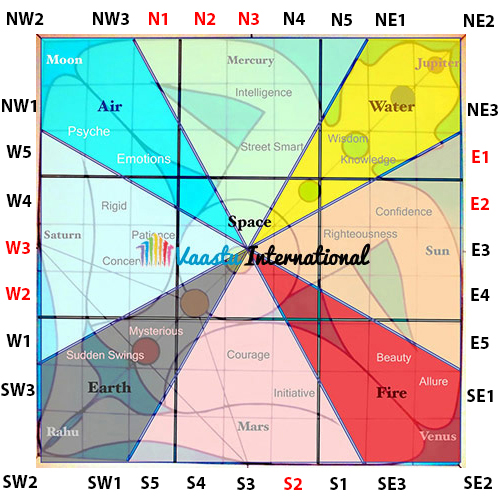 FOR VASTU SHASTRA IN HINDI CLICK HERE
FOR 45 DEVTAS OF VASTU PURUSHA MANDALA IN HINDI CLICK HERE
FOR 16 VASTU ZONES IN HINDI CLICK HERE
FOR FIVE ELEMENTS OF VASTU IN HINDI CLICK HERE
FOR AYADI VASTU IN HINDI CLICK HERE
FOR GEOPATHIC STRESS VASTU IN HINDI CLICK HERE
FOR VASTU AND COSMIC ENERGY IN HINDI CLICK HERE
FOR VASTU TIPS IN HINDI - CLICK HERE
VASTU TIPS FOR PAINTINGS - CLICK HERE
VASTU TIPS FOR CLOCK IN HINDI - CLICK HERE
VASTU TIPS FOR REMOVING NEGATIVE ENERGY IN HINDI - CLICK HERE
VASTU TIPS FOR POSITIVE ENERGY IN HINDI - CLICK HERE
VASTU TIPS FOR CAREER IN HINDI - CLICK HERE
VASTU TIPS FOR MONEY IN HINDI - CLICK HERE
VASTU TIPS FOR HAPPY MARRIED LIFE IN HINDI - CLICK HERE
VASTU TIPS FOR PLOTS IN HINDI - CLICK HERE
FOR VASTU TIPS ON BEDROOM IN HINDI - CLICK HERE
FOR VAASTU MEDITATION - CLICK HERE
FOR AROMA VASTU TIPS - CLICK HERE
FOR CRYSTAL VASTU (RATNADHYAYA) - CLICK HERE
FOR ART OF GIVING - CLICK HERE
FOR VASTU NUMEROLOGY - CLICK HERE

Er. Rameshwar Prasad invites you to the Wonderful World of Vastu Shastra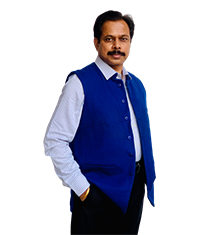 Engineer Rameshwar Prasad
(B.Tech., M.Tech., P.G.D.C.A., P.G.D.M.)
P: (+91-11) 22615299, 22615833
M: (+91) 9810105218, 9654255234