VASTU SHASTRA
Vastu Devta - Gandharva (गन्धर्व)
'Gandharva' means, Celestial musician or singer, a skilled singer in general, etc. Gandharva is a name used for distinct heavenly beings. They have superb musical skills and are frequently depicted as singers in the court of Gods. Gandharvas are male nature spirits and husbands of the Apsaras. Some of them are part animal, usually a bird or horse. The square of Gandharva governs trance and is the preserver.
FOR VAASTU INTERNATIONAL COURSES - CLICK HERE
Samaranganasutradhara identifies Gandharv as 'Lord Narada'. Narada literally mean the one who gives or spreads the name of the God Narayana. He is generally regarded as one of the great masters of the celestial music. He is depicted carrying a kartal and a veena known as 'mahathi'. He uses his veena for singing hymns, prayers and mantras as an act of devotion to Lord Vishnu. Narada is described as both wise and mischievous.
Nārada (नारद) is the name of a celebrated Devarṣi. He is represented as a messenger from the gods to men and vice versa. He is said to have been the inventor of the lute or Vīṇā. He is also the author of a code of laws which goes by his name.
Nārada (नारद), The son of Brahmā, a devotee of Sri Hari, in his previous births was a Gandharva. Nārada (नारद) has recited the Nāṭyaveda to Bharat, according to the Nāṭyaśāstra.
14. GANDHARV (S) :
• People good in music are called Gandharv. 
• Balanced gives relaxation , happiness, vacations. 
• If area is cut, people will not take vacations for a long time.
• If extended and living room placed here, people are in party mood and don't take anything seriously.
• Sleeping here gives bad thoughts.
• If kitchen here , people want variety in food.
• Dining table will cause excess expenditure of food items.
• TV, Musical systems is source of recreation here.
• Alcohol can be kept here.
• If extended, people will be extra relaxed and if cut, people will be extra active.
• Extend this area in Hotel business. It will increase foot fall.
Devta (देवता)

GANDHARVA (गन्धर्व)

Alternative Name
नारद
God
Gandharv
Direction
S
Planet
SATURN
Attributes
PRESERVER
Samagri
सुगन्धित भात, पुन्नाग एवं अगर की धूप
Mantra
ऊँ प्रतद्वोचेदमृत तु विद्वान गन्धर्वो धाम विभूतं गुहासत नमः
समराङ्गण सूत्रधार
गन्धर्वो भगवान् देवो नारदः परिकीर्तितः ॥
मन्त्र
(विश्वकर्म प्रकाश)
प्रतद्वोचेदमृतं नु विद्वान्गन्धर्वो धाम विभृतं गुहा सत् ।
त्रीणि पदानि निहिता गुहास्य यस्तानि वेद स पितुः पितासत् ॥
धातु
वनष्पति
अगर
रत्न
चिन्ह
पाश, त्रिशूल, महिष, लोहे का वृषभ, दंड, खड्ग
रंग
लाल
हवन सामग्री
अगर, चावल
Role
Actor, Performing Artist
Grocery
Fragranted Oil, Fragrance, Tamarind (इमली)
TO KNOW MORE ABOUT 45 VASTU DEVTAS [ENERGY FIELDS] - CLICK ON BUTTONS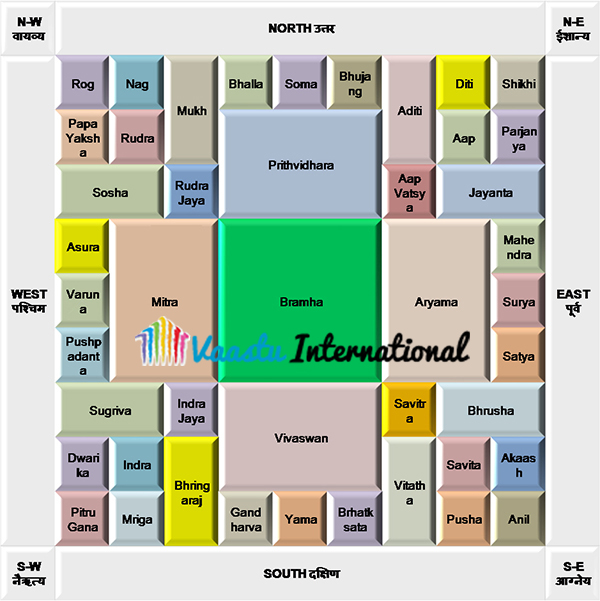 The Gandharvas, as per Vāyu-purāṇa, are connected with the ritual especially in connection with the chanting of the Sāmaveda. They are also associated with the ritual of preserving Soma.
Gandharvas are mentioned extensively in the epic Mahabharata as associated with the devas as dancers and singers and with the yakshas, as formidable warriors. They have superb musical skills. They guarded the Soma and made beautiful music for the gods in their palaces.
The best zone for placing communication set up. As the Gandharvas are the preserver of Soma, the life giving nectar, this zone accords protection and blessings of Lord Yama, the God of Death.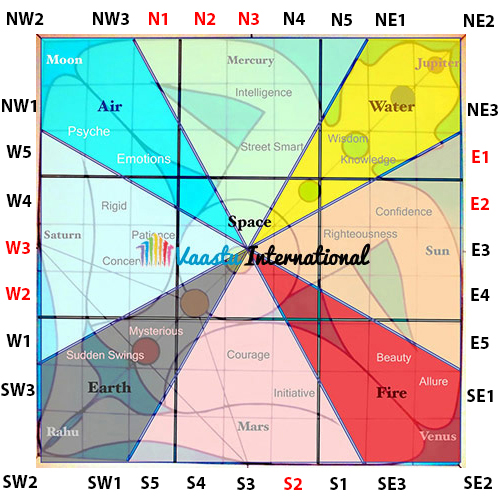 FOR VASTU SHASTRA IN HINDI CLICK HERE
FOR 45 DEVTAS OF VASTU PURUSHA MANDALA IN HINDI CLICK HERE
FOR 16 VASTU ZONES IN HINDI CLICK HERE
FOR FIVE ELEMENTS OF VASTU IN HINDI CLICK HERE
FOR AYADI VASTU IN HINDI CLICK HERE
FOR GEOPATHIC STRESS VASTU IN HINDI CLICK HERE
FOR VASTU AND COSMIC ENERGY IN HINDI CLICK HERE
FOR VASTU TIPS IN HINDI - CLICK HERE
VASTU TIPS FOR PAINTINGS - CLICK HERE
VASTU TIPS FOR CLOCK IN HINDI - CLICK HERE
VASTU TIPS FOR REMOVING NEGATIVE ENERGY IN HINDI - CLICK HERE
VASTU TIPS FOR POSITIVE ENERGY IN HINDI - CLICK HERE
VASTU TIPS FOR CAREER IN HINDI - CLICK HERE
VASTU TIPS FOR MONEY IN HINDI - CLICK HERE
VASTU TIPS FOR HAPPY MARRIED LIFE IN HINDI - CLICK HERE
VASTU TIPS FOR PLOTS IN HINDI - CLICK HERE
FOR VASTU TIPS ON BEDROOM IN HINDI - CLICK HERE
FOR VAASTU MEDITATION - CLICK HERE
FOR AROMA VASTU TIPS - CLICK HERE
FOR CRYSTAL VASTU (RATNADHYAYA) - CLICK HERE
FOR ART OF GIVING - CLICK HERE
FOR VASTU NUMEROLOGY - CLICK HERE

Er. Rameshwar Prasad invites you to the Wonderful World of Vastu Shastra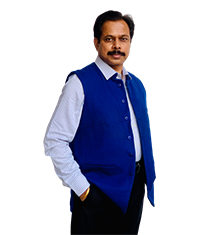 Engineer Rameshwar Prasad
(B.Tech., M.Tech., P.G.D.C.A., P.G.D.M.)
P: (+91-11) 22615299, 22615833
M: (+91) 9810105218, 9654255234