VASTU SHASTRA
Vastu Devta - Brihatkshat / Grihakshat (गृहक्षत)
'Brihat' means large, great, big or extended, while 'kshat' means injury, or wound. Griha (गृह) means house and Kshat (क्षत) means a wound or an opning of a wound. Some spell it as गृहच्छ्द, wherein the word च्छ्द means a cover to protect the opening, may be a Door. Samarangana Sutradhara identifies Grihakshat as 'Chandratanaya, i.e., Mercury, the son of Moon'.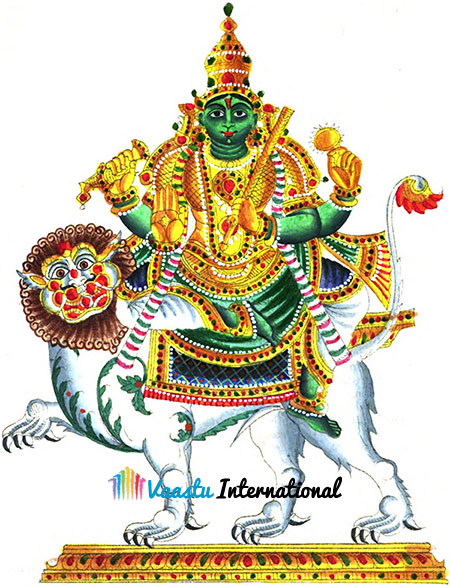 FOR VAASTU INTERNATIONAL COURSES - CLICK HERE
Mercury or Budha is called Saumya, that is, 'Son of Soma (Moon)'. He is the Hindu god of merchandise and protector of merchants. Budha is said to be the son of Sage Brihaspati and Tara.
But he was fathered by the lunar god Moon. Thus the intellect is born of the mind. Lord Budha is the awakened discriminating intellect (buddhi) and the part of us that knows. Mercury is described as an inconstant, vivacious and curious planet.
12. GRUHAKSHAT (S) :
• Gruha mean Mann and Akshat means Dayra (Mann ka dayara).
• Helps in self control.
• This is very important to achieve success in all desires.
• Defines the boundary of mind.
• When imbalance, people forget their responsibilities and become relaxed and gain casual attitude.
• Door is great here. Resident enjoy the life.
• Blue colour may cause court cases or misunderstanding.
• Cause conflicts and commitment failure. Gives bad company of friends.
• Big water body causes indiscipline students.
• Lack of peace if imbalanced. 
• Children will be better disciplined if they sleep here and good behaviour.
• If imbalanced, people will not listen to others advice.
Devta (देवता)

GRIHAKSHAT (गृहक्षत)

Alternative Name
Brihatkshat, बुध
God
Grihakshat
Direction
S
Planet
MERCURY
Attributes
DEFINER
Samagri
मधुमिश्रित अन्न, पुष्प
Mantra
ऊँ सवितात्वां सवानां सुवतामग्निर्गृहीत्वा नमः
समराङ्गण सूत्रधार
गृहक्षतः पुनर्योत्र स चन्द्र तनयो बुधः ॥
मन्त्र
(विश्वकर्म प्रकाश)
सविता त्वा सवानाम् सुवताम् अग्निर् गृहपतीना सोमो वनस्पतीनाम् ।
बृहस्पतिर् वाच ऽ इन्द्रो ज्यैष्ठ्याय रुद्रः पशुभ्यो मित्रः सत्यो वरुणो धर्मपतीनाम् ॥
धातु
वनष्पति
जटामासी
रत्न
चिन्ह
गदा, शूल, शक्ति, पाश, हाथी
रंग
पीला
हवन सामग्री
भात, शहद
Role
Binder, Commander
Grocery
Honey, Red Chilli
TO KNOW MORE ABOUT 45 VASTU DEVTAS [ENERGY FIELDS] - CLICK ON BUTTONS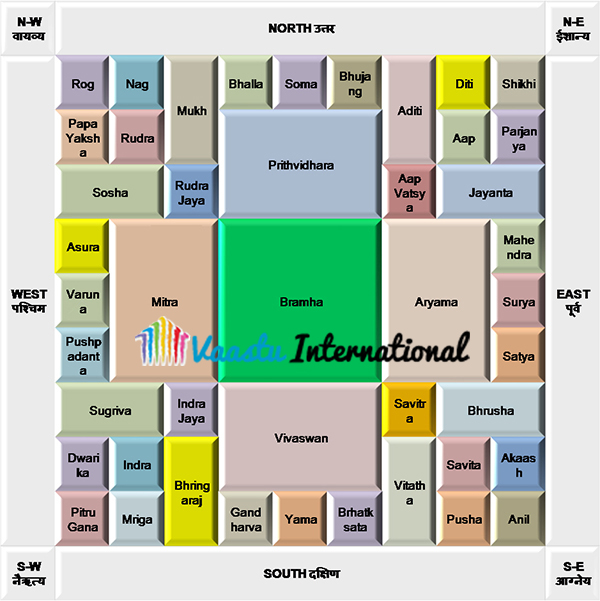 One of the nine planets; son of Soma (moon) and Tārā wife of Bṛhaspati; known as Rājaputra. originator of the hastiśāstra; and learned in the arthaśāstra; got the kingdom on the earth. He is generally good and benevolent; but when separated from the sun preceding him, he causes showers or draughts.
Budh represents intellect and alertness. As defined earlier, it denotes opening that protects the house. One can use this feature of Grihakshat Pada and can also get benifitted by the adjacent Pada of Yama, The Righteous One.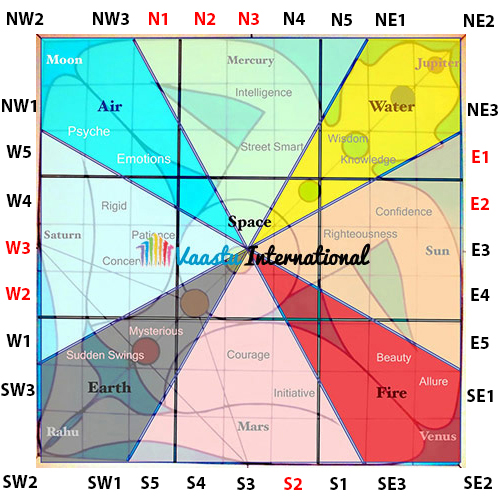 FOR VASTU SHASTRA IN HINDI CLICK HERE
FOR 45 DEVTAS OF VASTU PURUSHA MANDALA IN HINDI CLICK HERE
FOR 16 VASTU ZONES IN HINDI CLICK HERE
FOR FIVE ELEMENTS OF VASTU IN HINDI CLICK HERE
FOR AYADI VASTU IN HINDI CLICK HERE
FOR GEOPATHIC STRESS VASTU IN HINDI CLICK HERE
FOR VASTU AND COSMIC ENERGY IN HINDI CLICK HERE
FOR VASTU TIPS IN HINDI - CLICK HERE
VASTU TIPS FOR PAINTINGS - CLICK HERE
VASTU TIPS FOR CLOCK IN HINDI - CLICK HERE
VASTU TIPS FOR REMOVING NEGATIVE ENERGY IN HINDI - CLICK HERE
VASTU TIPS FOR POSITIVE ENERGY IN HINDI - CLICK HERE
VASTU TIPS FOR CAREER IN HINDI - CLICK HERE
VASTU TIPS FOR MONEY IN HINDI - CLICK HERE
VASTU TIPS FOR HAPPY MARRIED LIFE IN HINDI - CLICK HERE
VASTU TIPS FOR PLOTS IN HINDI - CLICK HERE
FOR VASTU TIPS ON BEDROOM IN HINDI - CLICK HERE
FOR VAASTU MEDITATION - CLICK HERE
FOR AROMA VASTU TIPS - CLICK HERE
FOR CRYSTAL VASTU (RATNADHYAYA) - CLICK HERE
FOR ART OF GIVING - CLICK HERE
FOR VASTU NUMEROLOGY - CLICK HERE

Er. Rameshwar Prasad invites you to the Wonderful World of Vastu Shastra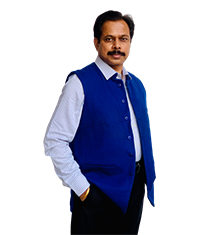 Engineer Rameshwar Prasad
(B.Tech., M.Tech., P.G.D.C.A., P.G.D.M.)
P: (+91-11) 22615299, 22615833
M: (+91) 9810105218, 9654255234