VASTU SHASTRA
Vastu Devta - Aakash / Antariksh (अंतरिक्ष)
Antariksh means The Space and practice of Vastu is all about Space, converting the sapce in a leavable builtspace. The Tanmatra of Antariksha or Akash (as popularly known) is Shabd, the sound. This pada actually represents the miniature representation of whole built space. Like a space enclosed by four walls and a roof represents the whole cosmos in a miniature form, Antariksha pada represents the whole house on a micro level.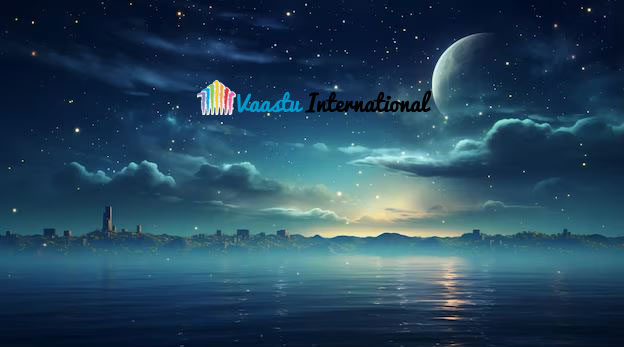 FOR VAASTU INTERNATIONAL COURSES - CLICK HERE
Samaranganasutradhara identifies Antariksh as the demigod 'Nabhodeva' or, The Sky-God. The ancient Sky-God of Vedic pantheon is Dyaus Pita or literally the 'Sky Father'. He impregnated Prithvi, the earth and mother, in the form of rains.
He is the father of Indra (future king of the Gods and the lord of rain), Agni (fire) and Usha (the dawn). The name Dyaus Pita is closely related to Latin Jupiter. Jupiter is considered the planet of vast expanse of sky in Indian Vedic Astrology. Later, Indra replaced Dyaus as the chief god while Prthivi still survives as a Hindu goddess.
8. AAKASH (SE) :
• Space between earth and heaven. 
• This is the oxygen needed to make anything happen.
• Manifestation is possible only through Akash.
• If this are stuck (Atak gaya hai), like payment or marriage, then look at this zone.
• Door causes financial losses.
• If you keep anything here, people will recognise it and appreciate it.
• If this zone is weak, cause high chances of theft.
• Sri Yantra if kept here has shown positive results. 
• Placement of red bulb is good.
• Gives aggression and body rashes if imbalanced.
• Copper is good to balance this zone.
• Field of Venus, thus affects females more than males if imbalanced. 
• Cut in this field, elder son of the house is away from home and not a part of the family.
• If there is a store, it adversely effects the happy events in life.
Devta (देवता)

AAKASH (नभोदेव)

Alternative Name
नभोदेव
God
Antariksh
Direction
SE
Planet
MOON
Attributes
INNER SPACE
Samagri
घूप, पूड़ी-कचैड़ी, उड़द, गुड़
Mantra
ऊँ वय सोमव्रतेतव मनस्तनूषु विभ्रतः प्रजावन्तः सचेमहि नमः
समराङ्गण सूत्रधार
योऽन्तरिक्षः स्मृतो देवस्तन्नभः समुदाहृतम् ।
मन्त्र
(विश्वकर्म प्रकाश)
वयं सोम व्रते तव मनस्तनूषु बिभ्रत: ।
प्रजावन्त: सचेमहि ।।
धातु
वनष्पति
अगर, हल्दी 
रत्न
चिन्ह
दंड, पाश
रंग
गहरा नीला
हवन सामग्री
उड़द, गुड़
Role
Marketspace, Bandwidth
Grocery
Clove (लौंग), Coriander (धनिया)
TO KNOW MORE ABOUT 45 VASTU DEVTAS [ENERGY FIELDS] - CLICK ON BUTTONS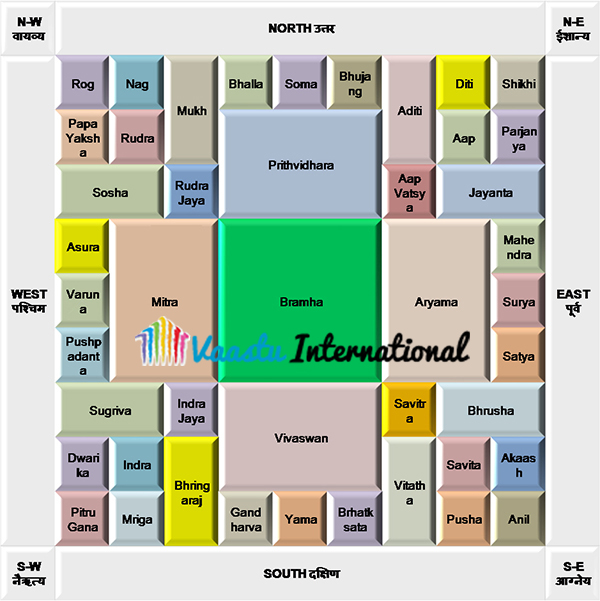 Antariksha is a sanskrit word meaning: "outer space", "the middle space", "the sky", "atmosphere", "celestial/comets".
दिवं च पृथिवीं चान्तरिक्षमथो स्वः (divaṃ ca pṛthivīṃ cāntarikṣamatho svaḥ) |
Sandhyā Mantra; योऽन्तरेणाकाश आसीत्तदन्त- रिक्षमभवदीक्षं हैतन्नाम ततः पुरान्तरा वा इदमीक्षमभूदिति तस्मादन्तरिक्षं |
According to Vayu Purana, He is the 13th Veda Vyāsa, who heard the Purāṇa from Triviṣṭa, and narrated it to Trayyāruṇi.
This is the most important Pada as it represents the Universe and the whole Vastu on Micro level. If we have worked on other zones and left Antariksh unattended, the expected results may allude us.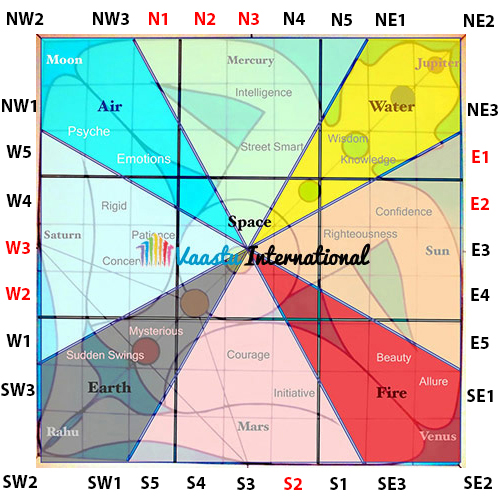 FOR VASTU SHASTRA IN HINDI CLICK HERE
FOR 45 DEVTAS OF VASTU PURUSHA MANDALA IN HINDI CLICK HERE
FOR 16 VASTU ZONES IN HINDI CLICK HERE
FOR FIVE ELEMENTS OF VASTU IN HINDI CLICK HERE
FOR AYADI VASTU IN HINDI CLICK HERE
FOR GEOPATHIC STRESS VASTU IN HINDI CLICK HERE
FOR VASTU AND COSMIC ENERGY IN HINDI CLICK HERE
FOR VASTU TIPS IN HINDI - CLICK HERE
VASTU TIPS FOR PAINTINGS - CLICK HERE
VASTU TIPS FOR CLOCK IN HINDI - CLICK HERE
VASTU TIPS FOR REMOVING NEGATIVE ENERGY IN HINDI - CLICK HERE
VASTU TIPS FOR POSITIVE ENERGY IN HINDI - CLICK HERE
VASTU TIPS FOR CAREER IN HINDI - CLICK HERE
VASTU TIPS FOR MONEY IN HINDI - CLICK HERE
VASTU TIPS FOR HAPPY MARRIED LIFE IN HINDI - CLICK HERE
VASTU TIPS FOR PLOTS IN HINDI - CLICK HERE
FOR VASTU TIPS ON BEDROOM IN HINDI - CLICK HERE
FOR VAASTU MEDITATION - CLICK HERE
FOR AROMA VASTU TIPS - CLICK HERE
FOR CRYSTAL VASTU (RATNADHYAYA) - CLICK HERE
FOR ART OF GIVING - CLICK HERE
FOR VASTU NUMEROLOGY - CLICK HERE

Er. Rameshwar Prasad invites you to the Wonderful World of Vastu Shastra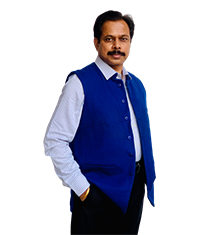 Engineer Rameshwar Prasad
(B.Tech., M.Tech., P.G.D.C.A., P.G.D.M.)
P: (+91-11) 22615299, 22615833
M: (+91) 9810105218, 9654255234