VASTU SHASTRA
Vastu Devta - Bhrish (भृश)
The square of Bhrish is related to the energies of analysis, gravity, honing or poor implementation of the plan and delay or hastiness in decisions. Samaranganasutradhara identifies Bhrish as the demigod 'Kamadeva or Manmatha'. Kamadeva is generally considered the Hindu divinity of Cosmic Desire and carnal love whose actions decides the laws of the reincarnation of the living beings (samsara).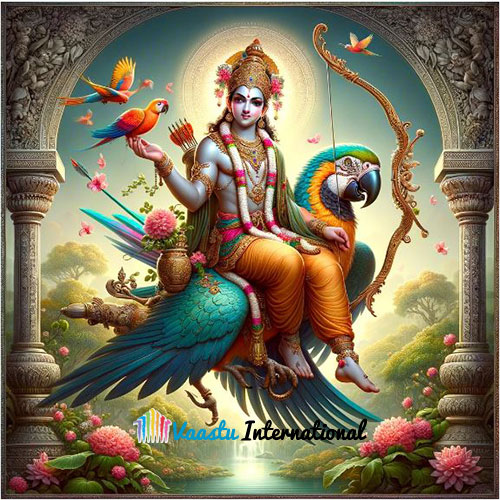 FOR VAASTU INTERNATIONAL COURSES - CLICK HERE
Kama is the God of Love and Lust. He is the most handsome among both men and Gods. He is equivalent to the Greek/Roman Cupid. He uses a bow of sugarcane, and shoots flower tipped arrows at humans to make them fall in love.
He is married to Rati, one of the daugters of Daksha. There is some confusion as to his origin. Vishnu Purana says that he is the son of Dharma (Yama), and Shradha, a daughter of Daksha. However, a more popular belief makes him the wish born son of Brahma.
7. BHRISHA (ESE) :
• Brings out something by rubbing two things.
• Action will not be executed if this field is weak.
• Will think excessively if this field is weak, so the end result will be disturbed.
• Can be balanced by keeping Mixer-Grinder. 
• Analytical capability is disturbed if this is weak. 
• A cut here will not lead to any decision making. 
• White colour has not shown negative effects here. 
• This is Kama Devta, energy of that creates Desires.
• Blue colour may cause to the worst of problems. 
• Presence of sewerage gives unfavourable results here.
• Metallic art and show pieces are not desirable.
• Sewing machine here leads to BP fluctuation and anxiety.
• Elderly couple sleeping here - wife may be continuously ill. 
• If the thinking/analysis, is not good, examine this field. 
• If boss is sitting here, he is very strict and thus leads to problems in the future.
• Dustbin may not always be favourable here. 
• Kamdhenu to be placed here.
Devta (देवता)

BHRISH (भृश)

Alternative Name
कामदेव
God
Bhrish
Direction
ESE
Planet
MERCURY
Attributes
GRAVITY
Samagri
फल, अन्न, मक्खन, नारियल (पर कही मछली एवं भात कहा है)
Mantra
ऊँ भंद्र कर्णेभिः श्रृणुयाम देव नमः
समराङ्गण सूत्रधार
भृशः कामोऽथ मन्मथः॥
मन्त्र
(विश्वकर्म प्रकाश)
भद्रं कर्णेभिः शृणुयाम देवा भद्रं पश्येमाक्षभिर्यजत्राः ।
स्थिरैरङ्गैस्तुष्टुवांसस्तनूभिर्व्यशेम देवहितं यदायुः ॥
धातु
वनष्पति
रत्न
चिन्ह
रंग
गहरा नीला
हवन सामग्री
मछली, अन्न, मक्खन, नारियल
Role
Researcher, Grinder
Grocery
Kuddi
TO KNOW MORE ABOUT 45 VASTU DEVTAS [ENERGY FIELDS] - CLICK ON BUTTONS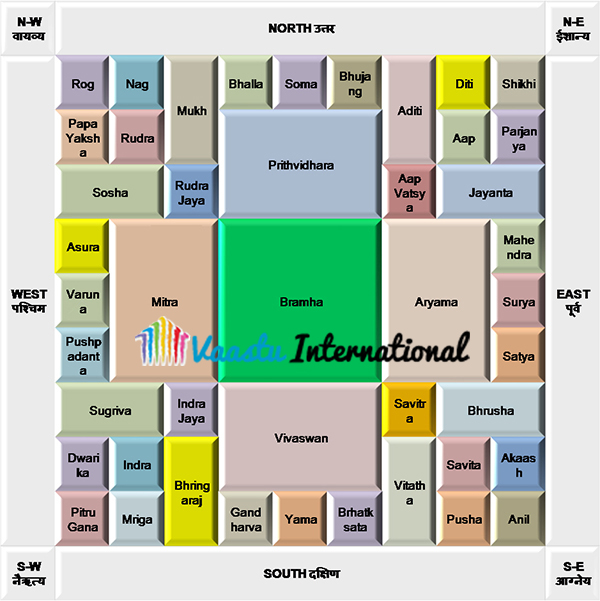 Kāma (काम, "love/desire") - Second seat of the Svādhiṣṭhāna (2nd chakra), according to the Kubjikāmata-tantra. It is identified with the second of the seven worlds, named bhuvarloka. Together, these seven seats they form the Brahmāṇḍa (cosmic egg). The Kāma seat points to the north-east. Kāmā, symbolize mental dispositions or emotions and are considered as obstructing the attainment of liberating knowledge.
Kāma means desire, wish, longing in Indian literature. Kāma often connotes sexual desire and longing in contemporary literature, but the concept more broadly refers to any desire, wish, passion, longing, pleasure of the senses, the aesthetic enjoyment of life, affection, or love, with or without sexual connotations.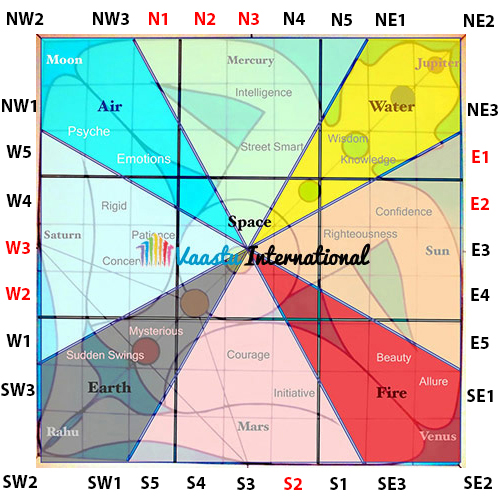 FOR VASTU SHASTRA IN HINDI CLICK HERE
FOR 45 DEVTAS OF VASTU PURUSHA MANDALA IN HINDI CLICK HERE
FOR 16 VASTU ZONES IN HINDI CLICK HERE
FOR FIVE ELEMENTS OF VASTU IN HINDI CLICK HERE
FOR AYADI VASTU IN HINDI CLICK HERE
FOR GEOPATHIC STRESS VASTU IN HINDI CLICK HERE
FOR VASTU AND COSMIC ENERGY IN HINDI CLICK HERE
FOR VASTU TIPS IN HINDI - CLICK HERE
VASTU TIPS FOR PAINTINGS - CLICK HERE
VASTU TIPS FOR CLOCK IN HINDI - CLICK HERE
VASTU TIPS FOR REMOVING NEGATIVE ENERGY IN HINDI - CLICK HERE
VASTU TIPS FOR POSITIVE ENERGY IN HINDI - CLICK HERE
VASTU TIPS FOR CAREER IN HINDI - CLICK HERE
VASTU TIPS FOR MONEY IN HINDI - CLICK HERE
VASTU TIPS FOR HAPPY MARRIED LIFE IN HINDI - CLICK HERE
VASTU TIPS FOR PLOTS IN HINDI - CLICK HERE
FOR VASTU TIPS ON BEDROOM IN HINDI - CLICK HERE
FOR VAASTU MEDITATION - CLICK HERE
FOR AROMA VASTU TIPS - CLICK HERE
FOR CRYSTAL VASTU (RATNADHYAYA) - CLICK HERE
FOR ART OF GIVING - CLICK HERE
FOR VASTU NUMEROLOGY - CLICK HERE

Er. Rameshwar Prasad invites you to the Wonderful World of Vastu Shastra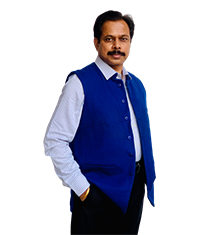 Engineer Rameshwar Prasad
(B.Tech., M.Tech., P.G.D.C.A., P.G.D.M.)
P: (+91-11) 22615299, 22615833
M: (+91) 9810105218, 9654255234