VASTU SHASTRA
Vastu Devta - Satya (सत्य)
Samaranganasutradhara identifies Satya as the 'welfare-oriented dharma of all the beings'. Dharma is the general law, the Duty, the thing which is permanently fixed, the ensemble of rules and natural phenomena which rule the order of things and of men.
FOR VAASTU INTERNATIONAL COURSES - CLICK HERE
Satya is son of Brahmā, born of the right side of his chest; one of the first five created things for the propagation of people;
the first devta who married the thirteen daughters of Dakṣa or the Dākṣāyaṇis (ten: Lakṣmī, Dhṛti, Tuṣṭi, Puṣṭi, Medhā, Kriyā, Buddhi, Lajjā, Vasu, Śānti, Siddhi and Kīrti;) in the Vaivasvata epoch had for his wives Dākṣāyaṇī and Arundhatī;( father of Kāma and Lakṣmī;) presented Pṛthu with a garland of fame. Yama is also referred to as Dharma.
6. SATYA (E) :
• Goodwill and credibility creator.
• Attributes very close to Surya. 
• It imparts the power of right thinking. 
• Encourages fulfilling of commitment.
• Biggest commitment is Marriage. Imbalances in this zone needs to be balanced if there are challenges in marriage. 
• Imbalance here will make the person to move from one partner to another.
• Mirror can be dangerous here.
• Others too, also fail to fulfil their commitment towards you, when imbalanced. 
• Green plants is ok but blue colour has shown negative effects in some cases. People will not fulfil their promise.
Devta (देवता)

SATYA (सत्य)

Alternative Name
धर्म 
God
Satya
Direction
E
Planet
SUN
Attributes
GOOD WILL CREATER
Samagri
घी, गेहू, मत्स्यान्न, विजोरा, मक्खन, नारियल, नारंगी एवं सन्तरे जैसे पीले सभी फल
Mantra
ऊँ वतेनदीक्षामाप्नोति दीक्षयाप्नोति दक्षिणाम् नमः
समराङ्गण सूत्रधार
सत्यो भूतहितो धर्मो ॥
मन्त्र
(विश्वकर्म प्रकाश)
व्रतेन दीक्षामाप्नोति दीक्षयाऽऽप्नोति दक्षिणाम्।
दक्षिणा श्रद्धामाप्नोति श्रद्धया सत्यमाप्यते॥
धातु
वनष्पति
रत्न
चिन्ह
अक्षमाला, पुस्तक
रंग
सफ़ेद
हवन सामग्री
मक्खन, नारियल, गेहूँ
Role
Court, Dharma
Grocery
Sandalwood Oil
TO KNOW MORE ABOUT 45 VASTU DEVTAS [ENERGY FIELDS] - CLICK ON BUTTONS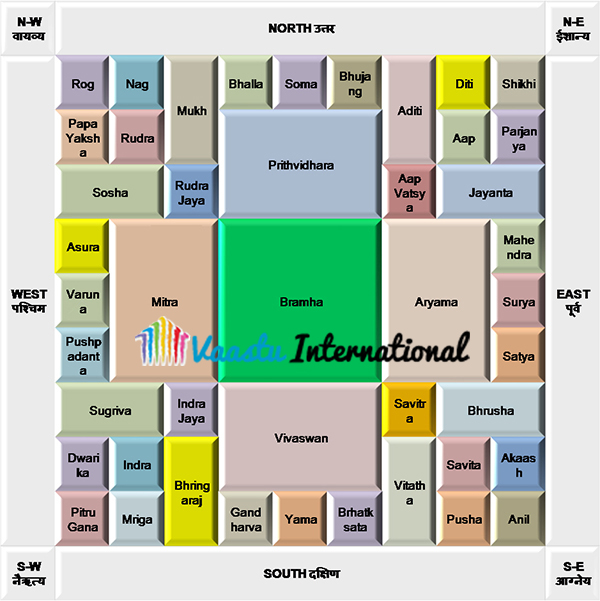 The satyadevas refer to the pañcaparameṣṭhins (five supreme lords) who lead to the attainment of mokṣa (emancipation).
If this zone is positive and active, the residents enjoys their acceptance in sociey as people of words.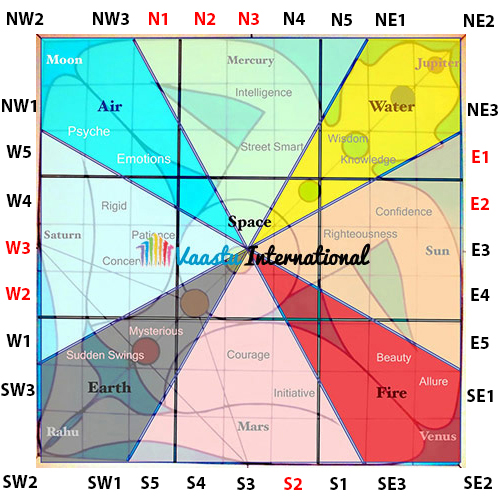 FOR VASTU SHASTRA IN HINDI CLICK HERE
FOR 45 DEVTAS OF VASTU PURUSHA MANDALA IN HINDI CLICK HERE
FOR 16 VASTU ZONES IN HINDI CLICK HERE
FOR FIVE ELEMENTS OF VASTU IN HINDI CLICK HERE
FOR AYADI VASTU IN HINDI CLICK HERE
FOR GEOPATHIC STRESS VASTU IN HINDI CLICK HERE
FOR VASTU AND COSMIC ENERGY IN HINDI CLICK HERE
FOR VASTU TIPS IN HINDI - CLICK HERE
VASTU TIPS FOR PAINTINGS - CLICK HERE
VASTU TIPS FOR CLOCK IN HINDI - CLICK HERE
VASTU TIPS FOR REMOVING NEGATIVE ENERGY IN HINDI - CLICK HERE
VASTU TIPS FOR POSITIVE ENERGY IN HINDI - CLICK HERE
VASTU TIPS FOR CAREER IN HINDI - CLICK HERE
VASTU TIPS FOR MONEY IN HINDI - CLICK HERE
VASTU TIPS FOR HAPPY MARRIED LIFE IN HINDI - CLICK HERE
VASTU TIPS FOR PLOTS IN HINDI - CLICK HERE
FOR VASTU TIPS ON BEDROOM IN HINDI - CLICK HERE
FOR VAASTU MEDITATION - CLICK HERE
FOR AROMA VASTU TIPS - CLICK HERE
FOR CRYSTAL VASTU (RATNADHYAYA) - CLICK HERE
FOR ART OF GIVING - CLICK HERE
FOR VASTU NUMEROLOGY - CLICK HERE

Er. Rameshwar Prasad invites you to the Wonderful World of Vastu Shastra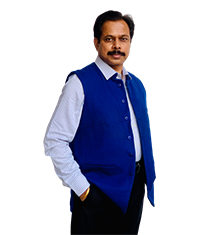 Engineer Rameshwar Prasad
(B.Tech., M.Tech., P.G.D.C.A., P.G.D.M.)
P: (+91-11) 22615299, 22615833
M: (+91) 9810105218, 9654255234