VASTU SHASTRA
Vastu Devta - Mahendra (महेंद्र)
Mahendra or Indra is the embodiment of strength, courage and power. He is one of the principal gods of the Vedic times and of the Brahmanic pantheon. He represents the source of cosmic life that he transmits to the earth through rains. His strength lies in the seminal fluid of all beings. Indra is said to be 'made of all the gods put together: He is eternally young, because he rejuvenates himself at the start of each manvantara, which means each of the fourteen 'ages' of our world which make up a 'kalpa'.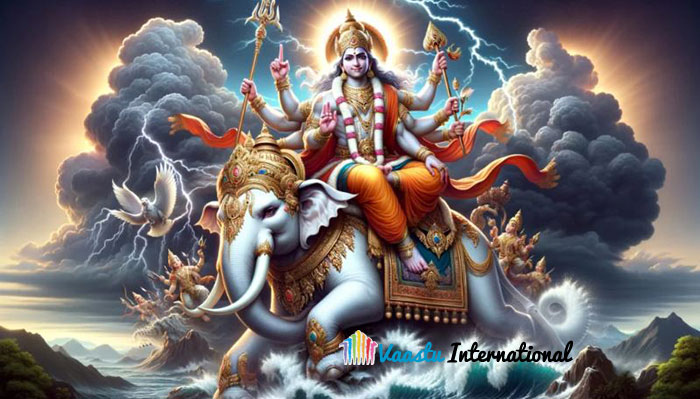 FOR VAASTU INTERNATIONAL COURSES - CLICK HERE
In the Rigveda, Indra or Shakra (the mighty-one) is the god of thunder and rain and a great warrior. He is lord of the heavens. He is most popular and powerful of the Vedic deities. Mahendra aka. Indra is the king of Svarga (Heaven) and the Devas. He is the god of the heavens, lightning, thunder, storms, rains and river flows.
He is celebrated for his powers, and the one who kills the great Asura named Vritra (वृत्र) who obstructs human prosperity and happiness. Indra destroys Vritra (वृत्र) and his "deceiving forces", and thereby brings rains and the sunshine as the friend to the mankind. Indra's iconography shows him wielding a lightning thunderbolt known as Vajra, riding on a white elephant known as Airavata.
4. MAHENDRA / INDRA (E) :
• Great association, powerful contacts, luxury, grants money.
• If one needs powerful contacts, one needs to treat this zone.
• Balance Varun and Yama along with Indra. The results shall be better. 
• Table-chair in office here gives top position in company.
• If zone is balanced, put Ashoka Pillar. Gives Government related benefits.
• No recognition of efforts if there is a toilet. Socially, the family will be looked down upon. 
• Powerful connections with bedroom here.
• Living room here gives beneficial connections.
• Sleeping here changes ones temperament and choices.
• Likes to associate with best in society.
• Black colour in this region has shown negative effects in some cases. Black represents Saturn. 
• Presence of orange colour in this field gives positive result.
Devta (देवता)

MAHENDRA (महेंद्र)

Alternative Name
Indra, Surendra 
God
Mahendra
Direction
E
Planet
VENUS
Attributes
ADMINISTRATOR
Samagri
पौष्ष्टिक भोजन, मालती, पंजीरी एवं मल्लिका के पुष्प
Mantra
ऊँ महाँ इन्द्रोवज्रहस्तः षोडशीशर्मयच्छतु नमः
समराङ्गण सूत्रधार
महेन्द्र स्तु सुराधीशो दनुजानां विमर्दनः ॥
मन्त्र
(विश्वकर्म प्रकाश)
महाँऽइन्द्रो वज्रहस्तः षोडशी शर्म यच्छतु ।
हन्तु पाप्मानं योऽस्मान्द्वेष्टि ।
उपयामगृहितोऽसि महेन्द्राय त्वैष ते योनिर्महेन्द्राय त्वा ॥
धातु
वनष्पति
रत्न
पंचरत्न
चिन्ह
वज्र, ऐरावत, हाथी, कमल 
रंग
पीला 
हवन सामग्री
पंजीरी
Role
Top Boss, King
Grocery
Cardamom (इलायची)
TO KNOW MORE ABOUT 45 VASTU DEVTAS [ENERGY FIELDS] - CLICK ON BUTTONS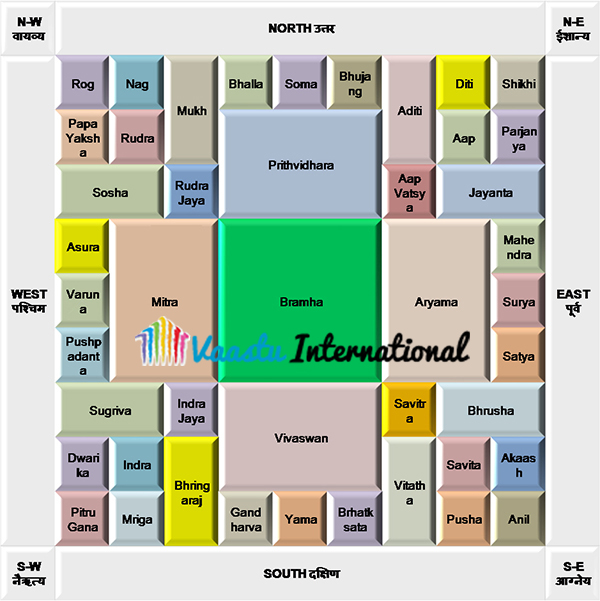 King of Heaven Mahendra, the King of Gods - the God of Lightning, Thunder, Rains and River flows - enjyos Royally and Luxury. He represents power. He is supoosed to be protector and promoter of Nritya and Natya & bestower of prosperity. Sometimes, he is shown as cunning who gets what he wants by any means. He is also depicted as a powerful hero but one who is getting in trouble with his drunken, hedonistic and adulterous ways. It denotes that the excess induging in luxury can lead to deeds which may defame you.
Power, Royaly and Luxury is the key word for this zone. Enjoying these boons may become detrimental with excesses.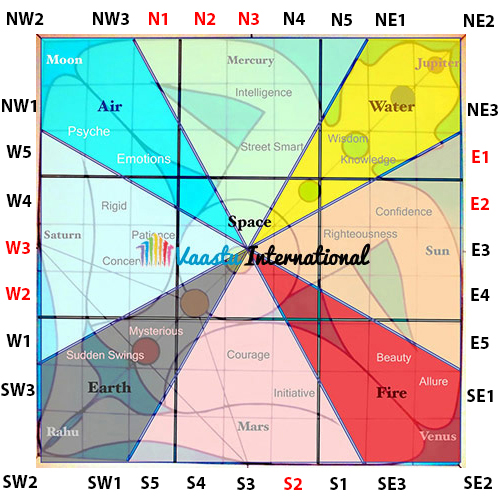 FOR VASTU SHASTRA IN HINDI CLICK HERE
FOR 45 DEVTAS OF VASTU PURUSHA MANDALA IN HINDI CLICK HERE
FOR 16 VASTU ZONES IN HINDI CLICK HERE
FOR FIVE ELEMENTS OF VASTU IN HINDI CLICK HERE
FOR AYADI VASTU IN HINDI CLICK HERE
FOR GEOPATHIC STRESS VASTU IN HINDI CLICK HERE
FOR VASTU AND COSMIC ENERGY IN HINDI CLICK HERE
FOR VASTU TIPS IN HINDI - CLICK HERE
VASTU TIPS FOR PAINTINGS - CLICK HERE
VASTU TIPS FOR CLOCK IN HINDI - CLICK HERE
VASTU TIPS FOR REMOVING NEGATIVE ENERGY IN HINDI - CLICK HERE
VASTU TIPS FOR POSITIVE ENERGY IN HINDI - CLICK HERE
VASTU TIPS FOR CAREER IN HINDI - CLICK HERE
VASTU TIPS FOR MONEY IN HINDI - CLICK HERE
VASTU TIPS FOR HAPPY MARRIED LIFE IN HINDI - CLICK HERE
VASTU TIPS FOR PLOTS IN HINDI - CLICK HERE
FOR VASTU TIPS ON BEDROOM IN HINDI - CLICK HERE
FOR VAASTU MEDITATION - CLICK HERE
FOR AROMA VASTU TIPS - CLICK HERE
FOR CRYSTAL VASTU (RATNADHYAYA) - CLICK HERE
FOR ART OF GIVING - CLICK HERE
FOR VASTU NUMEROLOGY - CLICK HERE

Er. Rameshwar Prasad invites you to the Wonderful World of Vastu Shastra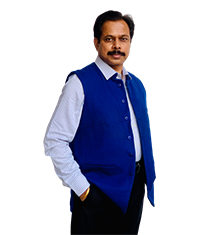 Engineer Rameshwar Prasad
(B.Tech., M.Tech., P.G.D.C.A., P.G.D.M.)
P: (+91-11) 22615299, 22615833
M: (+91) 9810105218, 9654255234