VASTU SHASTRA
Vastu Devta - Rudra Jaya (रूद्रजय)
Samaranganasutradhara identifies 'Raajyakshma' as, 'Guh or Karttikeya'. Guh or Guha is another name for the Hindu deity Karttikeya. Karttikeya is usually dressed simply in white clothes without any other embellishments, as befits an austere warrior. His symbols are based on the weapons. He is depicted wielding a shakti or spear, symbolising his purification of the human ills. His javelin symbolises his far reaching protection, his discus symbolises his knowledge of the truth, his mace represents his strength and his bow shows his ability to defeat all the ills. His peacock mount symbolises his destruction of the ego.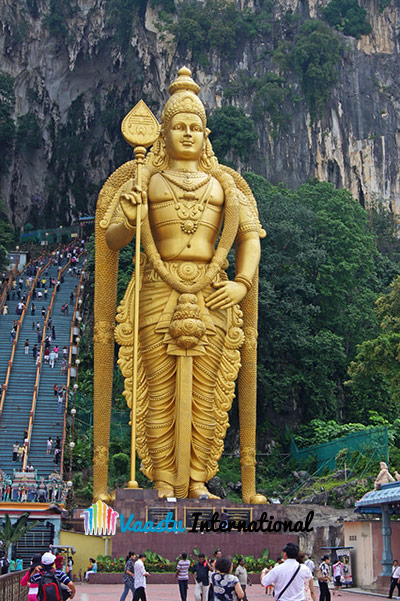 FOR VAASTU INTERNATIONAL COURSES - CLICK HERE
Rudrajaya or Rudrajaayaa i.e. one who is born to Lord Rudra. He is Kartikeya, the Fighter, the General of the Gods.
The Marudgans are sometimes referred to as "the sons of Rudra", whereas Rudra is referred to as "Father of the 49 Maruts" (RV 2.33.1).
The Upanishadas constantly make a reference to a Supreme Being called Guh, the indweller. Guha means the resident of the 'cave of the heart'. According to the Hindu Philosophy, it means that the ultimate truth or reality is God. He is ever present in the hearts of all the living beings and is also cause of the life force. It is said that he never hesitates to come to the aid of a devotee when called upon. Guh is accessible to all who worship and love him, regardless of their birth or heritage. Guh appears in the 'Ramayana' as a boatsman. He assists Lord Rama to cross the river during Rama's exile to the forests and is revered for his high-standing honourable qualities.
34. RUDRA JAYA / RAJYAKSHAMA (NW) :
• The Holder
• It helps to stop the idea in the mind for further implementation.
• If imbalanced, support will come but will not last.
Devta (देवता)

RUDRAJAYA (रूद्रजय)

Alternative Name
RAJYAKSHMA (राजयक्ष्मा), कार्तिकेय 
God
Rudrajaya
Direction
NW
Planet
MARS
Attributes
HOLDER
Samagri
खीर व गुड़, पर कई जगह मांस तथा चर्बी कहा है
Mantra
ऊँ अभिगोत्राणि सहस्त्रगाहमानोदयो वीरः नमः
समराङ्गण सूत्रधार
राजयक्ष्मा गुहः प्रोक्तः ।
मन्त्र
(विश्वकर्म प्रकाश)
अभिगोत्राणि सहसा गाहमानोऽदायो वीरश्शतमन्युरिन्द्रः ।
दुश्चयवनः पृतनाषाडयुद्ध्योऽस्माक सेनां अवतु प्रयुत्सु ॥
धातु
वनष्पति
रत्न
नीलम
चिन्ह
त्रिशूल
रंग
लाल
हवन सामग्री
गूगल, कपूर, उड़द
Role
Law Enforcement Officer
Grocery
Nutmeg (जायफल)
TO KNOW MORE ABOUT 45 VASTU DEVTAS [ENERGY FIELDS] - CLICK ON BUTTONS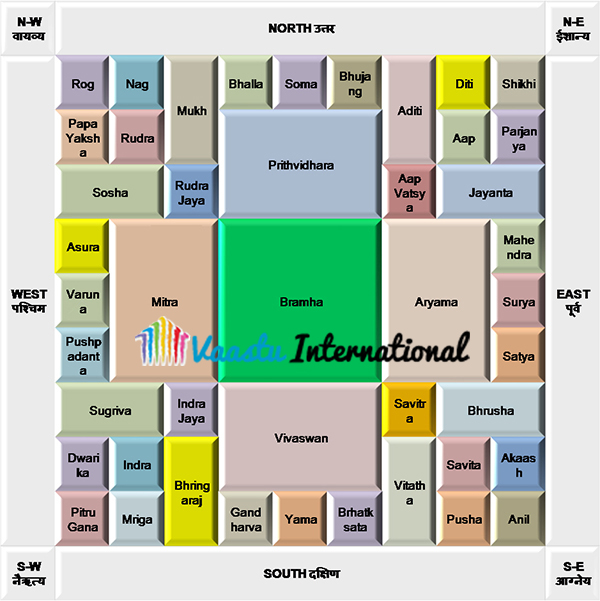 Kartikeya is worshiped in south India as Murugan Swami. He has the capability to eradicate all types of negative forces instantly.
Good for critically ill people and in hospitals department for treatment of critical disceases can be created here.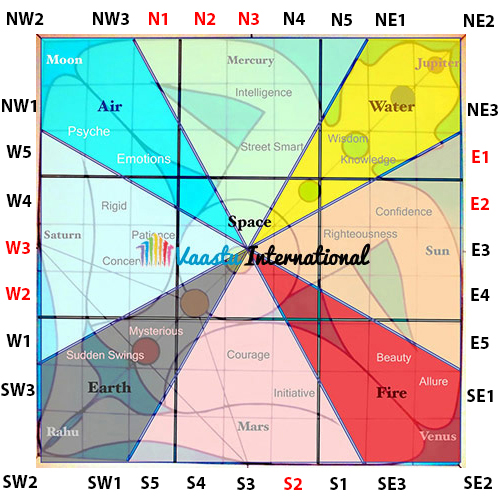 FOR VASTU SHASTRA IN HINDI CLICK HERE
FOR 45 DEVTAS OF VASTU PURUSHA MANDALA IN HINDI CLICK HERE
FOR 16 VASTU ZONES IN HINDI CLICK HERE
FOR FIVE ELEMENTS OF VASTU IN HINDI CLICK HERE
FOR AYADI VASTU IN HINDI CLICK HERE
FOR GEOPATHIC STRESS VASTU IN HINDI CLICK HERE
FOR VASTU AND COSMIC ENERGY IN HINDI CLICK HERE
FOR VASTU TIPS IN HINDI - CLICK HERE
VASTU TIPS FOR PAINTINGS - CLICK HERE
VASTU TIPS FOR CLOCK IN HINDI - CLICK HERE
VASTU TIPS FOR REMOVING NEGATIVE ENERGY IN HINDI - CLICK HERE
VASTU TIPS FOR POSITIVE ENERGY IN HINDI - CLICK HERE
VASTU TIPS FOR CAREER IN HINDI - CLICK HERE
VASTU TIPS FOR MONEY IN HINDI - CLICK HERE
VASTU TIPS FOR HAPPY MARRIED LIFE IN HINDI - CLICK HERE
VASTU TIPS FOR PLOTS IN HINDI - CLICK HERE
FOR VASTU TIPS ON BEDROOM IN HINDI - CLICK HERE
FOR VAASTU MEDITATION - CLICK HERE
FOR AROMA VASTU TIPS - CLICK HERE
FOR CRYSTAL VASTU (RATNADHYAYA) - CLICK HERE
FOR ART OF GIVING - CLICK HERE
FOR VASTU NUMEROLOGY - CLICK HERE

Er. Rameshwar Prasad invites you to the Wonderful World of Vastu Shastra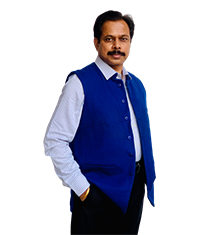 Engineer Rameshwar Prasad
(B.Tech., M.Tech., P.G.D.C.A., P.G.D.M.)
P: (+91-11) 22615299, 22615833
M: (+91) 9810105218, 9654255234