VASTU SHASTRA
Vastu Devta - Rudra (रूद्र)
Samaranganasutradhara identifies Rudra as 'Maheshwar'. Rudra is the personification of vital breaths, which came from Brahma's forehead, of which there were eleven. The name Rudra reflects Shiva's fearsome aspect. According to Yajurveda, God Rudra-Shiva has two contrary sets of attributes. He is malignant or terrific (Rudra) as well as benign or auspicious (Shiva). Terrific part rules the north-west while benign part rules the north-east.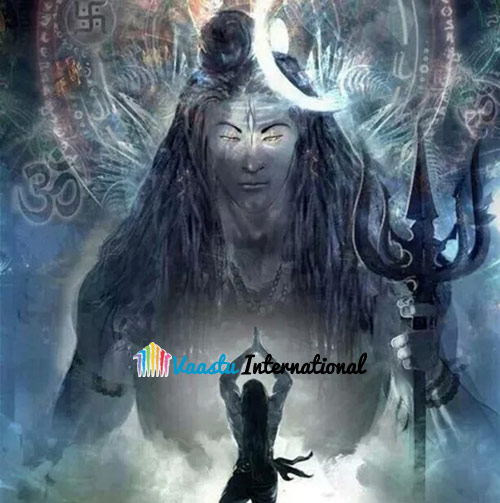 FOR VAASTU INTERNATIONAL COURSES - CLICK HERE
Rudra is father of the eleven Marutas or Rudras and a militant god of storms and lightening. Intelligent and benevolent, he protects people from their enemies. He was worshipped for happiness, his saving help and not to disturb the cattle in the cow pans. In His fierce aspects, he is often depicted slaying the demons.
Rudra is Maheshwar representing the fierce and roaring Lord Shiva. In Rudraashtadhyayi, he is the Supreme All Powerful Healer. He controls all the medicines. Mahamrityunjaya Mantra is supposed to be the most powerful Mantra which can save one from even the Death.
33. RUDRA (NW) :
• Channelising support.
• Shiva form responsible for flow of activities.
• Sustaining day to day activities without interruption.
• Emotional imbalance.
• Flow of ideas.
• Ability to complete work with ease.
Devta (देवता)

RUDRA (रूद्र)

Alternative Name
महेश्वरः
God
Rudra
Direction
NW
Planet
Moon
Attributes
CHANNELISER
Samagri
खीर व गुड़, पर कई जगह मांस तथा चर्बी कहा है
Mantra
ऊँ सुत्रामाण पृथिवी द्यामनेहस नमः
समराङ्गण सूत्रधार
रुद्र स्तूक्तो महेश्वरः ।
मन्त्र
(विश्वकर्म प्रकाश)
सुत्रामाणं पृथिवीं द्यामनेहसं सुशर्माणमदितिं सुप्रणीतिम् ।
दैवीं नावं स्वरित्रामनागसो अस्रवन्तीमा रुहेमा स्वस्तये ॥१॥ ऋग्वेदः सूक्तं १०.६३
धातु
वनष्पति
रत्न
नीलम
चिन्ह
त्रिशूल
रंग
लाल
हवन सामग्री
भात
Role
Controller
Grocery
Onion
TO KNOW MORE ABOUT 45 VASTU DEVTAS [ENERGY FIELDS] - CLICK ON BUTTONS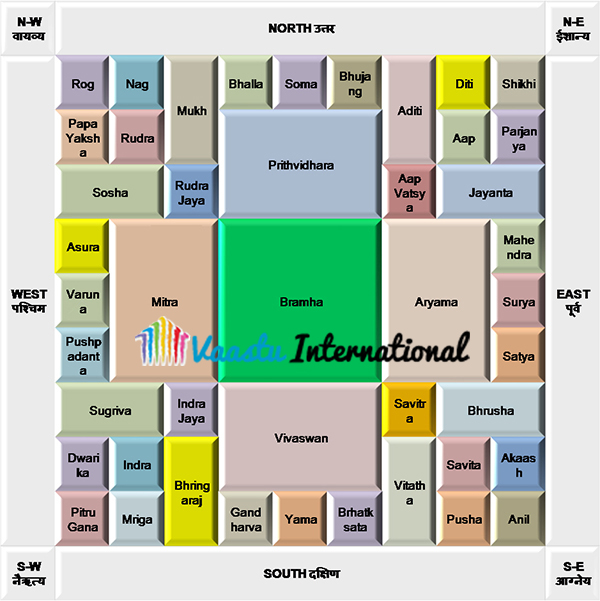 Rudras are described as loyal friends and messengers. The Shatapatha Brahmana mentions that Rudra is the prince while Rudras are his subjects. They are considered as attendants of Shiva in later mythology. According to the Rig Veda and Krishna Yajur Veda, Rudras are gods of the middle world situated between earth and heaven i.e., the atmosphere. So, Rudras represent life-breath as the wind-gods.
The Mahabharata describes Rudras as companions of Indra, servants of Shiva and his son Skanda and companions of Yama, who is surrounded by them. They have immense power, wear golden necklaces and are like lighting-illuminated clouds. These qualities of Rudra can be utilised by a beauty parlour in this square or keeping the dressing tabl at home. The Bhagavata Purana prescribes the worship of Rudras to gain virile power.
Rudra and Rudrajaya with the force of the wind devastates all diseases (Rog) and Nags helps The Lord Rudra with their electrifying flexibily and mauaeverablility. The Dragon in Chinese culture is another representation of Nag.
Good for critically ill people and in hospitals department for treatment of critical disceases can be created here.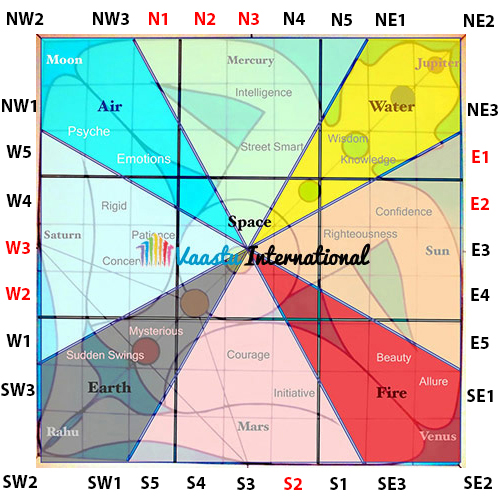 FOR VASTU SHASTRA IN HINDI CLICK HERE
FOR 45 DEVTAS OF VASTU PURUSHA MANDALA IN HINDI CLICK HERE
FOR 16 VASTU ZONES IN HINDI CLICK HERE
FOR FIVE ELEMENTS OF VASTU IN HINDI CLICK HERE
FOR AYADI VASTU IN HINDI CLICK HERE
FOR GEOPATHIC STRESS VASTU IN HINDI CLICK HERE
FOR VASTU AND COSMIC ENERGY IN HINDI CLICK HERE
FOR VASTU TIPS IN HINDI - CLICK HERE
VASTU TIPS FOR PAINTINGS - CLICK HERE
VASTU TIPS FOR CLOCK IN HINDI - CLICK HERE
VASTU TIPS FOR REMOVING NEGATIVE ENERGY IN HINDI - CLICK HERE
VASTU TIPS FOR POSITIVE ENERGY IN HINDI - CLICK HERE
VASTU TIPS FOR CAREER IN HINDI - CLICK HERE
VASTU TIPS FOR MONEY IN HINDI - CLICK HERE
VASTU TIPS FOR HAPPY MARRIED LIFE IN HINDI - CLICK HERE
VASTU TIPS FOR PLOTS IN HINDI - CLICK HERE
FOR VASTU TIPS ON BEDROOM IN HINDI - CLICK HERE
FOR VAASTU MEDITATION - CLICK HERE
FOR AROMA VASTU TIPS - CLICK HERE
FOR CRYSTAL VASTU (RATNADHYAYA) - CLICK HERE
FOR ART OF GIVING - CLICK HERE
FOR VASTU NUMEROLOGY - CLICK HERE

Er. Rameshwar Prasad invites you to the Wonderful World of Vastu Shastra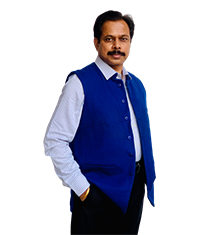 Engineer Rameshwar Prasad
(B.Tech., M.Tech., P.G.D.C.A., P.G.D.M.)
P: (+91-11) 22615299, 22615833
M: (+91) 9810105218, 9654255234