VASTU SHASTRA
Vastu Devta - Jayanta (जयन्त)
In Hindu mythology, Jayanta (जयन्त) means 'victorious'. The square of Jayanta bestows courage and is the success maker. Jayanta is the son of Indra, the king of the gods and his consort Shachi. He has a sister called Jayanti. He resides in the heaven governed by Indra. He fought many wars on behalf of the gods and his father. Some experts take Jayanta, as the son of Indra, the king of the gods specially because the Pada of Jayanta is by the side of Mahendra, his father.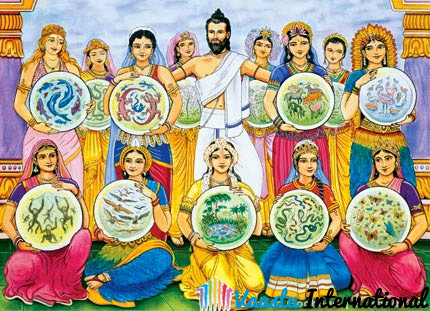 FOR VAASTU INTERNATIONAL COURSES - CLICK HERE
However as per Samrangansutradhar Jayanta is Kashyap Rishi, the father of Gods and Daityas. He is the most ancient rishi listed in the verses in the Brihadaranyaka Upanishad.
Diti and Aditi are the wives of Rishi Kashyap. Kaśyapa, alternatively kacchapa, means "turtle" in Sanskrit. Kashyapa is one of Saptarishi, the seven famed rishis. He is the father of Indra.
3. JAYANT (ENE) :
• Successful in all understanding. 
• Goals and enthusiasm and ideas.
• Sword when put here, may make one critical and bitter in language. 
• Bedroom makes a person street smart. 
• Toilet has negative effects on children, they will not be able to express well. Will be very simplistic and shy.
• Sometimes, presence of black colour or circle gives negative effects. 
• Wine storage or book store will gives benefits in terms of social mingling.
• Plants are very good here.
• It teaches Sam Daam Danda Bheda. Kut Neeti.
• Entrance here equipped the residents with everything that helps them enjoy success in the materialistic world/money, profits and success.
• Living room and dining are good here.
• Effects on the mind. 
• Helps with creative solution. 
• Imparts action and determination.
Devta (देवता)

JAYANT (जयन्त)

Alternative Name
कश्यप ऋषि 
God
Jayant
Direction
ENE
Planet
JUPITER
Attributes
SUCCESS MAKER
Samagri
बथुआ शाक तथा दधि, किशमिश, घी, मक्खन, सूखी हुई खजूर
Mantra
धन्वना मा धन्वनाऽजिंजयेम नमः
समराङ्गण सूत्रधार
जयन्तस्तु द्विनामाख्यः कश्यपो भगवानृषिः।
मन्त्र
(विश्वकर्म प्रकाश)
धन्वनागा धन्वनाजिं जयेम धन्वना तीव्राः समदो जयेम |
धनुः शत्रोरपकामं कर्णोति धन्वना सर्वाः परदिशो जयेम ||
धातु
वनष्पति
रत्न
चिन्ह
चन्द्रमा, छत्र, कछुआ 
रंग
पीला 
हवन सामग्री
घी, मक्खन 
Role
Excellent, Performer, Achiever
Grocery
Sandalwood
TO KNOW MORE ABOUT 45 VASTU DEVTAS [ENERGY FIELDS] - CLICK ON BUTTONS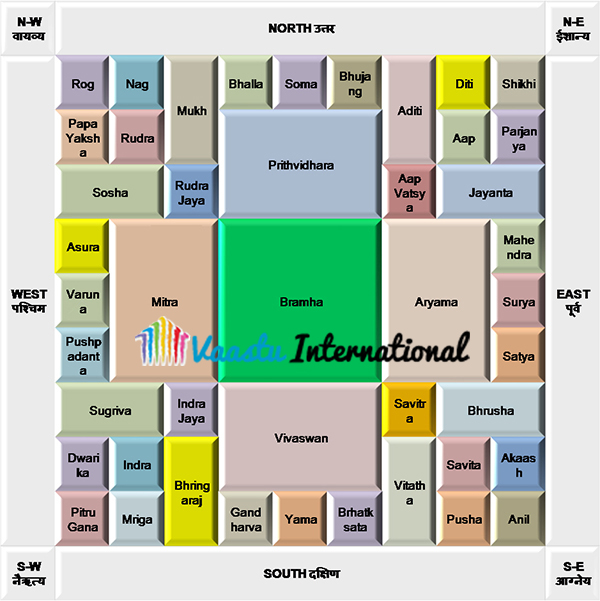 In Atharvaved, a hymn dedicated to Kashyap says, "Undisturbed am I, undisturbed is my soul, undisturbed mine eye, undisturbed mine ear, undisturbed is mine in-breathing, undisturbed mine out-breathing, undisturbed my diffusive breath, undisturbed the whole of me." And also "Thereafter rose Desire in the beginning, Desire the primal seed and germ of Spirit, O Kama dwelling with the lofty Kama, give growth of riches to the sacrificer."
This is a powerful zone. When well energized blesses the people with Riches and Vanshvridhi.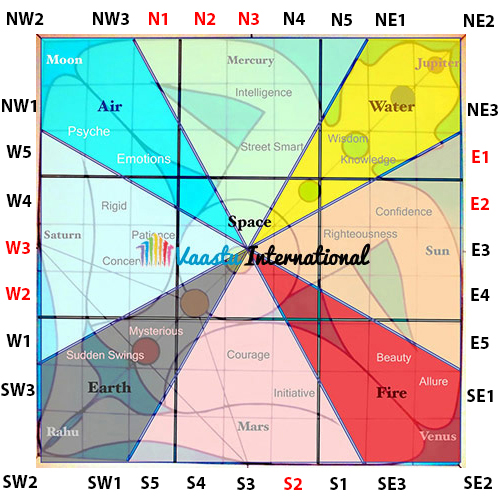 FOR VASTU SHASTRA IN HINDI CLICK HERE
FOR 45 DEVTAS OF VASTU PURUSHA MANDALA IN HINDI CLICK HERE
FOR 16 VASTU ZONES IN HINDI CLICK HERE
FOR FIVE ELEMENTS OF VASTU IN HINDI CLICK HERE
FOR AYADI VASTU IN HINDI CLICK HERE
FOR GEOPATHIC STRESS VASTU IN HINDI CLICK HERE
FOR VASTU AND COSMIC ENERGY IN HINDI CLICK HERE
FOR VASTU TIPS IN HINDI - CLICK HERE
VASTU TIPS FOR PAINTINGS - CLICK HERE
VASTU TIPS FOR CLOCK IN HINDI - CLICK HERE
VASTU TIPS FOR REMOVING NEGATIVE ENERGY IN HINDI - CLICK HERE
VASTU TIPS FOR POSITIVE ENERGY IN HINDI - CLICK HERE
VASTU TIPS FOR CAREER IN HINDI - CLICK HERE
VASTU TIPS FOR MONEY IN HINDI - CLICK HERE
VASTU TIPS FOR HAPPY MARRIED LIFE IN HINDI - CLICK HERE
VASTU TIPS FOR PLOTS IN HINDI - CLICK HERE
FOR VASTU TIPS ON BEDROOM IN HINDI - CLICK HERE
FOR VAASTU MEDITATION - CLICK HERE
FOR AROMA VASTU TIPS - CLICK HERE
FOR CRYSTAL VASTU (RATNADHYAYA) - CLICK HERE
FOR ART OF GIVING - CLICK HERE
FOR VASTU NUMEROLOGY - CLICK HERE

Er. Rameshwar Prasad invites you to the Wonderful World of Vastu Shastra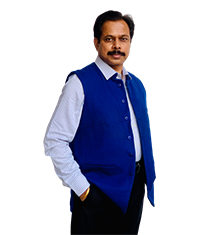 Engineer Rameshwar Prasad
(B.Tech., M.Tech., P.G.D.C.A., P.G.D.M.)
P: (+91-11) 22615299, 22615833
M: (+91) 9810105218, 9654255234