VASTU SHASTRA
Vastu Devta - Pushpdant (पुष्पदंत)
'Pushpdant' means, flower-toothed. Samarangana Sutradhara identifies Pushpdant as, 'Son of Vinata, very quick in action'. The square of Pushpadanta is related to the assistance power and exploring. Vinata, one of the sixty daughters of Daksha Prajapati, was married to Rishi Kashyapa along with her 12 sisters. She had two sons, named Aruna and Garuda. Aruna became a charioteer and herald for the sun god and creator of the red sky at dawn.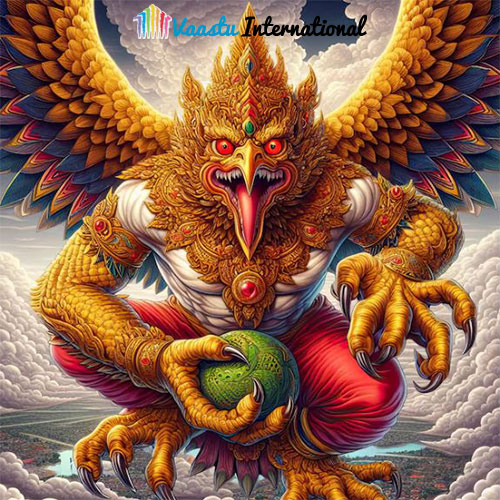 FOR VAASTU INTERNATIONAL COURSES - CLICK HERE
Vinata's second son Garuda was born in the form of a huge bird with immense power. According to the great epic Mahabharata, when Garuda first burst forth from his egg, he appeared like a cosmic fire that consumes the world at the end of every age. Garuda is said to be massive, large enough to block out the sun. He was so brilliant that he was mistaken for Agni, the fire god. Frightened, the gods begged him for mercy. Garuda, hearing their plea, reduced himself in size and energy.
Garuḍa is depicted as the mortal enemy of snakes - he thus represents courage. Snakes represent all those factors that obstruct the spiritual path. His wife's name is Unnati or "progress" also called "queen-of-knowledge".
20. PUSHPDANT (W) :
• Power of blessing.
• Gives the power to overcome day to day problems.
• Imbalance cause inability to conduct day to day matters.
• Gaja Lakshmi is a very good remedy here.
• Bedroom gives great opportunities and makes one successful.
• Living room here with Black colour sofa makes all discussion fruitful.
• White flowers are a great remedy here.
• Blue colour give good results.
• Safe (Tijori) - best place. Is very useful.
• If balanced, receives help from all sides.
Devta (देवता)

PUSHPDANT (पुष्पदंत)

Alternative Name
गरुड़
God
Pushpdant
Direction
W
Planet
VENUS
Attributes
ASSISTING POWER
Samagri
जौ के भात, पुष्प, भक्ष्य पदार्थ, दही युक्त अन्न
Mantra
ऊँ नक्षत्रेभ्यः स्वाहा नमः
समराङ्गण सूत्रधार
पुष्पदन्तस्तु विनतातनयः स्यान्महाजवः ॥
मन्त्र
(विश्वकर्म प्रकाश)
नक्षत्रेभ्यः स्वाहा नक्षत्रियेभ्यः स्वाहाहोरात्रेभ्यः स्वाहार्धमासेभ्यः स्वाहा मासेभ्यः स्वाहा ऋतुभ्यः स्वाहार्तवेभ्यः स्वाहा संवत्सराय स्वाहा द्यावापृथिवीभ्याम् स्वाहा चन्द्राय स्वाहा सूर्याय स्वाहा रश्मिभ्यः स्वाहा वसुभ्यः स्वाहा रुद्रेभ्यः स्वाहादित्येभ्यः स्वाहा मरुद्भ्यः स्वाहा विश्वेभ्यो देवेभ्यः स्वाहा मूलेभ्यः स्वाहा शाखाभ्यः स्वाहा वनस्पतिभ्यः स्वाहा पुष्पेभ्यः स्वाहा फलेभ्यः स्वाहौषधीभ्यः स्वाहा ॥
धातु
वनष्पति
रत्न
चिन्ह
गदा, पाश
रंग
लाल
हवन सामग्री
खीर, दूध, सफेद फूल
Role
Grammarian, Ustad, Maestro
Grocery
Chocolates, Roman Coriander (धनिया)
TO KNOW MORE ABOUT 45 VASTU DEVTAS [ENERGY FIELDS] - CLICK ON BUTTONS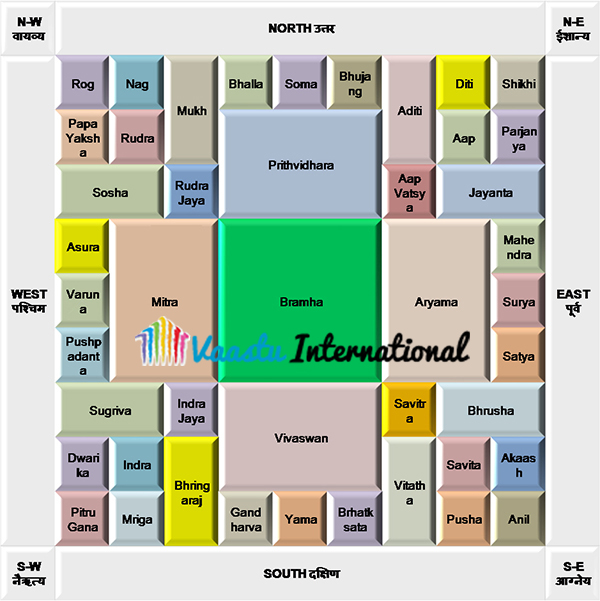 Garuḍa (Viṣṇu's vehicle) - Viṣṇu rides upon a creature half-human & half-eagle known as Garuḍa or Garutman which means "wings-of-speech". Garuda in the mythical and colourful Hindu scriptures is the King of the Birds and acts as messenger between Gods and Humans. He is the manifestor of the triple Vedas.
Represents speed, dedication, distant vision for planning, destroyer of enemies.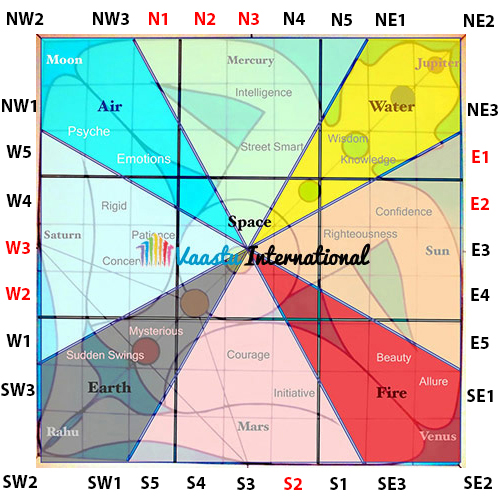 FOR VASTU SHASTRA IN HINDI CLICK HERE
FOR 45 DEVTAS OF VASTU PURUSHA MANDALA IN HINDI CLICK HERE
FOR 16 VASTU ZONES IN HINDI CLICK HERE
FOR FIVE ELEMENTS OF VASTU IN HINDI CLICK HERE
FOR AYADI VASTU IN HINDI CLICK HERE
FOR GEOPATHIC STRESS VASTU IN HINDI CLICK HERE
FOR VASTU AND COSMIC ENERGY IN HINDI CLICK HERE
FOR VASTU TIPS IN HINDI - CLICK HERE
VASTU TIPS FOR PAINTINGS - CLICK HERE
VASTU TIPS FOR CLOCK IN HINDI - CLICK HERE
VASTU TIPS FOR REMOVING NEGATIVE ENERGY IN HINDI - CLICK HERE
VASTU TIPS FOR POSITIVE ENERGY IN HINDI - CLICK HERE
VASTU TIPS FOR CAREER IN HINDI - CLICK HERE
VASTU TIPS FOR MONEY IN HINDI - CLICK HERE
VASTU TIPS FOR HAPPY MARRIED LIFE IN HINDI - CLICK HERE
VASTU TIPS FOR PLOTS IN HINDI - CLICK HERE
FOR VASTU TIPS ON BEDROOM IN HINDI - CLICK HERE
FOR VAASTU MEDITATION - CLICK HERE
FOR AROMA VASTU TIPS - CLICK HERE
FOR CRYSTAL VASTU (RATNADHYAYA) - CLICK HERE
FOR ART OF GIVING - CLICK HERE
FOR VASTU NUMEROLOGY - CLICK HERE

Er. Rameshwar Prasad invites you to the Wonderful World of Vastu Shastra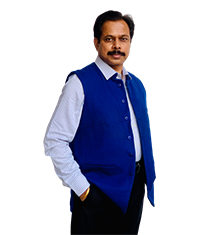 Engineer Rameshwar Prasad
(B.Tech., M.Tech., P.G.D.C.A., P.G.D.M.)
P: (+91-11) 22615299, 22615833
M: (+91) 9810105218, 9654255234