VASTU SHASTRA
Vastu Devta - Dauwarik (दौवारिक)
'Dauvaarik' means, kind of demon or genius, porter, warder or a door keeper. Samarangana Sutradhara identifies Dauvaarik as, 'Nandi - the head of the soldiers (Pramathas) of Shiva'. The square of Dauvarika is the door keeper and governs the energies of bonding, retention of knowledge, learning and the memory of children.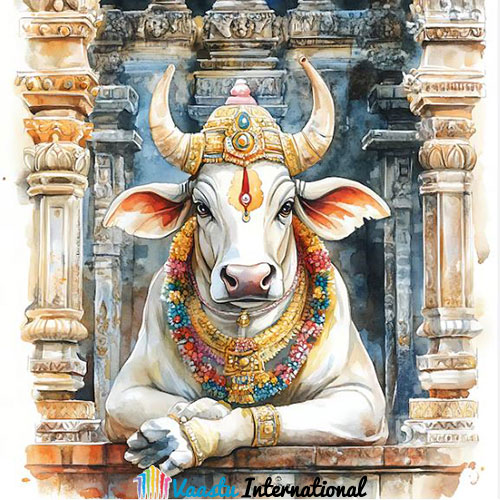 FOR VAASTU INTERNATIONAL COURSES - CLICK HERE
The bull Nandi is Shiva's primary vehicle and his principal gana (follower). Nandi was one of Shiva's two door-keepers, the other being Mahakaal. Nandi is also Shiva's foremost disciple. According to some puranas, Nandi was born to sage Shilada who got him by the grace of Shiva. Brahmavaivartta Purana mentions Krishna himself to have taken the form of a bull as no one else in the Universe can bear Shiva.
Nandi is the divine ox, who is the mount of Lord Shiva. He is the most well known member of the Ganas, who comprise Shiva's army. His likeness is present in all the temples of Shiva and it is customary to pay respects to him before proceeding to get a glimpse of Shiva and Parvati. He is the Dwarpal or Dauvarik there.
18. DAUWARIK (SW) :
• Decides what enters the life and what to be omitted.
• Acts as filter in life.
• Responsible for step wise knowledge.
• Power of discretion / discrimination.
• When a person complains of "total wastage of efforts", look at Daurika also along with Bhringraj.
• Nandi remedy is best here.
• Insecure relationship if this zone is weak.
• A piggy bank is associated with savings.
• Bed here makes one mindful and cautious. Better capability of understanding.
• Weak zone causes a person not to be able to use money or save money.
• Imbalances here makes a person waste money on useless products.
• Gives the student a right gauge of what to study and how much importance to give to a subject.
Devta (देवता)

DAUWARIK (दौवारिक)

Alternative Name
नंदी
God
Dauvarik
Direction
SW
Planet
RAHU
Attributes
DOOR KEEPER
Samagri
खिचड़ी (किसी ग्रंथ में पुष्प सहित मोदक)
Mantra
ऊँ द्रविणोदाः पियीषति जुहोत प्रचतिष्ठता नेष्टादृतुभिरिण्यत नमः
समराङ्गण सूत्रधार
आदिः प्रजापतिः स्रष्टा ॥
मन्त्र
(विश्वकर्म प्रकाश)
द्रविणोद: पिपीधति जुहोत प्रच तिष्ठत।
नेष्ट्रादृतुभिरिष्यत ॥
धातु
वनष्पति
रत्न
चिन्ह
नंदी, मोर, कार्तिकेय
रंग
लाल
हवन सामग्री
उड़द के बड़े, लौंग, खिचड़ी
Role
Guard, Security System
Grocery
Kohl (सुरमा), Daatun, Ginger, Toothpaste
TO KNOW MORE ABOUT 45 VASTU DEVTAS [ENERGY FIELDS] - CLICK ON BUTTONS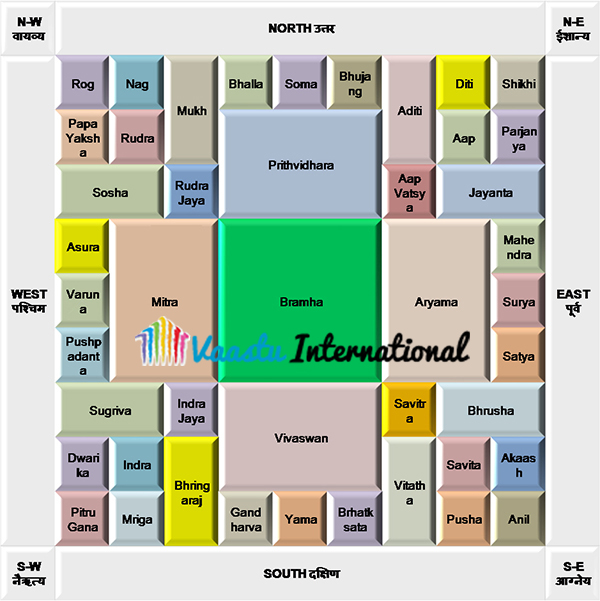 Nandi (नन्दि) refers to progenitor of the most ancient group of Siddha thinkers. Nandideva is semantically identified with Ṛṣabadēva, who gained the wisdom directly from the Supreme Lord Śiva.
Tradition holds that Nandi was the chief exponent of Indian tradition of Dance. He was identified with Taṇḍu and as an author of the Nāṭyaśāstra, a treatise on dance and the name Tāṇḍava was given to the dance of Śiva. Nandi is also regarded as the first exponent of rasa theory and Vātsyāyana acknowledges him as the first author of Kāma.
According to tradition, Nandi and Agastya learnt the Siddha system of medicine and Śivayoga from Śiva, and imparted it to a number of disciples (eg., Nandi). These Siddhas are united by their philosophy, accepting the human body as the microcosm of the universe, and seeing the human evolution as the ultimate accomplishment of the regenerative power of the Universe.
A zone for the best application of your knowledge.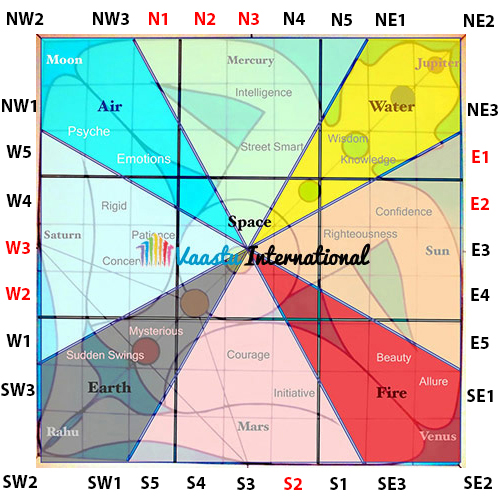 FOR VASTU SHASTRA IN HINDI CLICK HERE
FOR 45 DEVTAS OF VASTU PURUSHA MANDALA IN HINDI CLICK HERE
FOR 16 VASTU ZONES IN HINDI CLICK HERE
FOR FIVE ELEMENTS OF VASTU IN HINDI CLICK HERE
FOR AYADI VASTU IN HINDI CLICK HERE
FOR GEOPATHIC STRESS VASTU IN HINDI CLICK HERE
FOR VASTU AND COSMIC ENERGY IN HINDI CLICK HERE
FOR VASTU TIPS IN HINDI - CLICK HERE
VASTU TIPS FOR PAINTINGS - CLICK HERE
VASTU TIPS FOR CLOCK IN HINDI - CLICK HERE
VASTU TIPS FOR REMOVING NEGATIVE ENERGY IN HINDI - CLICK HERE
VASTU TIPS FOR POSITIVE ENERGY IN HINDI - CLICK HERE
VASTU TIPS FOR CAREER IN HINDI - CLICK HERE
VASTU TIPS FOR MONEY IN HINDI - CLICK HERE
VASTU TIPS FOR HAPPY MARRIED LIFE IN HINDI - CLICK HERE
VASTU TIPS FOR PLOTS IN HINDI - CLICK HERE
FOR VASTU TIPS ON BEDROOM IN HINDI - CLICK HERE
FOR VAASTU MEDITATION - CLICK HERE
FOR AROMA VASTU TIPS - CLICK HERE
FOR CRYSTAL VASTU (RATNADHYAYA) - CLICK HERE
FOR ART OF GIVING - CLICK HERE
FOR VASTU NUMEROLOGY - CLICK HERE

Er. Rameshwar Prasad invites you to the Wonderful World of Vastu Shastra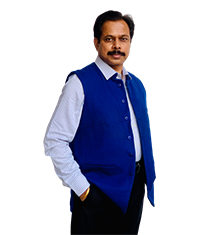 Engineer Rameshwar Prasad
(B.Tech., M.Tech., P.G.D.C.A., P.G.D.M.)
P: (+91-11) 22615299, 22615833
M: (+91) 9810105218, 9654255234