VASTU SHASTRA
Vastu Devta - Shikhi (शिखी - भगवान शिव)
Shiva is one of the three major deities of Hinduism. He is Anant, one who is neither found born nor found dead. At the highest level, Shiva is regarded as limitless, transcendent, unchanging and formless. Śiva - Of the five faces of this deity (Śiva), 1. the one facing the east is that of Īśāna, 2. that facing the south, of Īśvara, 3. the west, of Brahmā, 4. the north, of Īśa and 5. the top of Sadāśiva.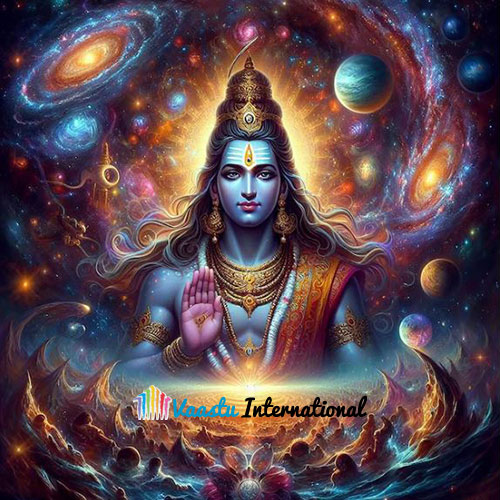 FOR VAASTU INTERNATIONAL COURSES - CLICK HERE
Actually, Shiva has six heads, of which only five (Isana, Tatpurusha, Vamadeva, Aghora and Sadyojata) are visible, while the sixth (Adhomukh) can be seen only by the enlightened one. Each of the five heads denotes one of the five elements:
1. Isana - internal aspect that conceals - associated with all that exist - represents ether.
2. Vamadeva - north aspect that sustains manifest Brahman - associated with Vishnu - represents water.
3. Tatpurusha - east aspect Rishi, Muni, Gyani and Yogi - represents air.
4. Aghora - south aspect that rejuvenates manifest Brahman - associated with Rudra - represents fire.
5. Sadyojata - west aspect that propagates manifest Brahman - associated with Brahma - represents earth.
It is the Chitta Shaktī or power of the individual consciousness to realize the universal consciousness. Īśāna Represents Space. Starting from Ajna to Sahasrara leading to Brahma Randra in your body. Isha possesses excellent qualities of controlling mortal and divine beings with ease.
1. Shikhi (NE) :
• Third eye of Shiva.
• Power to conceive any idea.
• Heavy stuff kept here can also cause imbalance.
• Issues of eyesight.
• Office gate here will cause problems related to electricity.
• Entrance here gives fire, accidents and losses.
• Kitchen here causes anger and frustration, lots of mental disturbance.
• A store over here causes blocked mind set.
• A toilet here can be associated with mental defects.
• Sitting here for long time can give disinterestedness in life.
Devta (देवता)

SHIKHI (शिखी)

Alternative Name
शिखी - भगवान शिव 
God
Isha
Direction
NE
Planet
Moon
Attributes
YOGI
Samagri
दूध, दही, दूध में अन्न एवं घी।
Mantra
ऊँ तमीशांन जगतस्थतुषस्पति नमः
समराङ्गण सूत्रधार
योऽयं वह्निरिहोक्तः स सर्वभूतहरो हरः।
मन्त्र
(विश्वकर्म प्रकाश)
तमीशानं जगतस्तस्थुषस पतिं धियंजिन्वमवसे हूमहे वयम |
पूषा नो यथा वेदसामसद वर्धे रक्षिता पायुरदब्धः सवस्तये ||
धातु
सोना, पारा
वनष्पति
शमी काष्ठ
रत्न
स्फटिक 
चिन्ह
चांदी या स्फटिक का वृषभ, डमरू, मोर पंख 
रंग
लाल 
हवन सामग्री
घी, भात, शालि (अन्न) 
Role
Subject expert and Braham gyani
Grocery
Camphor
TO KNOW MORE ABOUT 45 VASTU DEVTAS [ENERGY FIELDS] - CLICK ON BUTTONS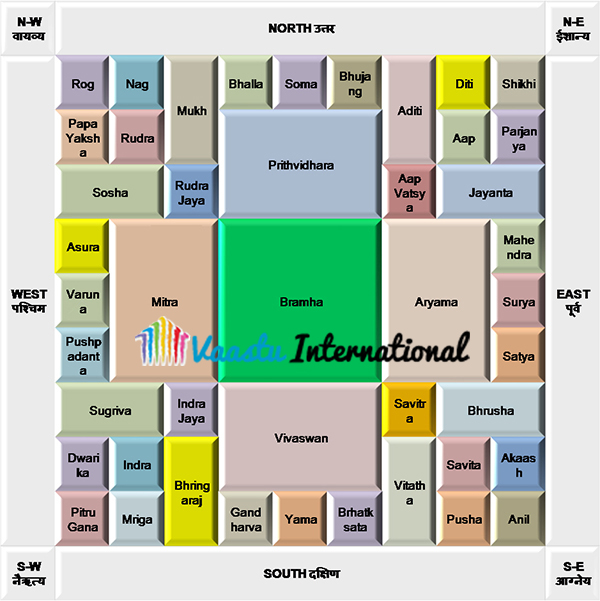 All ceremonials, such as installation (sthāpana), should be done only the Īśāna face i.e. facing East. May be that is the reason East is given importance in Vastu Vidhya.
This is zone for those who desire to attain perfection in yoga, mantra-siddhi, meditation and are in pursuit of knowledge. The quality of this zone is reduced ego to ashes signifying absolute love for the universe and freedom from cosmic law.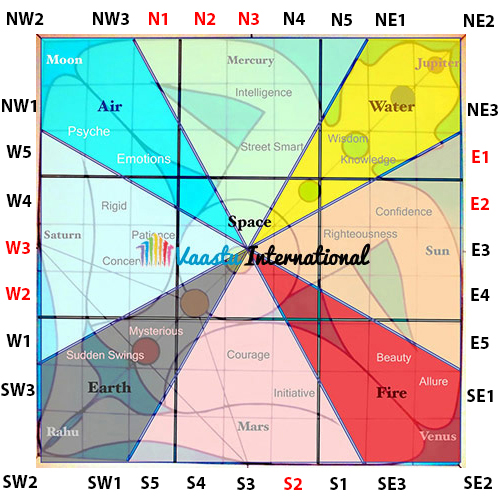 FOR VASTU SHASTRA IN HINDI CLICK HERE
FOR 45 DEVTAS OF VASTU PURUSHA MANDALA IN HINDI CLICK HERE
FOR 16 VASTU ZONES IN HINDI CLICK HERE
FOR FIVE ELEMENTS OF VASTU IN HINDI CLICK HERE
FOR AYADI VASTU IN HINDI CLICK HERE
FOR GEOPATHIC STRESS VASTU IN HINDI CLICK HERE
FOR VASTU AND COSMIC ENERGY IN HINDI CLICK HERE
FOR VASTU TIPS IN HINDI - CLICK HERE
VASTU TIPS FOR PAINTINGS - CLICK HERE
VASTU TIPS FOR CLOCK IN HINDI - CLICK HERE
VASTU TIPS FOR REMOVING NEGATIVE ENERGY IN HINDI - CLICK HERE
VASTU TIPS FOR POSITIVE ENERGY IN HINDI - CLICK HERE
VASTU TIPS FOR CAREER IN HINDI - CLICK HERE
VASTU TIPS FOR MONEY IN HINDI - CLICK HERE
VASTU TIPS FOR HAPPY MARRIED LIFE IN HINDI - CLICK HERE
VASTU TIPS FOR PLOTS IN HINDI - CLICK HERE
FOR VASTU TIPS ON BEDROOM IN HINDI - CLICK HERE
FOR VAASTU MEDITATION - CLICK HERE
FOR AROMA VASTU TIPS - CLICK HERE
FOR CRYSTAL VASTU (RATNADHYAYA) - CLICK HERE
FOR ART OF GIVING - CLICK HERE
FOR VASTU NUMEROLOGY - CLICK HERE

Er. Rameshwar Prasad invites you to the Wonderful World of Vastu Shastra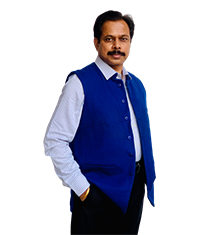 Engineer Rameshwar Prasad
(B.Tech., M.Tech., P.G.D.C.A., P.G.D.M.)
P: (+91-11) 22615299, 22615833
M: (+91) 9810105218, 9654255234