VASTU NEWS
Place Sunset Painting on the Western Wall
Readers Questions and Answers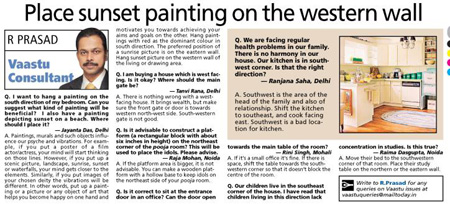 Place Sunset Painting on the Western Wall
- Rameshwar Prasad, Vastu Consultant, Delhi, India.
Q. I want to hang a painting on the south direction of my bedroom. Can you suggest what kind of painting will be beneficial? I also have a painting depicting sunset on a beach. Where should I place it?
— Jayanta Das, Delhi
A. Paintings, murals and such objects influence our psyche and vibrations. For example, if you put a poster of a film actor/ actress, your mind will start thinking on those lines. However, if you put up a scenic picture, landscape, sunrise, sunset or waterfalls, your mind gets closer to the elements. Similarly, if you put images of your chosen deity the vibrations will be different. In other words, put up a painting or a picture or any object of art that helps you become happy on one hand and motivates you towards achieving your aims and goals on the other. Hang paintings with red as the dominant colour in south direction. The preferred position of a sunrise picture is on the eastern wall. Hang sunset picture on the western wall of the living or drawing area.
Q. I am buying a house which is west facing. Is it okay? Where should the main gate be?
— Tanvi Rana, Delhi
A. There is nothing wrong with a west facing house. It brings wealth, but make sure the front gate or door is towards western north- west side. South- western gate is not good.
Q. Is it advisable to construct a platform ( a rectangular block with about six inches in height) on the northeast corner of the pooja room? This will be used to place the idols. Please advise.
— Raja Mohan, Noida
A. If the platform area is bigger, it is not advisable. You can make a wooden platform with a hollow base to keep idols on the northeast side of your pooja room.
Q. Is it correct to sit at the entrance door in an office? Can the door open towards the main table of the room?
— Rini Singh, Mohali
A. If it's a small office it's fine. If there is space, shift the table towards the southwestern corner so that it doesn't block the centre of the room.
Q. Our children live in the southeast corner of the house. I have read that children living in this direction lack concentration in studies. Is this true?
— Raima Dasgupta, Noida
A. Move their bed to the southwestern corner of that room. Place their study table on the northern or the eastern wall.
Q. We are facing regular health problems in our family.. There is no harmony in our house. Our kitchen is in southwest corner. Is that the right direction?
— Ranjana Saha, Delhi
A. Southwest is the area of the head of the family and also of relationship. Shift the kitchen to southeast, and cook facing east. Southwest is a bad location for kitchen.
Mail Today
Rameshwar Prasad invites you to Read Published Articles Written by Him.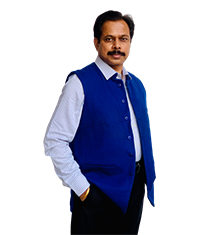 Engineer Rameshwar Prasad
(B.Tech., M.Tech., P.G.D.C.A., P.G.D.M.)
P: (+91-11) 22615299, 22615833
M: (+91) 9810105218, 9654255234