Feng Shui Home Tips
Home Tips : Entry/Foyer
Always use your intuition before making changes, consider first how it effects the rest of your decor. Do not just use traditional rules such as painting your front door red, it would cause disharmony if your home was peach or rose.
This is your room of first impressions: what are the symbols, do you feel good? Are your "impressed" with yourself and your life? YOU can easily make changes!
After walking into your front door, it should open into an expansive and feel good space, not one that is restrictive in anyway or that faces a mirror, staircase or an open window.
Where natural light is not readily available, especially in corridors and entry vestibules, make sure they are well illuminated.
Avoid sharp pointed buildings, wall corners, furniture or accessories pointed directly at your house, bed or desk. It is reminiscent of a cutting knife edge or a disapproving finger.
Breathe in the sacred energy of your home, shedding outside influences.
Create a small space just inside the front door.
Take a minute to make an energetic change in your being.
Consider having a pair of Foo dogs or other guardians positioned that you have to walk through to protect all who enter.
Try to always enter through one of your lucky directions assuming you don't have to walk through the "mud room!
The entry of your home or office should be open and inviting, trim away foliage that may be blocking the path of Chi.
Er. Rameshwar Prasad invites you to the Wonderful World of Feng Shui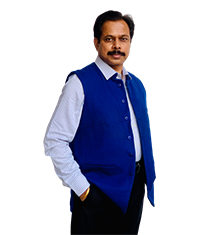 Engineer Rameshwar Prasad
(B.Tech., M.Tech., P.G.D.C.A., P.G.D.M.)
P: (+91-11) 22615299, 22615833
M: (+91) 9810105218, 9654255234