Articles in Newspapers and Magazines
Universe is one of the beautiful creations of nature and everything stands alive only in the limelight of truth. Just like every subject of human aspect is governed with rules, regulations & acts, similarly the nature has also got certain key factor principles for smooth governing of it's residents. Our Ancestors recognized that our life and destiny are closely interconnected with our environment. Our surroundings, the style of our buildings and the interior lay out of our homes have a profound effect on us.
If Man is the reflection of Nature, Architecture reflects Man
Vaastu Shastra evolved in India over thousands of years and aims to create environments that are ideally suited to the function and purpose of a space; be it a home or an office. People who live and work in such an environment feel more energetic and creative, thereby increasing their potential for social and financial success.
Where less than ideal environment exist, occupants often experience life as a struggle. Vaastu offers cures to remedy the situation. Structural changes to the property are often unnecessary but sometimes compulsory. Remedies like placement of mirrors, plants, crystals, symbolic objects, clearing clutter and rearranging furniture, bring a lot of change in a person's life.
As a result of such simple measures, thousands of people have found their lives transformed. Their families have experienced new domestic harmony and businesses have discovered a sense of purpose, teamwork and relief from stress.
Understanding Vaastu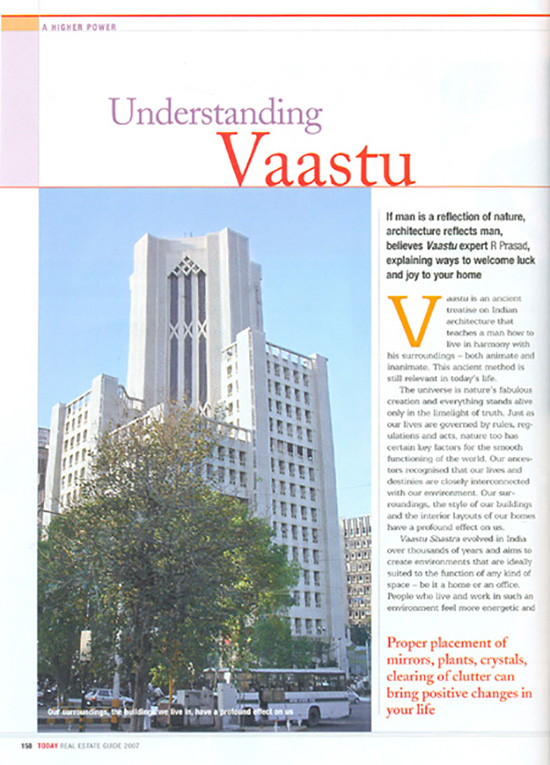 Publisher :

Mail Today

Category :

Vastu Shastra

Sub Category :

Real Estate Guide

Link : Published Articles