ASTROLOGY
Sun Sign Forecast For Virgo in 2017

For natives born between August 24 to September 23
(These predictions are Solar-based. Readers are requested to take date of birth into considering when reading these predictions.)
Hindi Name: Kanya
Date of Birth: 24th August to 23rd September
Ruling Planet: Buddha
Nakshatras: Uttra Phalguni, Hast
Lucky Numbers: 1, 4, 8
Lucky Days: Wednesday, Tuesday
Lucky Colours: Yellow, Green, Magenta
Lucky Stones: Diamond, Emerald, Pearl

Virgo is the sixth zodiac sign and ruled by Mercury, the lord of communication and business. One of the most reliable signs in the zodiac, this earthy sign is second in the series, the first being Taurus. Virgo is considered to be a magnet in the business class. This sign is connected with work and service. It is deemed to give benevolent results if influenced by a benefic planet. The sun enters Virgo on August 23rd and remains till September 23rd roughly. Virgo and Pisces are equal day-night signs. Sun in transit triggers Virgo qualities and significations. Virgos are usually blessed with easy gains, good inheritance, and interest in occult sciences.

Virgo Horoscope 2017
Initially the year for the Virgos may not look all that great or rosy. But during the second half of the year, the balance changes and the pace for the Virgo born natives pick up.
You can find the first half of the year to be a little difficult, sluggish, and challenging. But the second half of the year brings respite from the domestic problems ailing you and your aspirations to gain financial bliss will also be fulfilled in that half only. 
This year will grant you the insight to realize who your true friends are, and you will be able to do away with a lot of fair weather friends who had flocked near you for all these years.
Let us then take a look at the most significant aspect for the Virgos in 2017.
Love and Relationship
Since the last two years Virgos have had a restricted love life due to certain constraints. But this year things are going to be different. You will need to carefully scrutinize and let go of all those people who are no longer important or who are no longer instrumental in your life.
The unhappily married may finally part their ways and those unattached may find someone really incredible in life. There is marriage foretold after the August of 2017, when Jupiter the lucky planet transits into Virgo. There are possibilities of meeting your new love interest at nightclubs, social gatherings, discos and places like that and in some cases it may also seem that there is an erstwhile connection with the person.  The crises that the married Virgo s has faced over the years too will come to pass and if unworkable; the marriage will get annulled.
Career and Business
Jupiter, who is the lord of your career house will remain in transit signaling that career will get a boost through foreign connections or collaborations.
There are ample opportunities through sales, marketing, communications and writing. Professionals of these spheres will do remarkably well. Saturn is firmly established in your 10th house of career and signifies ambition, managerial capabilities and responsibilities and real achievement. Those employed will this year, too, have to work under a demanding boss, but one who is also fair. You will learn to mingle business and pleasure. Venus goes into retrograde and that may cause minor glitches and delays in certain plans.
Health and Wellness
In 2017, you will need to take care of your health. There will be times when the stress will be too much, but you will need to recuperate and pick yourself up again and get going. Take time out of your hectic schedule and relax. Taking a break in between will give you the time to rejuvenate and bounce back. You must make a proper diet plan and eat well in order to sustain your energy level. Also make a chart for physical exercise and stick to it. Yoga or any other kind of ritualistic exercises are considered to be good to relax you.
Money and Finance
The second house of finance in your natal chart is not energized this year; but your earnings will be enough and there should not be any dearth. Since your earning potentials remain the same , there is no effort on your part to increase it as you are complacent with it. Do not try to cut corners when it comes to work, as  your earning potentials is directly correlated to your work. There fore you will need to work really hard to pay the bills for the important things in life. There could be some unnecessary or bad expenses in the first half of the year, but you will bounce back in the second half and there will be lot of earning potential for you.
Family and Relatives
2017 will be a pretty good time for family and relationships. your family will be supportive of you and those  who are unattached will meet someone with whom there will be an instantaneous bond. People close to you will be extremely supportive of you. But due to your overt focus in your career aspect there will be some difficulties in the family aspect. There will be times when you will find it difficult whom to please- career or family, who comes first. Thus you need to strike a very fine balance. It has been a long time since you have been trying to inculcate a sense of camaraderie with your family members rather than being bound to them and this year too will be no different. There are aspects of buying or selling or renovating a household. There could be difficulties between a parent and a sibling. Over all it is going to be a good year.
Travel and Vacation
Though there will be travel, but that travel will mostly happen due to professional reasons.  The stars show a very mixed sign about travelling. You may also travel overseas for professional reasons.  But even during that overseas travel for professional reasons, you will need to work extremely hard to bring your aspirations to fruition. But ensure while travelling that your things are in place and you do not misplace anything. It is rather advisable if you do not travel unnecessarily even professionally this year.
Education and Studies
Education and studies look good for the natives of Virgo only if they study really hard. This is a year which will yield good result upon religious hard work. The first half of 2017 will prove  particularly beneficial for those appearing for exams. Virgo born natives are advised to use their common and practical senses under all circumstances. Those Virgos who were aspiring to travel abroad to pursue further education will in probability able to fulfill those dreams. However it is being once again suggested that the natives of Virgo will only do well in educational sector this year under hard work. They are also advised not to jump to conclusions and take prompt decisions regarding matters of education.
Areas of Growth
This year there will be a lot of scope for self-growth. It is a year when you come into being and  the stars give you a nudge in the direction of being sensitive to the needs of others. In the personal front you weed out the unnecessary elements from your life and keep those that matter in a show of extreme insight and maturity. There will be times when things will not be crystal clear but with your innate logical sense you will be able to make sense out of the situation.
Areas of Challenge
The biggest challenge will be that at most of the times this year, the pace will seem to be very slow for the Virgos. It will not at all be what they are expected to. It would seem that you are doing nothing. Keeping calm under the situation and carrying on would be the biggest challenge under this trying time. It will also be an area of challenge to remain courteous to your superiors as you may feel that they do not deserve it.
Areas of Excitement
There will be plenty of excitement in this year, only the Virgos need to choose carefully which way to go. Despite sluggish attitude of the stars, the Virgos feel as if a new world of opportunities has opened up for them.  Career will soar to a new level.  Thos e aspiring to go abroad to pursue education will do so. The singles will meet new people. There will be an end to a stale marriage; all these will be extremely exciting for the Virgos. You may initially have inhibition of snapping the tie, but a stale one that is irrevocable is best left. A negative burden will only bring negativity to your life. Moving forward would bring you fresh new perspectives about life in a positive manner.
Areas of Change
You will find people who will be supportive of your game and will be on your side. However, you will do better if you keep the needs of all the others in mind, rather than being self-centered. Light at the distant end of the tunnel will be foreseen this year and your attitude and world-view too will be going for a major change. There will be lot of spiritual movement in the Virgo's native chart this year having a deep impact on their overall psyche. By spiritual we do not essentially mean religious. However you shall be more inclined to explore the inner self, or think about the larger issues affecting life and people at large.
Favorable Months – January, February, March, April, May, July, September, November, December
Unfavorable Months – June, August, October
Favorable Colors – Green, white, Grey, yellow and Orange
Lucky Numbers – 5, 6 and 2
Virgo Monthly Horoscope 2017
Let us have a look at what the months of 2017 have in store for those born under the sign of Virgo.
January – Keep a low profile this month and try to accommodate other people.  There could be a remodeling of your house being done. Lot of dirt and muck is coming up and being thrown around. However much is love unstable, it will be good now. Health will be good, but take care of your arms, intestines, shoulders.
February – Adapt to situations as they are emerging rather than taking personal initiatives.  Try and focus on the emotional needs that your family may have.  Those looking for jobs will have good result and others should start a health regiment. There could be a change in jobs and career.
March – Get used to the changes coming your way. Career is now becoming much more important than home and family life.  Love continues to be important but it could be equally transient.  The social scene looks abuzz.  Finance and health too look good and should not give cause to worry.
April – There are two eclipses happening this month which will change many set patterns.  These will bring in long term changes too. This will also make you face your own fears and confront them.  For the students there will be a long standing change in education.  Finance will require thoughtful handling, though there is no dearth of money.
May – This month you will be stepping onto your career high and will push for promotions and pay rise.  Older and useful people are favoring you and thus you should make the most of it.  Love will be very unstable and there could be occasions testing relationships. Finances look good.
June – Now is the time for you to bring in changes to the situations not to your liking.  Pursue your career rather than pursuing your home and family.  Career will be successful and social relationships will add value to your career. There is no serious love in sight and health should be kept an eye on.
July – Things could slow down a little this month.  Try and wrap up pending career issues now.  There will be a lot of charm and grace in your persona now and you get away with them. Money and financial opportunities will have a way of finding you.
August – This is a phase of full of pleasure. You will be spending time on beautifying yourself. Health will be good and however you should pay attention to ankles and knees.  There could be purchase of a sale of house or property. Love will be complicated and career will take a backseat.
September – Career is important but your mind lies on things related to family and home. You are now more immersed in experiencing pleasures surrounding you. Financial windfall seems probable and also certain meeting which could lead to love.
October – Eclipses occurring will change the way you plan your finances.  There could be major changes in your investments and finances.  It is advisable that you refrain from any kind of speculative transaction. There could be some domestic travels and also love and relationships improve vastly.
November – You will be focusing on your family and domestic relationships this month leaving aside your career. Students look set for good results and study aspects look well. Love will definitely be better. Though finances look better, health needs to be watched.
December– The last month is for planning for future career and more importance is laid on family and domestic life.  Do not try to force things. Health needs to be taken into consideration.  Finances continue to look good, however try to complete financial dealings before the end of the month.  Love looks good.
Er. Rameshwar Prasad invites you to the Wonderful World of Indian Astrology.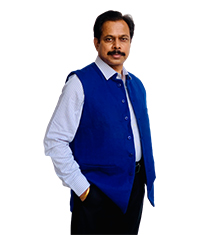 Engineer Rameshwar Prasad
(B.Tech., M.Tech., P.G.D.C.A., P.G.D.M.)
P: (+91-11) 22615299, 22615833
M: (+91) 9810105218, 9654255234