ASTROLOGY
Moon Sign Forecast For Aries in 2017

Moon Sign Forecast : Aries (Mesha)
Aries/ Mesha Rashi [Moon Placed in Aries]
Nakshatra - Aswini, Bharani, Kritika
Indian Star Sign: Aswini 1,2,3 & 4, Bharani 1,2,3; Krutirika 1 padas
Name starts with Sounds (Aa, Chu, Che, Cho, La, Li, Lu, Le, Lo)
Rashi - Lord Mars
Gem - Coral
Favourable colour - Red
Fasting day - Tuesday
Favourable number - 9
Favourable dates - 9/18/27
General
Aries is ruled by Mars. Since Mars has predominance of fire. The native is aggressive , and courageous . They loose their temperament quite easily and are independent mind person.
They care for luxuries and can gain wealth from their own efforts. You will find pleasure at work and happiness at home .
In general Mesha rasi people are independent in nature, adventurous and love excitement. They are good conversationalists, interested in arts and often rely too much on their own intelligence.
Annual Forecast 2017
Shani Sade Sati/Dhaiya: Arians will experience the effects of Dhaiya till January 26, 2017.
Effects of Dhaiya: Disagreement with family members, Increased number of enemies, Tiffs at home, Health problems, Money wastage and Fear of losing money.
Suggestion: Avoid argumenting with the family members, Take good care of your health and Control expenditure.
Positive side: You are courageous, confident and energetic.
Negative side: Avoid getting angry. It will help you.
Auspicious number(s): 9, 18, 27, 36, 45, 54, 63 and 72
Auspicious color(s): Red, Orange and Yellow
Auspicious direction: East
Auspicious thing(s): Banana, Orange, Sweet Lime, Apple, Red Lentil, Yellow Lentil and Turmeric
Jupiter in 6th house till mid September and then in 7th house, Rahu in 5th house and Ketu in 11th house till mid September, Saturn in 8th and 9th houses throughout the year, together determine the major transit results this year.
Lord of your Sun sign, Mars is located in the 11th house of the mid-night chart, along with Ketu and Venus.
Major life changing events for Mesha Rasi people, occur during their 16th, 30th, 46th and 61st year.
So, if you are going through that age in 2017, then expect something big.
Saturn wobbling between 8th and 9th houses during this year, will make you pay for the past mistakes.
This will go on atleast till October 2017. However, you can expect some financial relief and release of pressure after April, when Saturn starts going retrograde in your 9th house.
You should rest assured that 11th house in the midnight chart is very strong and powerful. This means that long term friends will come to rescue you during crisis. Jupiter is located in your 6th house and is the lord of your 9th house. The house of destiny as well as lord of your 12th house is well placed in your 6th house, the house of loans, debts, health ailments, enemies, legal issues etc.
Most part of this year will be spent on clearing past debts.
The karmic planets Rahu and Ketu in the month of September will move into your 4th house and 10th house.
This can make you read new books, learn new subjects and implement changes in your profession.
However Saturn the lord of your 10th and the lord of your 11th house in the midnight chart will be located in your 8th house. This may cause both unexpected gains as well as unexpected sudden losses. You should also be careful and must take precautions against chronic ailments on the genital region like piles or arthritic pains. Overall, you need to consolidate every aspect of your life and seek more stability and fewer paces in your life during 2017.
2017 with respect to different aspects in your life
Health : Personal health will improve only after taking care for more than half of the year.
Expect fatigue, stress, lethargy atleast until october.
Health of one of the elders at home need your attention, but you may not find enough time.
Chronic diseases can be controlled this year by controlling diet.
Finance: Past October 2017, financial position will improve and most of your debts will be cleared.
However, helping others financially, will not be liked by family members. There will be arguments at home for money and property.
This year is about clearing past loans, not taking new loans and not helping others in need.
Some of you can lose huge amount due to court cases or litigations.
Financial losses due to women are possible.
Education : If you are a student, struggle continues for atleast 9-10 months as lapse in concentration, lack of rest can effect your mind.
Past september 2017, you will learn new subjects, explore ancient sciences and publish or write your discoveries.
End of the year is good for higher education, research etc.
Career : Your employer will continue to exert pressure at work.
There will be multiple occassions, where you might either want to quit job or find a new one.
However, motivation and support from friends, financial situation will override your impulsive mind.
Your work will lack emotion and attachment. You will work like a robot and do not care about feedback from employer.
However, independent professions, freelancing can give you some satisfaction and encouragement to perform better.
Some of you will be forced to become part of frauds, corruption done at work place. You will be offered a bribe or share in corruption, but conscience will not let you be a part of it.
You will develop a strange revenge taking attitude and surprise everyone by implementing it.
Family : This year shall bring in bad results for your family life. There is probability of difference of opinion with your spouse or seperation. The first half of the year can prove negative for the health of your father; therefore, you are advised to look after his health. The 5th house Rahu is not auspicious for the health of your child because of which you shall be worried about it.
During second half of the year, Mother's health can go down.
Siblings will pickup fights and arguments for every silly reason.
The first half of the year is not auspicious for child birth and there is probability of miscarriage and abortion also so be cautious.
Travel : You shall go on religious journeys in the beginning of the year. It is a good time for religious activities and going on pilgrimage. The aspect of Saturn on 10th and 11th houses can create the multiple issues in job, with stress in travel.
Stay away from swimming, diving etc.
Romance & Married life : In the midnight chart for this year both your 7th house, the house of marriage or partnership as well as 5th house, the house of love or short term romance both are not very strong or supportive for this year. Rahu has influence on your zodiac sign from 5th house. This indicates broken relations and complaints.
Some of you will lose a family member or a close associate permanently.
Remedies :
Wear 5 Ratti Coral in your ring finger, if Mars is giving positive results in your birth-chart.
Worshiping Saturn, Hanuman Ji, and Lord Shiva is beneficial for you.
On Tuesdays and Saturdays, offer jaggery and grams to Lord Hanuman. Also, recite Chalisa and Aarti.
Follow moral values on Thursdays and Saturdays.
Help needy people. Serve your parents.
Offer water to the Sun regularly.
Recite Sundar Kand on Saturdays.
Er. Rameshwar Prasad invites you to the Wonderful World of Indian Astrology.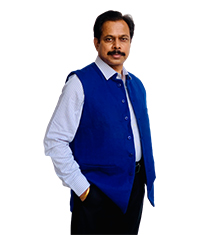 Engineer Rameshwar Prasad
(B.Tech., M.Tech., P.G.D.C.A., P.G.D.M.)
P: (+91-11) 22615299, 22615833
M: (+91) 9810105218, 9654255234