ASTROLOGY
Sun Sign Forecast For Leo in 2017
For natives born between July 24 to August 23
(These predictions are Solar-based. Readers are requested to take date of birth into considering when reading these predictions.)
Hindi Name: Simha
Date of Birth: 24th July to 23rd August
Ruling Planet: Surya (SUN)
Nakshatras: Magha, Poorva Phalguni
Lucky Numbers: 3, 9, 1, 2
Lucky Days: Sunday, Wednesday
Lucky Colours: Red, Yellow, Orange
Lucky Stones: Ruby, Diamond

Sun will enter Leo on July 24 and stay there till August 23. It is the sign of royalty, with royal people, rulers and politicians born under it.

Leo Horoscope 2017
2017 is going to be a good year for you. There will be new opportunities, newer pastures and some pressure off on your relationships which will again lead to a great deal of mental peace.
May be at times the pace will seem to be a bit slow, but then that is a good sign and you will feel more accomplished. There will be ample times to work on your professional front and after that do set to work on your relationship goals and personal aspects.
Your finances look good and career prospers as well as the family and relationship front picks up after the setback of last year.
Love and Relationship
Your life views on love and relationship after last year has undergone a subtle change. There will be times when things may seem slow for you, but this transition that is about to come onto you is best slow to arrive. If you are in an existing relationship, then things will get pronouncedly serious as in there will be marked understanding of what you want from relationships.
However, it is strongly advised not to take any decisive actions based on your feelings. Major changes will occur after Jupiter moves into the house of your family and relationship after 11th of August. The second half of the year bodes well for the love and relationship sector of the Leos. The married may face disagreements due to lack of time of the other partner due to travelling and other commitments.
Auspicious events as in meeting new people or decision of marriage will be taken after the month of august. There will be opportunities of meeting new people and should be willing to give relationships a fair chance in 2017.
Career and Business
2017 will be a good year in terms of career. If you can sustain the pace from 2016, then there should not be any problem.
There will be a lot of newer opportunities coming up in the work front. Despite a niggling discomfort you will make good progress in your work. The Leo s will experience grit and a single minded dedication this year which will help them to achieve their goals. The understanding about your innate self will pave the way for making distinct goals and future prospects. Remember that career is not only about the work that you deliver; rather it is also about your social skills as well. Therefore do take time to socialize for advancement of your career. People who have business will do well and will add on various services in their portfolios. However they are also advised not to be on a mission to find faults with their partners, as it will cause disruption in the business. Creative work will be phenomenal in June. There could be some blocks in the month of May, but which would be surmounted.
Health and Wellness
This will overall be a decent year for the Leo s health wise. Those who were keeping good health will continue to more or less do so. Rather people who were ailing will bounce back and regain vitality. However this is a year when energy keeps ebbing and flowing. You are advised to religiously pursue aerobics or yoga to sustain your natural vibrancy. If there are times when you are not feeling well enough to tackle things, you are advised to take ample rest. There are some who may feel a persistent problem in their ear and will be well advised to take care of the same. There could also be some health scare while travelling and thus should remain extremely cautious. Also any signs of problems related to heart, sunstroke, a loss of appetite, fever or persistent headache may be treated with expert advice.
Money and Finance
Despite the fact that your money house is not energized this year, there will be no dearth of money. In fact you will live much beyond your limits. Career has already shown some possibilities of rise and higher pay. Thus life will in generally be good and as mentioned all good things in life will be offered to you. However do tend to curb your buying sprees at times, because Mercury going retrograde will not be good omen for finance. There will be numerous earning opportunities due to social circle and your friends. Jupiter, the planet of Luck moving into your sign in August signals a good phase of money and finance coming into you. You can do well in share trading too specifically in cement, manufacturing, engineering and companies dealing with oil. However invest your money wisely.
Family and Relatives
Pluto the planet ruling over your family house will be in the sign of Sagittarius making it a congenial phase. But despite this, due to the opposition of Saturn, there will be some niggling areas in family and relationship area this year. Relationship with a parental figure will improve after the 1st of August and relationship with siblings will also remain in neutral ground. Do delve deep into your thought and analyze if there had been any reason for your relatives to have any kind of angst about you. If so try and resolve. There could be changing relationship status with your offspring too due to natural reasons. There could be renovation or remodeling of your house or space of your living in areas.
Travel and Vacation
In terms of travelling there are mixed signals present in your native sign. There will be opportunities of travelling this year for the natives of Leo. Though this travel will not really be for pleasure or it will not be personal travel plans. Most of the travels foreseen will be for professional reasons. Travel will be fraught with delays and cancellations around the period of March and earlier part of April. Therefore check and double check before travelling plans are made. There are also possibilities of being cheated and losing some belongings during travelling this year.  Thus it is advised to be extremely careful during travel plans this year.
Education and Studies
Education will continue to give mixed results for the Leo in 2017. Students it is foreseen will tend to do well in their fear for failure. Most of the Leos will be driven by a fear of failure and thus will study extra hard and put in that additional effort to make them come out with flying colors. Those who complete final exam will be motivated to review their plans of travelling abroad and will stay in their own country to pursue further education. However the second half of the year shows connection for studying abroad for those still desirous of doing so.
Areas of Growth
There will be times when you will be tempted to further your knowledge and continue for a higher study which you may do as a distant learning mode. You will need to grow out of the habit of believing all that you hear because they are not always the truth. There could be golden periods of money coming in and there will also be period of a retrograde without money and thus you are advised to plan and balance your finances accordingly. It is always advised to remain grounded to who you are and what you want to be.
Areas of Challenge
The biggest challenge will be when Saturn enters Cancer in April and digs up all the skeletons therein.  You will be getting at the bottom of all your bad habits and pitfalls and working on them. When Uranus moves into Pisces in March along with wonderful other things, the most catastrophic things can also happen.  You should be well prepared for taking things into your stride and moving on in life. The eclipses prod you to question your life calling, whether you are moving in the correct direction or if this is the life you wanted to lead.
Areas of Excitement
With the finances looking good, most of the Leo s will go in to satiate and take their lifestyle a notch higher in 2017.  There will be in most cases a deepening of bonds or relationships. If you were unattached, you may meet that one person; if you were dating then may be getting to marriage and the married may start family planning.
Areas of Change
With the Uranus moving into Pisces, all chaotic thoughts will start settling down. The thoughts of changes in your own self, changes in partners and partnerships will all become inward born and you should and will seek the answer by your own self. Spirituality will become a calling as you may take a calling in that arena. You will come to recognize and realize what makes you happy and pursue that path religiously rather than being bogged down by what others are thinking. Learn to relax and meditate.
Favorable Months – January, February, march, July, September, December
Unfavorable Months – April, June, August, October, November
Favorable Colors – Golden, Orange, Yellow, Red and Cream
Lucky Numbers – 1, 5 and 9
Leo Monthly Horoscope 2017
Let us have a look at what the stars have in store for the Leo born people in the months of 2017.
January – The stars suggest you to keep a low profile in the first month of the year. This month your success will depend on others and not on your own talent and work. There could be some construction work going in your house in this month and a family member may need your help for medical reasons. Health will be good and love will be very good this month.
February– Popularity and social set up will be high though you will still need to seek the cooperation from others. Love will be good and there could be love at first sight scenario. Ambitions will become stronger this month. Rest and relax for the well being of your health.
March – Focus on your career. Family issues can be taken care of later on. Seek the grace of others rather than promoting personal will power.  There could be a career change now. Health continues to be fine, but you should start a detoxification program. Love life and libido remain good. Educational opportunities are bright.
April– You will be entering an annual career high this month with the career sector becoming very powerful. Love life is rollicking.  There will be significant change for the students – either change in the institutions or change in the stream of studies. Try and relax during the lunar eclipse happening this month.
May – Career continues to be pre dominant and you need to push for promotions and pay rise now. Family life and home life can take a back seat. Build your future carefully as you will need to live with them.  There will be educational opportunities.  Earnings from your career will rise.  Love can vary from high to low. Health will be ok.
June – You have attained most of your career goals now and you will now work on your family life. You may need to sacrifice certain things. But they will be worth in the end.  Love will be better than last month. Finances look good.
July – Exercise patience though you want to move in quick progression.  Health and vitality looks very good. But you should now pay more attention to your diets and starting an exercise regime. Don't rush in matters of love.
August – This is one of the best months of the year. Health is very good and you feel it. Change things that are not aligned with you.  Do not make impulsive financial purchases. Communication plays an important role for you in the present social scenario.
September– You will need to work very hard this month.  There could be foreign travels this month. However, you will need to take care of your health now. Take rest when stressed and there is money and prosperity now.
October – There will be a lot of tension in matters of home and career now.  There are two eclipses in this month forcing changes.  There could be a personal image change for you.  Be flexible to adapt to the new order emerging.
November – Keep your focus and let go of everything superficial. Pay closer attention to health particularly to heart, knee, teeth etc. create conducive conditions that you want.  Love will improve and singles will find someone. Stars show a trend of mixed finances this month.
December– Pay attention to health and try and enhance it.  Career takes a back seat as you pay closer attention to Family.  Social life Is rocking this month. Love and money both look good.
Er. Rameshwar Prasad invites you to the Wonderful World of Indian Astrology.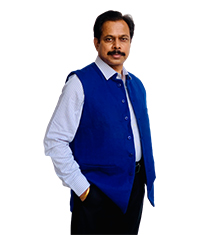 Engineer Rameshwar Prasad
(B.Tech., M.Tech., P.G.D.C.A., P.G.D.M.)
P: (+91-11) 22615299, 22615833
M: (+91) 9810105218, 9654255234