ASTROLOGY
Sun Sign Forecast For Aquarius in 2017

For natives born between January 21 to February 19
(These predictions are Solar-based. Readers are requested to take date of birth into considering when reading these predictions.)
Hindi Name: Kumbha
Date of Birth: 21st Jan to 19th Feb
Ruling Planet: Shani
Nakshatras: Dhanishta, Poorva Bhadrapada, Shatbhisha
Lucky Numbers: 3, 6, 9, 12
Lucky Days: Thursday, Saturday, Tuesday
Lucky Colours: Light Blue, Pink, Mild Yellow
Lucky Stones: Neelam, Topaz, Ruby, Firoza, Emerald

Aquarius is the eleventh sign in the zodiac. In Vedic astrology, the owner of this sign is Saturn. The sun enters this sign from 21st January, and leaves on 19th February. This is the last of the air signs, the other two being Gemini and Libra. The pivotal qualities of this zodiac sign are that such individuals are highly intellectual and analytical, and possess a research and development kind of mindset. Normally, they make good thinkers, philosophers or even scientists.

When this sign is under the influence of good planets, it gives Aquarius individuals a kind nature to help the society. Conversely, under a malefic influence, they end up disturbing the society. Jupiter is another important planet in this zodiac, apart from Saturn. While the former stands for money and family, the latter represents the profession. People born under Aquarius have a vibrant personality and a joyous life.

Aquarius Horoscope 2017
It is an absolutely mixed bag year for the natives born under Aquarius. There would be certain positive changes, but it will not take away the upheavals you have been handling for the last 7 years.
From the financial viewpoint the year shapes up fairly well, but there will a lot of tension, stress and difficulties regarding profession or work related zone.
Those born under the sign of Aquarius will need to tread gently and carefully when it comes to professional arena as Saturn, in your case the planet of mischief can cause mishap and damage at any juncture.
But that should not make you melancholy and frighten you away. Let us take a look at what the 2017 horoscope for Aquarius holds in store for you. It has always been an endeavor to bring you the horoscope of the year to better prepare you for the year.
Love and Relationship
It is a beautiful and romantic time for those born under the sign of Aquarius. So much so, that they will tend to wonder if it isn't a dream; given the ordeal of the last couple of years. This is a phase that will erase all those bitter sweet memories and only usher in goodness in this sector.
There will be a lot of intensity and passion in the lives of Aquarius and they will be able to feel that along with their partners and relax too as things are slated to go well. The trepidations or anxiety you had about relationships would seem to melt away and you will enjoy your time under the sun in the clutches of love.
However, with the Uranus moving over the Sun, this love may face difficulties if you give wings to your need for freedom. At this trine you are only intent on pleasing self, which may cause disharmony. Thus it is for you to keep a check on self. 
If you can, you are slated to have an amazingly loving year with your partners catering and caring for you. People who are single will have literally strings of relationships, with none being stable. Those who are looking at a marriage for the third time are likely to meet someone eminent and settle down in matrimony.
Career and Business
There will be some great changes coming up in the career scope for the Aquarius this year. There will be several upheavals, ups and downs and numerous mistakes; but still you will be able to come out of things.
Trust your intuition and you will be amply rewarded. If you face financial problems, you will see that they will also have a way of sorting themselves out. Those born under this sign will be able to forge a way ahead focusing on the bigger picture and those plans which had been stashed away can be renewed and brought forward. There will be some people born under this sign who will be challengingly taking over some hitherto abandoned project and making a success of it. Those who are employed will make great progress and do very well for themselves, while those in business will be able to make an inroad and establish business dealings with a foreign company. Those who have just started out will gain inroads in their organization and will win accolades for their enterprising skills and acumen. They will also be rewarded for the same. However, you should never be impatient for accolades – you should wait for the time and tide to turn in your favor. Your patience would eventually bring you results in direct proportion.
Health and Wellness
Neptune in your sign is indicative of problems which may occur due to feet.  You need to take diligent care of your feet and particularly ankle. You must maintain a disciplined diet and avoid excesses in any form to maintain a healthy lifestyle. This year in particular you will realize that good health does not only extend to taking care of the physical well being; rather it indicates the mental health too.  Try to avoid tiredness and weariness which may occur due to stress and overwork. Also while discussing mental health, try to maintain a positive mind frame and outlook to keep any kind of psycho-somatic disorders at bay. There may develop a tendency of putting on weight for the natives born under this sign, thus it will be advisable to maintain a diet and get yourself involved in physical exercises.
Money and Finance
Jupiter is very well posited in your chart and thus ushers in good and neat financial tidings. Bosses or if you have financial backers may think you are not functioning properly when you listen to your intuition. But that is what pays off in the longer run for you. If you are involved with a working condition that uses personal efforts, remember that it is sure to bring immense success.  Do try and build a nest's egg saving money for times when you may need them rather than spending unnecessarily. The stars indicate that there could be heavy expenses incurred due to illness of a family member. To combat those kinds of situations, it is advisable to practice discretion and financial planning to avoid lack of finances available. After the second half of the year, there are chances and indications of pay rise and promotions. Overall a very good year for money and finance provided you can control your urge for wasting and spending money.
Family and Relatives
The people born under Aquarius and those who have children of marriageable age are likely to see a great transformation in which things are. The married children will see situations changing and are advised to exercise patience. Family and home life will be unusually and beautifully quiet and the parents will rejoice seeing their children growing up rapidly. It will be advisable not to neglect your family in the pursuit of career fulfillment. Try and clear away any misunderstandings that may have cropped up within the family. There could be some auspicious occasion like marriage taking place this year in some of your family.
Travel and Vacation
Travelling rather than giving the pleasure they are supposed to, would be much of a bother this year. Those born under the sign of Aquarius have the possibility to be transferred for their job causing much of a disruption and upheaval. However if you do travel, there will be a lot of opportunities for professional advancement and you will also do well and feel good personally. There is some travelling due to religious reasons or places foreseen.
Education and Studies
There is a lot of indication about additional education this year. Education pursued for career betterment or advancement. This is the year when the students will need to remain completely focused on their education to do well in studies. The conditions are not really favorable and that is why those aspiring for job interviews or examinations need to go through their syllabi diligently and ascertain that the outcome is good. The second half however looks good. Those wanting to go abroad to pursue further studies will face delay and various obstacles.
Areas of Growth
There is a substantial area of growth in your personal life this year as you emerge from the cocoon and become a big butterfly. You will grow as a person from within weeding out all the negativity, so will your career see an interesting growth, followed by financial upward curve. This year you will learn to take risks and emerge a winner and the year will prove to be a big learning curve for you in terms of professional and personal aspects. Those who are working will grow in stature by the sheer dint of their courage and professionalism and attain a good stature.
Areas of Challenge
The most challenging aspect of 2017 will be in a personal close relationship, letting go of what only pleases you and maintaining the soft quotient of togetherness. Those born under Aquarius this year will at times be only interested in pleasing themselves, which may result into the dissolution of many relationships, as not many of the opposite gender will be that patient to let those of Aquarius born have their own way. Another critical area will be not to spend unnecessarily this year. Though finance will be available, still it is always advisable to keep money aside for a rainy day and not to lay it asunder.
Areas of Excitement
Career will remain a definite area of excitement this year as it gives numerous opportunities to make the mundane, golden moments. Some of them may pick up a hitherto abandoned project and make it perform.  That would give the natives born under this sign lot of happiness. There will be situations when you will be asked and required to take completely independent decisions, which will have ramifications later. Finance looks exciting and there will no difficulties.
Areas of Change
You need to emerge as a stronger human being. You must listen to your intuitions and forge ahead; be that in business or in personal sphere. You will change your own self and come out as a winner this year. You will need to avoid stress and the possibility of a burn-out.
Favorable Months – January, March, April, June, July, November, December
Unfavorable Months – February, May, August, September, October
Favorable Colors – Electric Blue, Ultramarine Blue and Grey
Lucky Numbers – 2, 3, 7 and 9
Aquarius Monthly Horoscope 2017
Let us have a look at how the monthly horoscope of those born under the sign of Aquarius in 2017 looks like and will take shape –
January – This month your cycle of life indicates extreme personal independence and freedom. In your career, you are in midst of a transitional month. Love looks fairly good in this month. Your job is merely to be selective and elect the best. Health is in excellent form.  Both male and female want their moment enjoying the wonderful opportunities life has to offer.
February – According to your personal specification you have the power to change  any kind of undesirable condition which is bothering you. Independent actions of any kind make a big difference in your happiness.  Friendship and group activities are major interests the entire month.
March – You are seeking for all kinds of intellectual pleasures. You excel in athletics and exercises regimes. Some kind of new communication equipment is coming towards you. Love seems good this month. Wealth and material expression s of love are still distracting you by their allure.
April – Personal initiative in this month brings fame, fortune and fulfillment.  Cars and communicational equipment will get tested.  You need to be more watchful about your health. Positive changes can be seen. Teeth, knee, spine and skeletal alignment are still important.
May – Success will come through the use of your social skills rather than through any kind of direct action. The family needs you and you need them too. Good emotional health will translate in to better career health. Financial situations are more delicate this month.  Many works which had been struck will move forward. Good love experience will happen on this month.
June – Your way is not the best of the ways these days. Your good chance comes by grace rather than through personal effort these days. Emotional harmony is more important than status and glory. Job seekers meet with good success in their life. On this month.
July – The wheels of life make an important turn this month and you will have to make adjustments according to it. In essential interests are going to fall away from you.  Serious love is in the air. Your social life will be extremely active.  It will feel wonderful to be popular and have lots of friends.
August – Health needs more attention in this month. Family is a priority to you. Your social activity will extend a lot.  Tempers can burst out with family members at the slightest incident. . Religious people are coming towards you. Spiritually oriented pilgrimage is set to happen after the 15th of the month.
September – Career and outer activities will become very important. There is a new sense of transparency and direction. Love will be a little complicated. Focus on financial interest of others. You have to balance your work and family. Career projects are starting to move forward again. Flimsy relationship can easily break up now. Students make changes in their educational lines.
October – This is an announcement of the year of great career success. It might necessary to impress and cheer up family members. Love relationship can either go forward or get scattered.  Take care of your health.
November – Enhance your health by paying more attention. the need for outer success is stronger with family members and emotionally issues.  Finances are still complicated. Bosses and friends are playing cupid now. Go forward by your own plan and not by what others feel.
December – Health is improved this month.  Family desires are strong. Love needs to be handled slowly and steadily. Career is strong. Love should grow naturally. It should not be forced or hyped up. Energy level is important in this time.
Er. Rameshwar Prasad invites you to the Wonderful World of Indian Astrology.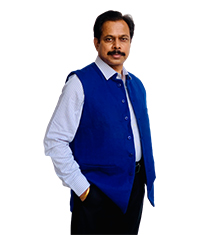 Engineer Rameshwar Prasad
(B.Tech., M.Tech., P.G.D.C.A., P.G.D.M.)
P: (+91-11) 22615299, 22615833
M: (+91) 9810105218, 9654255234