ASTROLOGY
Sun Sign Forecast For Capricorn in 2018

For natives born between December 23 to January 20
(These predictions are Solar-based. Readers are requested to take date of birth into considering when reading these predictions.)
Hindi Name: Makar
Date of Birth: 23rdDecember to 20th January
Ruling Planet: Shani
Nakshatras: Uttra Ashada, Shravana
Lucky Numbers: 9, 8, 6
Lucky Days: Saturday, Friday, Tuesday
Lucky Colours: Black, Brown, Ark Green
Lucky Stones: Neelam, Pukhraj, Pearl, Gomeda

This is the first sign of Saturn, and the tenth sign of the zodiac. In astrology, tenth house is one of the most important houses. This shows what trends and traits will be there in the profession, in the form of planetary arrangement, and its influence. For this very reason, Capricorn is regarded as the house of profession (Karma Bhava). An earth sign, it has the sun entering on December 23rd and exiting on February January 20th.

This sign represents the beginning of a new time. From this time onwards, the sun gathers momentum in the northern hemisphere. This is termed as Uttarayana, especially in the Vedic astrology. The nature of this sign resembles the traits of Jupiter, Saturn, and mobility. For the same reason, we see people born under this sign become good workers, social reformers, industrialists and agricultural workers.

Capricorn Horoscope 2018
2018 will be the year when your hidden talents will be brought forth. Resources that were hidden before will come into view. Development and growth will be possible as the planets move into favorable positions.
2018 will definitely be a good year for Capricorns. If you were born between the dates 22nd of December – 19th of January, then you belong to the zodiac sign Capricorn.
The people of Capricorn zodiac sign like to be ambitious as that they can achieve their goals.
They are usually quiet practical and may even seem materialistic at times. They are quiet serious people leaving little time for superficial things.
It is an intelligent zodiac sign that wants to be organized and prepared for the future. So it will be natural if they want to be well-informed about the future. Here is the 2018 horoscope for Capricorns so that they can plan and organize 2018.
An overview of year 2018
Jupiter in 10th house till mid October and then in 11th house, Rahu in 7th house and Ketu in 1st house, Saturn in 12th house throughout the year, together determine the major transit results this year.
In this year's chart, Sun, Saturn and Venus are located in 12th house from your zodiac sign.
Venus in 12th house indicates seperation from kids, lovers, mental pressure, tough situations at work, probability of loss or change in job.
Mercury is located in 11th house from your Zodiac Sign. Mercury is the lord of your 6th house, which indicates good health, recovery of past loans, financial gains.
Saturn which has been very favorable for you over the last 4-5 years in now in Sagittarius. This move is not very positive as it will increase your expenses, financial commitments and pressures and there could be various times when you might find hurdles and some amount of pressures.
You need to adjust with opposite gender and stay away from opposite gender, except your spouse.
There will be some happy moments at home, which also demands you to spend lavishly.
2018 with respect to different aspects in your life
You need to put extra efforts to see the results. Opportunities are indicated in education, foreign travel, competitive examinations, and education in foreign land. You will be honored as guest in many important conferences. Public relations will increase. You are forced to work with the people of not your choice and also against your will. Name and fame are indicated and your ability will come to lime light. To survive in competition, for family uplift and strong foundation for the future of children make you to compromise in your principles and earn money. A promotion is indicated. Unemployed find an employment. You will be inclined towards spirituality and trusting fake religious people give you losses. Acquaintances with the influential people is possible in work place. Working with low profile or mean and wicked people becomes a must. Your creativity will get name and fame in media. Important responsibilities and authorities will be assigned in work place. Lot of physical strain and inconvenience with the liars in organization can be expected. You do not have rest and work hard to utilize the opportunities. You will prove that mighty task can be completed without any support from great personalities. Changes are indicated in private jobs. Some good opportunities are also indicated in this time. Inefficient people gain power and authority using unethical means and this make you upset. You can not violate your principles. Inconvenience is indicated from the people who lost their political career due to your principles. Support is also indicated from the people who are benefited. Students must take enough care while attaching required documents at the time of applying for any examination.
Irritation is possible due to children. With the help of your near and dear you will be able to put the children in right track and also a positive growth in their life can be seen. Mostly you compromise a lot in family to avoid any disputes or differences. Responsibilities will be reduced. If you are unmarried, this year brings a change in your status to married. Expenditures will be very high and exceed your estimations in performing auspicious functions. Those waiting for separation from the life partner get legal separation. For some people marriage becomes a punishment. Efforts for second marriage will be successful. You will visit auspicious places and also picnic spots and this give you lot of joy and happiness. You need to protect your friends from legal problems. Money and reputation will be used for the sake of friends, relatives, and near and dear. Disappointments and upsets are indicated with the own people due to the secrets they maintained with you. An incident in family may give you severe upsets. Your affection on girl child brings opposition from your relatives. You will keep distance from them and also avoid attending parties and functions. Your disciplined life makes your family joyful. You may be blamed by others, for the professional association with the women. Gaining love and affection from elders in family could be difficult. Growth is possible in children's education and profession. Income increases in family due to success of children. Involvement of relatives in family affairs will be stopped.
Trusting partners in business give you bitter experiences. You will be able to come out without much loss with your tactics. You will take lot of pains in expanding business by working day in and day out. Poultry, dairy, metals, stationary, hotels, meat, liquor, oils, food grains, transport, and foreign collaborations are favorable. Availing contracts and sub contracts indicated. Favorable results are indicated in unexpected activities. You will commence small start ups with the common people and soul mates benefit you. Even a small mistake cost a lot. Women of high profile and stature will extend needed support. New tax policies and banking affairs give you inconvenience.
Growth is indicated in political career. Community politics benefit you indirectly. Support can not be received from the expected elders in time. For no reason, the influential people whom you trust a lot, keep distance from you in the time of need. This upset you a lot.
Situations demand your ability to manage the monetary needs. Estimation of expenditures will change dynamically. Unexpected demands in family increase expenditures. Money will be spent for the welfare of aged and elders in family. Assets value increase but circumstances will not be in your favor to sell the property. Construction of your dream house will be realized. Hand loans or loans will be a must. Huge loans from the bank can be availed for the commencement of new business. Sudden monetary gains indicated. You will regain the lost property. Profits are indicated in a vehicle or land sale transaction that is kept pending during first half of the year. Legal affairs will be resolved in your favor. Savings in finance companies may give you losses. Litigations are possible in the affairs of landed property due to poor documentation or lack of documents. Money will be spent in buying unnecessary goods.
Chronic diseases will trouble you. Joint pains and back pain gives you inconvenience. You feel the need of timely sleep and diet.
Career & Money
2018 will present to you a variety of opportunities that can be used to excel in your professional field. Colleagues and seniors will be there to help you in your professional endeavors. So make sure that you grab each professional opportunity.
Barriers in career might pop up but stay calm and patient at all times. Hard work is the only thing that will help you to stay focused and achieve success during difficult times. Maintain a good work relationship with seniors as well.
Around the middle of 2018, the barriers are more likely to make your professional life difficult. As you continue to work hard you will come out of these difficult situations unharmed. Working in a team might be a good idea for success. As 2018 comes to an end, expect relocating to new locations along with other changes in career. If you have good management skills then expect to rise up and bring about good changes in your career.
2018 will definitely be one of the busiest years of your professional life. New work will come your way throughout the year but you will not be bored of the work coming your way.
The most important fact is that you will have the freedom to work as you would want to. Creativity will take you a long way in your career. So if you have creative ideas do not let them go to waste. Put them forward and they might bring you rewards. Remember to take breaks whenever needed.
Love & Relationship
2018 will prove to be a great year in the love life of Capricorns. Most will be able to find true love and potential partner for life. All Capricorns need to stay positive and see the truth of all matters of love. Be modest and look simple, if you want to be the center of attraction in the life of potential partners. When it comes to matters of expenditure on partners hold your horses. Remember that love and live life keeping in mind your wallet and its thickness, do not splurge. Ensure that your partner knows how you feel.
If you are still single then do not worry, 2018 is the year when a relationship may result into a partnership for life. It is a year when you feel more romantic and passionate so that you can enjoy your love life. For the Capricorns who are already in a relationship, 2018 will be a good time to ensure that you have a better understanding of your partner. Whatever the reason do not let any harm come to your sense of privacy.
This will definitely be the year when you will have to understand how important your partner is for you and if your relationship can be taken to the next level. If you feel the relationship is not strong enough then tough decisions need to be made and it must end. At first the decision might be difficult to handle but in the end it will turn out to be the best decision. Do not get confused about your priorities.
Put your best foot forward and let your partner know about your feelings. It will not harm your relationship in a negative way. Expressing your true feelings might be a good decision as your communications sills with your partner/spouse will improve.
Finance & Business
2018 is going to a smooth financial year for Capricorns. Hasty decisions and spending must be avoided, this will help you to save and plan your future. Budgets need to be made and priorities need to be sorted out as that will definitely help curb financial spending. Ensure that money is spent only on the most essential of things. Many types of indulgences may try to attract you but keep a rein on your urges and save more. These savings will provide financial security in the future.
Remember to organize your funds so that to do not head for financial problems. Always make sure you have knowledge of two things – money in bank and bill that need to be paid. Make sure that you have enough savings and all bills have been paid successfully. These savings will help you cope with instances with sudden expenditures come your way.
Around the middle of 2018 you will find yourself in a difficult situation where you need to spend for loved ones. In such difficult situations keep your cool and a strong hand on spending. You must not burn a hole in the pocket. Do make investments related to real estates and in landed property. Towards the end of 2018, you might have enough funds to splurge on yourself and go on adventures.
Health & Wellness
2018 will be a year filled with energy and vitality for the Capricorn. The energy should be put to good use. You will need to stay alert and focused about the task that you have undertaken. If you have any bad habits then this is the high time to let go of those. You can also take up a sport of your liking to stay fit. Remember to stay fit by eating healthy and exercising a lot. Any kind of indulgence or excess eating must be avoided at all costs in 2018.
Mental health will also need to be looked after in 2018. Make sure that you do not stress as it might be the reason behind a complete nervous breakdown. So keep an eye on your stress levels and stay mentally strong. This year will be overall good without the possibility of any serious injury. Exercise without pushing your limits as that might be bad for your health. Sometimes you will seem to need more energy than other time, so make sure to save up.
Family & Lifestyle
When it comes to the family life, 2018 is going to be a year full of activities and events for the Capricorn. Your relationships with family members will keep growing stronger. Avoiding troubles will be easy if you listen to your heart and stick with your instincts. Your social calendar will be full as well as it will include a lot of social activities but you will need to control emotions for it to run smoothly. If you do not control your emotions it might ruin your social status and show all your imperfections.
While handling a relationship make sure that you plan a good approach so that peace and tranquility prevails in the relationship. Spend a lot of time with family and friends in 2018. This will help to strengthen your relationships and fill it with happiness. Thus overall 2018 will be a year good for family life if you tread carefully in certain areas.
Remedies :
Donate white color clothes and sweets to widows on fridays. Stay with family during Saturdays and Sundays.
Capricorn Monthly Horoscope 2018
Let us have a look at how the monthly horoscope of those born under the sign of Capricorn in 2018 looks like.
January 2018: This month will be amazing in the aspects of relationships, career and finance.
February 2018: This month can be a slow one so use it to sharpen your skills and improve your skill set. 
March 2018: This month will prove to be good in respect to your career. Around the end of this month you can launch new projects and get success.
April 2018: As the 2018 Mercury Retrograde sets in you will face a lot of health issues.
May 2018: Meditation must forma major part of this month's routine. Home remedies can also be introduced in massaging rituals to help in relaxation. 
June 2018: It will be a month when an abundance of creative ideas fill your mind. 
July 2018: This month try to avoid any type of argument and disagreements that might lead to a confrontation. 
August 2018: This month will be a mixed month with ups and downs. The number of ups and downs will vary from Capricorn to Capricorn.
September 2018: This month will present great professional opportunities. Health might suffer if you take it upon yourself to complete all tasks, so divide it among all. 
October 2018: This will be a month when your relationships in professional and personal life will be tested.
November 2018: It will be a spiritual month in which meditation and yoga will be good for you. 
December 2018: As 2018 wraps up, your career and financial aspects may gain stability but an extra effort will be needed for relationships to grow stronger.
Er. Rameshwar Prasad invites you to the Wonderful World of Indian Astrology.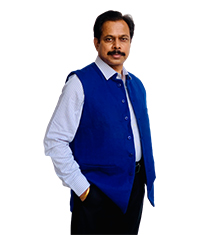 Engineer Rameshwar Prasad
(B.Tech., M.Tech., P.G.D.C.A., P.G.D.M.)
P: (+91-11) 22615299, 22615833
M: (+91) 9810105218, 9654255234