ASTROLOGY
Moon Sign Forecast For Scorpio in 2017

Scorpio - Vrishchika [Moon Placed In Scorpio]
Nakshatra - Vishakha last quarter, Anuradha, Jyestha
Indian Star Sign: Visakha 4; Anoorada 1,2,3,4; Jesta 1,2,3,4 padas
Name starts with Sounds (To, Naa, Ni , Nu, Ney, Ya, Yi, Noo)
Rashi Lord - Mars
Rashi gem - Munga
Favorable color - Red
Favorable day - Tuesday
Favorable number - 9
Favorable dates - 9/18/27
General
Scorpions are very secretive and difficult to decipher. You are over protective of your loved ones but they find it stifling because of your possessiveness and jealousy. You are easily hurt and are not very forgiving to those who have hurt you. You have a tendency to harbor grudges for ever. Steer clear of addictions as you have a tendency to use them as tools of escapism. You do best in field where your natural intuitive skills can be used.
In general Vrichaga rasi people are adventurous and love excitement. They are good conversationalists as well as orators and often rely too much on their own intelligence.
Annual Forecast 2017
Shani Sade Sati/Dhaiya: Scorpions will experience the effects of Sadhe Sati.
Effects of Sade Sati: Growth in business, Benefits, Happiness and Auspicious events at home
Suggestion: Avoid using vehicle and stay alert for your health.
Positive side: You are courageous and fearless.
Negative side: You need to save yourself from bad addictions.
Auspicious number(s): 9, 18, 27, 36, 45, 54, 63, 72, 81 and 90
Auspicious color(s): Red, Yellow, Orange and White
Auspicious direction: North
Auspicious thing(s): Red lentils and Jaggery
Jupiter in 11th house till mid September and then in 12th house, Rahu in 10th house and Ketu in 4th house till mid September, Saturn in 1st and 2nd houses throughout the year, together determine the major transit results this year.
In this year's chart, Mars (your sign lord) is placed in your 4th house, Aquarius.
Both Venus and Ketu are located along with your zodiac sign lord. Jupiter is very well placed in 11th house the house of relations, friends and profits.
You would find yourself in the midst of a lot of activities and actions for most parts of the year. Despite positive events, personal life and personal relationships could be very difficult for you. Broadly speaking, you will find the effect of Saturn receding after more than two years of negative period where it influenced your personality and changed your temperament to a large extent.
The movement of Saturn from Scorpio to Sagittarius will take place on the 25th January 2017 and will make your temperament and ability to be flexible and interact with people much better now.
There would be gains from real estate and some amount of progress due to extended family will also become possible for you during this time. Family life could get affected and you might find distance from people around you also after 25th January 2017. Some difficult trends could start after the 6th April and continue till the 28th August 2017.
Setbacks could be experienced in personal matters as well as work related issues after the 20th June 2017 and would continue till the 25th October 2017.
2017 with respect to different aspects in your life
Health : Chronic ailments may trouble you from time to time. You should be specially careful during February. March and December.
You are specially prone to lung problems and attacks from cold and cough . You should avoid dust and pollution as much as possible in your day to day life.
Finance : Retrograde Mercury is located in your 2nd house.
Also, Saturn will be entering your 2nd house soon. Money matters will not be in your control.
Though income appears on paper, you will not be able to see enough cash. People expecting money from you will also remain disappointed.
You need to find alternate sources of sending and receiving payments.
Education : For students, the period till September is the most beneficial one. Your capabilities and memory will support you in your educational field.
During last 3 months of this year, they can lose focus.
Career : 10th Lord Sun is well placed in your 3rd house, which indicates changes at work place.
You may experience the sweet fruits of Success, a lucky period in fact which had started from last year itself. Your career is about to reach a climax for better specially during the second half of the year. The month of January itself can bring an important breakthrough and recognition in your profession and career.
Family : One of the family members will either travel long distance or seperate permanently.
Legal issues need to be settled when no major planet like Jupiter, Saturn, Mars, Venus and Mercury are retrograde.
Retrograde Mercury in 2nd house indicates some health issues for kids.
Travel : You should travel only when necessary.
Pilgrimage during early part of the year may not give you much satisfaction.
Romance & Married life : Finding faults and making criticism are your chief shortcomings on your relationship front. But you must not take your partner for granted, because beyond a point he/she will neither accept you nor will forget or forgive you. You should keep this in mind during this year. Your married life will be mixed with usual ups and downs during this year. For unmarried Scorpio people , the second half of the year will be most suitable for marriage and life partnership.
For short term love and romance the months of March , April and months of July and August will be most favourable.
Remedies :
Worship Lord Hanuman and Lord Shiva daily.
Recite Sundar Kaand on Saturdays.
Observe moral values and religious traditions during Saturdays.
Donate clothes and footwear to physically handicapped on Saturdays and Wednesdays.
Offer food to the needy people on Tuesdays and Saturdays.
Offer green fodder to the cow regularly.
Worship Goddess Lakshmi on Fridays.
Er. Rameshwar Prasad invites you to the Wonderful World of Indian Astrology.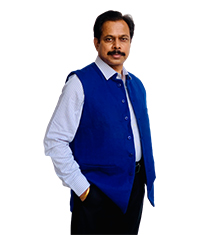 Engineer Rameshwar Prasad
(B.Tech., M.Tech., P.G.D.C.A., P.G.D.M.)
P: (+91-11) 22615299, 22615833
M: (+91) 9810105218, 9654255234