ASTROLOGY
Moon Sign Forecast For Aquarius in 2017

Aquarius - Kumbha [Moon Placed in Aquarius]
Nakshatra - Dhanishta last, Satabhisha, Porvabhadra 1 st 3 quarters
Indian Star Sign: Dhanista 3,4; Satabisham 1,2,3,4; Poorvabhadra 1,2,3 padas
Name starts with sounds (Goo, Gay, Su, Sa, See, So, Say, Da)
Rashi Lord - Saturn
Rashi gem - Neelam[Blue Sapphire
Favorable color - Blue and Black
Favorable day - Saturday
Favorable number - 8
Favorable dates - 8/17/26
General
The thinkers of the zodiac, original ideas are as much as a part of your mental faculty as water in a well. You need to realize what is plausible and far stretched. You possess a strong streak of independence and hate being tied down. You attract friends from all spheres of life. Your reactions can be unpredictable and confusing. You have creativity in abundance and can do well in related fields. You love traveling and give importance to privacy. Health wise, eyes and lower body demand attention.
Though Kumbha rasi are slow to observe, you are very shrewd and intelligent. You will learn to master all the arts which are under the sun.
Annual Forecast 2017
Shani Sade Sati/Dhaiya: Aquarians will not experience the effects of Sadhe Sati and Dhaiyya.
Suggestion: Avoid useless arguments.
Positive side: Your decision making power is quite good.
Negative side: Don't trust anyone with closed eyes.
Auspicious number(s): 4, 8,13,17, 22 and 26
Auspicious color(s): Blue, Green, Purple and Black
Auspicious direction: West
Auspicious thing(s): Black lentils, Black sesame and Black garbanzo beans
Jupiter in 8th house till mid September and then in 9th house, Rahu in 7th house and Ketu in 1st house till mid September, Saturn in 10th and 11th houses throughout the year, together determine the major transit results this year.
In this year's chart, Saturn the ruling planet of your sign is wobbling between 10th and 11th houses from your zodiac sign.
Venus, Mars, Ketu in your sign are creating some confusion.
2017 you will find yourself much in control, there would be gains and progress due to efforts made by you in the past. Further luck would be high and you will find some karmic influences that will help you progress and lead a happier life compared to the past. Finally you will yourself much in control and would be able to deal with people in a better manner and be able to find yourself a good amount of deals as well as favorable terms in nearly everything you do during the year.
2017 would be a year controlled by the effects of Saturn for you. But in your case Saturn has some very favorable and positive effects. The year will start with you in control of everything around you whether its profession or personal life. Beyond 25th January 2017, Saturn will move sign from Scorpio to Sagittarius and will give you a jump up in terms of gains and income.
The level of control and power that you have been experiencing might slow down a bit but income and gains should come up tremendously during this time.
Year 2017 is good for civil servants, charted accountants.
2017 with respect to different aspects in your life
Health : Mental health will be stronger than Physical health. i
In 2017 your health will be in reasonably good state . However you must be careful during February and March and also during the last 2 months of the year.
Finance: 2nd house signifies accumulation of wealth and the prosperity of family. The second house in this year's chart is Pisces and its lord is in 8th house.
This indicates suddenly gained money will also spent at similar pace.
Your accounts will not remain in your control. However, there will be enough to spend in one or the other forms.
Investments and speculations must be avoided.
Education : 2017 remains an inauspicious period for students. Success comes only during final quarter of this year.
Higher education, research prospects, competitive exams will elude you atleast for initial 8 months.
Career : Saturn this year is located in your 10th house, Scorpio, the house of profession. Concentration in whatever you do, as well as trust and dedication is the hallmark of your character. These traits are so evident in you that people will easily trust you and depend on you You get deeply involved in anything that attracts your attention. You do not get upset easily and proceed with your work and duties calmly and with commitment.
Work that requires sustained hard work and dedication is the most suitable for you. You will be good in those fields that attract you instinctively.
You are serious and thoughtful and possess the capability to acquire knowledge and skill in diverse fields. At a later age you can achieve great success in your profession and career. But all these will come to nothing if you do not discard two of your shortcomings love of comfort and being long-winded. The months of January, July and October will be most favourable for you in your profession and career during this year.
Family : This year shall be average for your family life. Your partner will not appreciate your behaviour and attitude.
Children will remain unresponsive.
However, one happy moment will give you satisfaction and pride.
Travel : Do not plan long distance travel atleast till September 2017.
Attempts to settle in foreign land can fail initially.
Romance & Married life : Rahu is located in 7th house from your zodiac sign during this year. 7th house is the house of Partnership both life partnership as well as professional partnership. Rahu may cause ups and downs in your relationship front during this year. Rahu makes new relationship as well as it breaks old relationship.
The second half of the year will be most favourable for new love and romance during this year.
For married couple the year will give mixed results. You should be extra cautious and careful during the first half of the year to maintain the maximum harmony in your marital life.
Remedies :
Worship Lord Shani regularly.
Offer food to the saints, ascetics, and needy children.
Offer food to poor people at religious places.
Get up before sun rise and practice Surya Namaskar.
Visit Bhairava temple on Sunday.
Use more of black grams, bengal grams, and black pepper in food.
Respect needy and labor-class people. If possible, try to help them.
Er. Rameshwar Prasad invites you to the Wonderful World of Indian Astrology.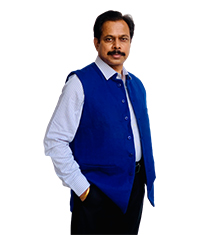 Engineer Rameshwar Prasad
(B.Tech., M.Tech., P.G.D.C.A., P.G.D.M.)
P: (+91-11) 22615299, 22615833
M: (+91) 9810105218, 9654255234