ASTROLOGY
Sun Sign Forecast For Pisces in 2017

For natives born between February 20 to March 20
(These predictions are Solar-based. Readers are requested to take date of birth into considering when reading these predictions.)
Hindi Name: Meen
Date of Birth: 20th Feb to 20th Mar
Ruling Planet: Guru (Jupiter)
Nakshatras: Revati, Uttra Bhadrapad
Lucky Numbers: 3, 5, 12
Lucky Days: Monday, Thursday
Lucky Colours: Yellow, Green, White
Lucky Stones: Moonga, White Sapphire, Cats Eye

The twelfth and last sign of all zodiacs, Pisces is known for its compassion and introspect. Ruled by the benefic planet Jupiter, sun enters Pisces around 20th February and makes an exit around 20th March. Symbolized by the arrow, Libra is a judgmental and fiery sign that is governed by divinity and wisdom. The journey of life right from infancy to adulthood requires introspection and intuition at regular intervals, this particular sign is a storehouse of all such thoughts. This is a sign of philosophy for the reason that planets placed here bestow refinement on Pisceans, with a touch of sensitive sensibilities. There is a planetary delight for all Pisceans as they can look forward to celestial bonanza.

Pisces Horoscope 2017
Do you want to have a super-duper great year?  Take the right steps and this year will be one to remember by for a long time to come. Just keep on moving with the times with razor sharp mind and ready intelligent.
The ingredients for a perfect year…accomplishment, success, money and recognition all rolled into one. Uranus having entered you sun sign, it becomes the perfect stage for you to sparkle and set the world on fire.
Jupiter will help you to have a wonderful insight into your relationship status for the coming seven years and you will have a sparkling year ahead, both in terms of professional success and personal fulfillment.
There will be so many opportunities, that you will be tempted to take up all of them, but you need to focus and figure out which are the ones tailor-made for you. Let us then take a look that what the year 2017 has in store for the Pisces in 2017.
Love and Relationship
Saturn travels far in April, and you become more flexible, malleable and less stiff in matters of the heart and being friendly with people of the opposite sex. This change in your behavior will glean more admiration from your partner and they will be closer to you.
The stiffness and difficulty of the last two years will melt away more towards the second half of the year, and you will show a lot of romance and passion towards your significant other half. The single will not lack for any romantic opportunity this year and will have a fabulous time plating the gallant lovers.
With the softening of your stance and lowering of your guards come numerous overtures of friendship, and there will be opportunities of making friendship with people. The single natives born under Pisces, aspiring to marry the third time, will settle down into matrimony. There will be many opportunities to lighten up the romance and passion this year. This will also be an auspicious year for those who wish to conceive. Thus, overall an extremely good year in terms of love and romance for the Pisces.
Career and Business
The beginning of the year does not bode too well for you in terms of your professional capacity. This is a period which will not be very conducive for professional advancement.
As the second half of the year approaches, you will be in a position to control the entire situation and swing it to your favor. There will be time when you will be disappointed with the lack of appreciation in spite of your hard work but that phase will be over as soon as Saturn wraps up its journey. As a result of the past few years of severe hard work, there will be now benefits to reap and lot of money as a result. There is also a possibility that some of you will be able to turn a hobby into a profitable venture during this phase. There is a chance of reaping profits from social connections this year. If you are planning to start a new venture then there could be certain risk factors though. There will be multiple options to choose from when it comes to work this year and you will have to be very specific while choosing an assignment.
Health and Wellness
This year is a mixed bag when it comes to health this year for the natives born under Pisces. Those born under this sign needs to be very careful and cautious about their health and also needs to take care that they are not burnt out due to overt stress and fatigue. However on the other hand, you will be very energetic and will be absolutely focused in getting things done. There could be small irritation regarding digestion, liver problems etc. be careful about your health from 11th of August, 2017.
Money and Finance
Jupiter in your fifth house indicates that money will be almost abundant this year. This is a phase when by the dint of your efforts there will be an abundance of money and earnings. It is also clearly indicated that those who are involved with creative arts or performing arts will do exceptionally well and will have good earning potential. It is understood that when Jupiter is posited in Cancer, it not only ushers in wealth but also happy wealth. Those in the business can check out the opportunities in sports, entertainment, hotels, resorts, restaurants, residential properties etc. as with career, there will also be multiple aspects from which there will be increased earnings. There will be luck in all the speculations you do this year and so  get over any kind of fear regarding finance and plunge ahead. You will learn that you can attract wealth by appearance, reputation and good standing. Jupiter in the second half of the year moves into Leo and that is good news for career and finance as it indicates pay rise, better position etc.
Family and Relatives
There will be a sense of aloofness and a sense of not belonging for the natives of Pisces in the year 2017 in the realms of family as well as relatives. There will be problem related to the sphere of family which you will not be able to evade and which may lead to a feeling of being cooped up and cramped up. Saturn moving into your 4thh house often signifies an amount of depression related to these reasons, which must be avoided. Your home and your family life are far better sorted and organized than it was in the previous years and you have already learnt how to balance home and career. Taking cue from that you will relegate responsibilities to everyone diligently and the mechanism will be running smoothly. This year you will be able to develop a sense of camaraderie amongst your family members and by dint of that the disagreements and discords will not blow out of proportion.
Travel and Vacation
Travels undertaken due to professional reasons will prove to be beneficial for you. People aspiring to settle abroad may finally be able to do so. Journeys will yield good results and there is also the possibility for some natives of Pisces to settle abroad.
Education and Studies
It is an extremely propitious year for those born under the sign of Pisces in terms of education in the year 2017. Those students pursuing technical education in a higher discipline can expect splendid results in the last 3 months of the year. While still in college they are expected to get good opportunity through campus recruitment.
Areas of Growth
This year whatever you had planted and started starts yielding results.  The work you had started will start showing results form this year. In matters of your personal self, you will become more flexible in behavior and demeanor and not remain rigid about things. You will feel the blessings of your good Karma and Neptune brings to you clarity in things too.  There is a strong urge that you may trust your instinct.
Areas of Challenge
The areas of challenge will be choosing the right path this year. As mentioned earlier, whether it is for work or personal life, there will always be multiple options. The biggest challenge would be to choose then amongst them the correct one to take you forward. It will also be challenging to let go of your stern behavior and adopt an easier one.  It will be a challenge taking care of your own self, but note with that only will you be able to take care of others.
Areas of Excitement
The biggest exciting thing this year will be your finance. The aspects of business, finance and personal life falling into place with equanimity is also a definitely great thing. Some of the natives of this sign will very successfully be able to transform the hobby making ideas that they had, into money making ideas. Relationships undergo a transformation following your changed outlook and get infused with renewed love and passion. Personal life and professional life will be at a potential peak towards the second half of the year.
Areas of Change
There are drastic changes occurring in the personal sphere and in the sector of family and relationship. Your previous experiences have all taught you to be more challenging and proactive in the face of certain challenges. Now is the time to apply those. There will be eclipses taking place in your sign, signaling a deep subliminal change in yourself, hitherto unobserved from outside.  There will be lot of changes, from the way you dress to the way you think. This will be a year of changes and you will be benefiting hugely from it. You will come to understand yourself better this year leading to a lot of betterment in all fronts.
Favorable Months – March, April, June, July, September, October, December
Unfavorable Months – January, February, May, August, November
Favorable Colors – Sea Green and Aqua
Lucky Numbers – 3 and 7
Pisces Monthly Horoscope 2017
Let us have a look at how the monthly horoscope of those born under the sign of Pisces in 2017 looks like.
January – It is like it is the main caption of the month of the whole year. This is a month for making spiritual development and for gaining new inner spiritual inspirations. The danger is that you will leave the world completely with your spiritualism. This is one of those months where your ambitions are strong. Outer success in the world will lead to emotional harmony. Your dear ones are also supportive. Money also comes from your career success.
February – You have the power and the complete capability to change undesirable conditions – and you should use it to the fullest. This is a month for the fulfillment of sensual admiration and fantasies. You will be looking wonderful this month. Your beloved ones will be on your side.
March – You know that life is much more than just the pursuit of sensual admiration. Make the necessary changes to achieve your comfort and happiness. Your career is important, but you can apply more time with family and emotional issues. All wealth is waiting for you.
April – Your Money House will become stronger. Some financial changes are taking place. Things seem to get worse before they get better. There are important educational changes happening. Health will be absolutely fine.
May – It is the time to dream about your career. The time for action will come. Your dreams of career will shape its future reality. You are adopting the image of wealth. You can shape your financial life pretty much as you desire.
June – Family comes first during this period. Respect your feelings. Your happiness and success are dependent on others and you need their grace and co-operation. Love seems to be happy in this month.
July – Attitude will become stronger. Self assurance is not as strong as usual. Career will become more strong and active. Health seems to be good. You are more courageous in money matters and achieve goals very quickly.
August – Finances are active but can prove to be stressful. Earnings are going to come, but you are working very hard for them. If you have good ideas, there is outside capital easily available. You are mixing with people of high status and high prestige.
September – Your social skills advance your career. Your ability to help others prosper and to see their financial needs and perspective is a great career and will lead to promotion. Personal earnings seem stressful. Love is in the air. Adjust to conditions as best you can.
October – It indicates strong outward ambitions and needs for outward achievement. Love is happy in this month. New friends come into the picture and your social life expands. Criticism and pettiness are the greatest threats to love.
November – The best thing you can do for your family is required to succeed in the world. Happily the family seems understanding and supporting of your career goals. Health is more stressed. Sudden and dramatic change could happen in love this month. Financial still need much work and effort.
December – You can safely downplay family and domestic concerns and focus on your career. Be polite to others, but go your own way. Everything in life is a matter of degree. Love is still very volatile. Financial decision – making is apt to be much better.
Er. Rameshwar Prasad invites you to the Wonderful World of Indian Astrology.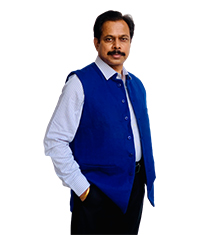 Engineer Rameshwar Prasad
(B.Tech., M.Tech., P.G.D.C.A., P.G.D.M.)
P: (+91-11) 22615299, 22615833
M: (+91) 9810105218, 9654255234