Vaastu Muhurat

| | |
| --- | --- |
| According to mahurat chintamani, Leo constellation (singhasth), Vyatipat, Vaidhriti, Dagdhtithi, Guru (Jupiter), Shukra (Venus) when set, weak moon, Rikta tithi (4/9/14) are not auspicious for starting house construction work or any other good and auspicious work. Some scholars are of the opinion that if Jupiter or Venus are set (Tara) it doesn't matter. | |
Given below are the sun Sankranties during which if construction work is started it gives varied results:
1. Sun in the Aries (Mesh) Rashi 14 April to 13 May-very good.
2. Sun in the Taurus (Vrish) Rashi 14 May to 13 June-increase in wealth
3. Sun is in Gemini (Mithun) Rashi 14 June to 13 July-Death
4. Sun is in Cancer (Kark) Rashi 14 July to 13 August-very good
5. Sun is in Leo (Singh) Rashi 14 August to 13 September - increase in number of servants.
6. Sun is in Virgo (Kanya) Rashi 14 September to 13 October -Diseases
7. Sun is in Libra (Tula) Rashi 14 October to 13 November - Happiness/comforts
8. Sun is in Scorpio (Vrishchik) Rashi 14 November to 13 December - Increase in Wealth.
9. Sun is in Saggitarius (Dhanu) Rashi 14 Dec. to 13 January-loss
10. Sun is in Capricorn (Makar) Rashi 14 Jan. to 13 February-gain of wealth.
11. Sun is in Aquarius (Kumbh) Rashi 14 Feb. to 13 March-gain of Jewels
12. Sun is in Pisces (Meen) Rashi 14 March to 13 April-Fear
Therefore the 3rd, 6th, 9th and 12th i.e., Mithun (Gemini), Vigro (Kanya), Saggitarius (Dhanu) and Pisces (Meen) Rashies are not suitable and auspicious for starting house construction, and the work should not be started during the period sun is in these Rashis.
Among the months, Baisaakh, Shravan, Margshirsh Magh and Falgun are good for the work. Bhadrapad and Kartik are also normally permissible. Construction work should be started on the dates (tithis) 2,3,5,6,7,10,11,12,13,15 and the 1st of Krishna Paksha (dark fortnight).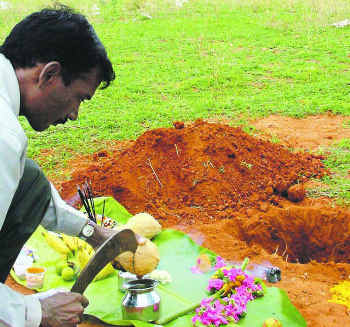 Prohibited date - Starting the construction work on the dates 1,4,8,9,14 and 30 (Amavas) brings Poverty, loss of wealth, loss of money, death of wife, fear from the rulers. Therefore work should not be started on these dates.

Constellations - The Nakshatras Rohini, Mrigshira, Chitra, Hast, Swati, Anuradha, Uttarashdah, Uttar Bhadrapad, Uttar Falguni, Dhanshtha, Shatbhisha, Revati are good for starting the house construction work.

Lagna - Aries, Gemini, Leo, Virgo, Scorpio, Aquarius, and Pisces Lagna, when it is not Panchban and it is not the period of Bhoomi Shayan, and there is some beneficial planet in the centre and triangle positions, and the eighth house is beneficial when there are cruel planets in 3rd, 6th and 11th houses; such periods are good for auspicious starting of the construction work.

Bhoomi Shayan - On the days of constellations 5/7/9/12/19/26 the earth is 'sleeping' (Bhoomi Shayan) .it is not auspicious to start construction work during Bhoomi Shayan.

Days - Monday, Wednesday, Thursday, Friday and Saturday are good days to start construction work. On Sunday or Tuesday starting the work should be avoided.
For starting the house construction work, Vrish-vasta calculation should be done. If the constellation of the day counted from that of the sun comes upto 7, it is inauspicious, next 11 it is god and next 10 are again inauspicious. Abhijeet should also be included in counting.

Vishisht Yoga (Special combinations) have also been described to start the house construction. The combination of seven Sakar (starting with 'S' Viz. Saturday, Swati nakshatra, Singh (Leo) Lagna Shukla Paksha (Moonlit fortnight), Seventh tithi, Shubh yoga and Shravan month, is very good for starting the work of a house. It will fetch to the owner growth of all wealth and fortune along with the gain of conveyance, wealth and prosperity, sons and grandsons etc.

House construction is not allowed in singh (Leo) Lagna, it should not be started in this Lagna alone, but if the above combination is there with Singh Lagna starting of the work is auspicious. House construction started in Shukla Paksha brings happiness, while that in Krishna Paksha it brings loss. Therefore it is better to start the construction work after well consideration of the Shukla or Krishna Paksha.
Vastu Muhurat 2020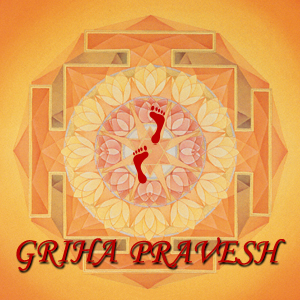 Griha Pravesh Dates 2020 | House Warming Dates 2020

Griha Pravesh Muhurat dates in 2020, Auspicious Dates and Time for Moving into New House in 2020, Griha Pravesh dates 2020, Dates of House Warming Ceremony in 2020

Griha Pravesh means entering in to the new House. Hindus perform this on only on shubh muhurat. Griha Pravesh is an important ceremony celebrated by hindus at the time of entering into the new house. Hindus prefer auspicious day and time to perform this. Below are the auspicious Griha Pravesh dates for the year 2020.

Best Griha Pravesh Mahurats In 2020 

Date - Day - Tithi

29th January - Wednesday - Panchmi

30th January - Thursday - Panchmi

3rd Feb - Monday - Dashmi

5th Feb - Wednesday - Ekadsahi

13th Feb - Thursday - Panchmi

26th Feb - Wednesday - Tritiya

9th March - Monday - Purnima

11th March - Wednesday - Tritiya

12th March - Thursday - Tritiya

18th March - Wednesday - Dashmi/Ekadashi

19th March - Thursday - Ekadashi

25th April - Saturday - Tritiya

27th April - Monday - Panchmi

8th May - Friday - Dauj

18th May - Monday - Ekadashi

23rd May - Saturday - Dauj

15th June - Monday - Dashmi

19th November - Thursday - Panchmi

25th November - Wednesday - Ekadashi

30th November - Monday - Purnima

10th December - Thursday - Ekadashi

16th December - Wednesday - Tritiya

23rd December - Wednesday - Dashmi


Griha Pravesh Mahurats In January (Magh), 2020

January is also known as Magh according to the Hindu panchang. There are only few auspicious mahurats or nakshatra in January for griha pravesh ceremony. However, Makar Sankranti that falls on January 14, new homebuyers are advised to do charity on that day for well-being and prosperity of the occupants of their new home. 

1) January 2: 4.23 AM to 9 PM

2) January 8-9: 4:14 AM to 3.44 AM

3) January 29-30: 12:13 PM to 1:19 PM

Griha Pravesh Mahurats In February (Faghun), 2020

There is many mahurats for griha pravesh in February. Consult the local priest if there are other mahurats based on your horoscope. Here are some of the auspicious mahurats in the month- 

1) February 5: 12 AM to 9.31 PM

2) February 26: 12 AM to 10.08 PM

Griha Pravesh Mahurats In March (Chaitra), 2020

There are not many auspicious dates for griha pravesh ceremony in March after and before the festival of Holi. Here are few dates that you can consider for the housewarming. The first auspicious date for Griha Pravesh ceremony falls on March 2. Following are other prospective dates that you can consider-

1) March 2: 8.55 AM to 12.53 PM

2) March 30: 12 AM to 2.01 AM

Griha Pravesh Mahurats In April (Baisakha) 2020

There are some really auspicious mahurat for housewarming ceremony in April. Akshay Tritiya is considered to be the best time for shifting to your new home. This year, the eve falls on April 26. There are few other suitable days in the month that are auspicious for Griha Pravesh. 

1) April 6: 12.16 PM to 3.52 PM

2) April 8: 6.07 AM to 8.04 AM

3) April 27: 2.30 PM to 11.59 PM 

Griha Pravesh Mahurats In May (Jyestha), 2020

The month of Jyestha consists of last few days of May and initial days of June. The initial half of May is Baisakh which is considered very lucky for housewarming ceremony. You can consider following shubh mahurats for griha pravesh ceremony:

1) May 4: 12 AM to 6.13 AM

2) May 25: 12 AM to 6.10 AM

Griha Pravesh Mahurats In June (Ashadh), 2020

As per the Hindu Panchang, June comprises of Jyestha and Ashadh. The housewarming ceremony should be considered in Jyestha and not in Ashadh. Consider following dates for your house-warming ceremony-

1) June 1: 12 AM to 3 AM

2) June 5: 3.16 AM to 4.43 AM

3) June 15-16: 5.23 AM to 3.18 AM

Griha Pravesh Mahurats In July (Shravan), August (Bhadrapad), September (Ashwin), October 2020

Homebuyers should avoid shifting to their new home in July, August, September. According to the Hindu panchang, the period is inauspicious and could bring losses, health issues and troubles.

Griha Pravesh Mahurats In November (Kartik) 2020

There are many mahurats in November for Griha Pravesh ceremony. The first mahurat in Kartik falls on November 16, 2020. Here are other mahurats in the month of November. 

1) November 16: 7.06 AM to 2.37 PM

2) November 19: 9.39 PM to 9.59 PM

3) November 25-26: 6.52 AM to 5.10 AM

4) November 30-December 1: 2.59 PM to 6.57 AM

Griha Pravesh Mahurats In December (Marghsheesh, Paush) 2020

House-warming ceremony should be done only during the initial days of December as the Paush (the Hindu month for December) is considered inauspicious and brings bad luck for the family. The shubh mahurats for house-warming in December are-

1) December 10-11: 10.51 AM to 7.04 AM

2) December 16-17: 8.04 PM to 3.17 PM

3) December 23-24: 8.39 PM to 4.33 AM

Please note that these dates given are only to provide a general idea. You should consult a local priest to get exact date and time of Griha Pravesh. These are subjected to change according to location and other beliefs.

Griha Pravesh muhurat for a new home is something like the housewarming ceremony performed in the western countries, though with a traditional touch. The seed of a new home will grow into a plant with branches, leaves, and flowers as in the family. Griha Pravesh symbolizes enthusiasm and rejuvenation for a new life.

We wish this griha praveshmuhurat 2020 will be helpful to you in order to organize the upcoming griha pravesh ceremony in a great way.

Here we are providing these dates for general idea. These dates and timings may vary by region. Please consult your local priest for exact muhurat.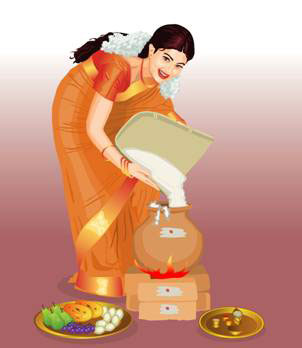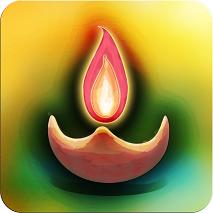 RAHU KALA TABLE (CHART)
This Rahu kala Table has been prepared presuming the Sun rise at 6'o clock. Depending upon the local Sun rise time, the Rahu kala time needs to be adjusted. Calculate the time between sunrise and sunset, and divide it in to 8 equal periods and calculate the Rahu Kala period as below for your locality.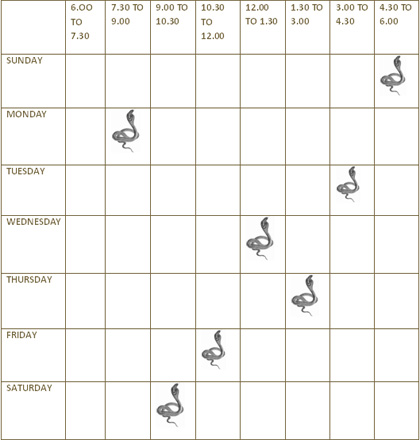 Rahu kala is not an auspicious time for starting any new works. Any work started during rahu kala ends up in problem and disappointment.
To perform Durga puja in Rahu Kala is very auspicious.
CLICK HERE FOR PRINCIPLES AND TIPS OF VAASTU ARCHITECTURE
CLICK HERE TO KNOW OUR SERVICES AND CHARGES
Rameshwar Prasad invites you to the Wonderful World of Vaastu
CONTACT THE CONSULTANT
Engineer R. Prasad (B.Tech., M.Tech., P.G.D.C.A., P.G.D.M.) VAASTU INTERNATIONAL
49 C (Second Floor), Pocket- B, SFS Flats,
Mayur Vihar,
Phase-III,
New Delhi - 110096,
INDIA
TeleFax : +91-11-22615299 (Landline), Mobile : +91- 9810105218
e-mail : vaastuinternational@yahoo.com vaastuinternational@gmail.com
Languages


English


Français


Español


Deutsch


Italiano


Portugues