NUMBER FOUR
Number 4

Number Four – The Conservative

Famous Number Four Personalities: George Washington, Lord Byron, Neil Diamond, Arnold Schwarzenegger, Paul Hogan

Number Four Good Traits: Traditional, Organized

Number Four Bad Traits: Stubborn, Persistent

Number Four Lucky Color: Turquoise
Your lucky number is 4
The planet governing you is the Pluto.
Your life is full of unexpected happenings. For example, you may suddenly become millionaire and due to certain reasons you may even become penniless. You may suddenly acquire some disease and suddenly it may disappear also. You are very expert in the art of making friends. But your friendship will not last long. Only one or two of your friends will support you, all other will only be taking undue advantage of your good nature, tolerance and good position.. You may run into losses if you act on the advice of others.
You will be more influenced by Pluto if you are born between 21st June to 31st August. In that case you can bring revolution in the field of politics, Society or religion.
You can succeed in the Business of Electrical equipment, Tobacco, Wine, Spirit, Narcotics and Mining.
For success and progress in your business and job the directions of south-east and south-west will be favourable to you. The directions of North-west are not be favourable to you.
For MARRIAGE purpose, the persons born on 2, 4, 5, 6, 8 and 9 of any month will be suitable to you and they can be your FRIENDS also. But the people born on 1, 3, and 7 of any month are not suitable to you as a marriage partners. You are advised not to keep friendship with them.
Every year during the months of October, November & December, take special care of your health and unnecessary expenditures.
The period from 21st March to 28th April and from 10th July to 20st August brings prosperity and good luck to you. The dates favourable to you are 4, 13, 22, 31 and specially if they fall on Saturday, Sunday or Monday. You are advised do all your important work on these days.
The colours favourable to you are Blue, Grey. To avoid accidents you should prefer the Car and two wheelers of these colours. You should prefer the clothes of these colours and keep handkerchief, pens in your pocket of same colours. Caution - Don't use black colour, otherwise you can have an accident.
Your lucky year of your life will be the 13, 20, 22, 28, 29, 31, 37, 38, 40, 46, 47, 49, 55, 56, 58, 64, 65, 67 and 74th.
You may suffer from problems of lungs, liver, diabetes, urinary troubles, diseases of the feet, and other problems which will be difficult to diagnose.
For improvement in your luck and health , you must keep a fast on Tuesday . For gaining a lot of wealth and success in business, you must keep a suitable Yantra with you and at the place of worship in your house .
For your luck and good health wear Sapphire (Neelam) in iron ring made out of the horse shoe of the black horse.
Signature
Your signature should slant upwards and should not be less than 4 cm. Also after half the signature there should be an underline.
Name characteristics of number four
Now here are some of the characteristics of persons who are ruled by rahu and number 4. Those whose name sums up to number 4, 13, 22, 31, 40, 49 and so on.
Name number 4
Person having name number 4 will have hard luck as there will be no returns of whatever hard work done and labor spent. As a result abilities of the person will not yield. He may face mental afflictions. Patience and tolerance are very necessary for these persons whose name sums up to number 4.
Name number 13
Actually some persons having name number 13 will enjoy prosperous life but still they may be surrounded by confusion and uninterrupted sorrows. Actually 13 is a number of upheaval, so that new ground may be broken. It is associated with power which if used for selfish purpose will bring destruction upon itself. There is a warning of the unknown and the unexpected.
Name number 22
Persons having name number 22 will attract the evil much quicker than the good. It will steer the powers of mind into evil paths like gambling, speculative activities, horse race, betting, alcoholism etc. They will lose all their wealth due to bad friends or immoral women. They may be involved in judicial cases. Name on this number should be avoided.
Name number 31
Having name on this number can make a person self contained, self sufficient, lonely, and isolated from others. These persons are experts in arts. They are greatly interested in spirituality. They will not be carried away by the happiness at their own success. They will establish the principles of justice.
Name number 40
These persons will have sharp intelligence. They will enjoy unexpected income of money. This number indicates success. Person having this number will enjoy success and fame in his life. He will have good wealth and property. They are daring and self confident. They can excel in agricultural or farm related professions.
Similarly persons whose name number sums up to 49, 58, 67, 76, 85, 94, 103 and 112 have different characteristics after having their names on these numbers.
Numerology 2018 Forecasts
It's not going to be a bad year, but you can't call it a good one either. You will be making sacrifices and doing compromises for things, which otherwise would have been trivial matters, on any other given day. You might even come across a thought to quit your job and start up things of your own. Although, its good, the initial struggle might exhaust your spirits; stay focused on the end goal and don't be afraid of the journey. You will find much success this year, so if one door is locked, don't stress. Just try another. You can use this year for expansion, Promotion, Marriage, social status, foreign travel, Spiritual guidance etc.
Money, Career and Business :
2018 will be the luckiest year for you. People engaged in business may identify huge growth in turnover. Starting of new business or expansion of existing business is likely this year. Who is in Spiritual, Consultancy, Trading, Service business may get super duper success. If you are active in your job, your working conditions will improve. Those who have invested in previous years will gain surplus dividends this year. 2018 will bring huge profit which you may not have seen in the past 1-2 years. You will have to travel and there could be new job opportunities in the corporate sector. Money flow would be fine, bank balance will increase. Next one year is going to be one of the best periods of life. So grab opportunities and make better future. Avoid speculation.
Marriage and Love :
Married people will enjoy their married life. If you are unmarried and looking for marriage you will get some good proposals. Dig deep and start paying attention to your loved ones. A baby may now be a part of the plan, and conception may become much more possible than any other time this year. If you are already in love, you will likely grow closer this year. If there's a problem, fix it and move on. Good support of loved ones will be there. There may be frequent journeys on several occasions.
Health :
If you are facing any health problem since long then you will find lots of improvement after May 2018. Issues relating to your mother's health might crop up and you are likely to be more spiritual and deep into charity work during this time. Problems related to Stomach may upset your health and routine life. Drink more water and eat more food which gives iron to the body. It is better to avoid spicy and oily food. Consume vitamin supplements that can recharge your body.
Tips for Enhancing Your Luck in 2018 :
Try to bind a Yellow cotton thread on your left-hand wrist.
Celebrities :
Barack Obama (4/Aug), Sarojini Naidu (13/Feb), Sardar Patel (31/Oct), Arbaaz Khan (4/Aug), Kishore Kumar (4/Aug), Sridevi (13/Aug),Tabu (4/Nov), Juhi Chawla (13/Nov), Preity Zinta (31/Jan)
Lucky Year : It's very favorable year for those who is in their 10th, 11th, 16th, 19th, 20th, 25th, 28th, 29th, 34th, 37th, 38th, 43rd, 46th, 47th, 52nd, 55th, 56th, 61th, 64th, 65th, 70th year etc.
Lucky Numbers : 1, 2, 7
Lucky Months : January, February, April, October, November
Lucky Days : Wednesday and Sunday
Lucky Color : Yellow and Sky Blue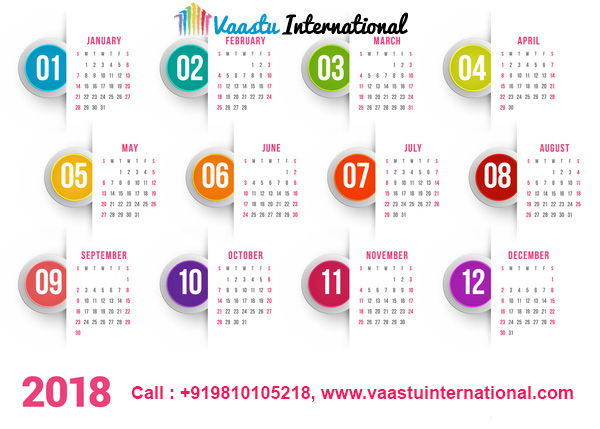 Click on your date of birth to find out the business suitable to you, your marriage partner, your lucky stone, your enemies & friends and the colour of car/ two wheeler suitable to you. Make 2018 your Best Year Ever with the help of our extremely useful forecast.
1 2 3 4 5 6 7 8 9 10 11

12 13 14 15 16 17 18 19 20 21

22 23 24 25 26 27 28 29 30 31