NUMBER TWO
Number 2

Number Two – The Peacemaker

Famous Number Two Personalities: Edison, Napoleon III, Bill Clinton, Orlando Bloom, Thomas Hardy, David Beckham

Number Two Good Traits: Friendly, Diplomatic

Number Two Bad Traits: Haughty, Overconfident

Number Two Lucky Color: Turquoise
Your lucky number is 2.
The planet governing you is the MOON, the planet of imagination.
You are very sensitive, imaginative, lover of art, peace loving and of social nature. You may not be strong physically but you are very strong mentally.
You will be more influenced by Moon specially if you are born between 20 June to 25th July. You will have a very active mind and keep your views changing.. This will result in failures in many jobs you undertake Women trust you very easily as you are soft spoken and compassionate. You cannot say no to anyone, and due to that reason, sometimes you have to tolerate the harsh words of your elders.
You can do business in the field of drinks, silver, milk, ghee, curd, sugar, pearls, diamonds, land, agriculture, dentistry etc. Ladies can go in the field of teaching and nursing. They can also succeed in the field of acting, music and dance. You will have the opportunity to travel by sea many times in your life
For your business, house and employment, the directions of north, north-east and north-west will be favourable to you. The directions of south and south-west are not favourable to you.
For MARRIAGE purpose, the persons born on 2, 4, 6, or 9 of any month will be suitable to you and they can be your FRIENDS also. But the persons born on 3, 5 and 8, of any month are not suitable to you as a marriage partners and will be your enemies.
Every year during the months of January, February and December, take special care of your health and keep control on your expenditures.
The period from 20 June to 25th July brings progress and happiness in your life. The dates 2, 11, 20, 29. Also on 1, 4, 7, 10, 13, 16, 19, 22, 25 and 28 your pending jobs will be completed. Sundays, Mondays and Fridays are good to start any work. Your business can flourish in cities situated on the bank of rivers or seas.
The colours favourable to you are Green, Light yellow, White, and light blue. To avoid accidents you should prefer the Car and two wheelers of these colours. You should prefer the clothes of these colours and keep handkerchief, pens in your pocket of same colours. Avoid using black, red & dark blue colours
The 20, 29, 38, 47, 56, 65 and 74th year of your life will be lucky for you. But be careful during 14, 23, 32, 41,50, 51, and 68st year of your life.
You may suffer from problems of lungs, heart, eyes, sleep, asthma etc. if you are not careful.
For improvement in your luck and health , you must keep a fast on Mondays. . For gaining a lot of wealth and success in business, you must keep a suitable Yantra with you and at the place of worship in your house .
For your luck and good health wear Pearl (Moti) in silver ring.
Signature
The signature should slant upwards and length of signature should be from 4 cm to 6 cm. The signature should begin at a point, turn clockwise and slant upwards.
Name characteristics of number two
Number 2 persons should not have name in number 2. Number 2 is influenced by moon and as moon waxes for fifteen days and wanes for 15 days, so there will be ups and downs in the native's life. Number 2 persons should have their names on lucky numbers 1, 5, 3 and 6. But they should avoid their name on 2, 4, 8 and 9. If the birth number is not lucky then name should be devised on the sum number. And suppose you choose 1 as your name number then status of planets associated with it should be taken into account. For example you choose 46 then status of Rahu and Venus should be taken into account. And if you choose 37 as your lucky number then the status of Ketu and Jupiter should be taken into account.
Here are the characteristics of number 2 people whose name number sums up to 2, 11, 20, 29, 38, 47, and 56 and so on.
Name number 2
It represents imagination, parenthood, conception, childhood and dreams. It applies both to both people and entities. They are extremely imaginative and inventive but not as forceful as could be in carrying out their plans and ideas. But development in their life will not be constant. Mostly they are secretive and never let anyone know what the next move might be. At times they may lack self confidence.
Name number 11
It represents two numbers of the same or the opposite situations. Two forces or two desires stand apart and must ultimately unite for happiness. They will do many business and will succeed. But disappointments and sudden accidents are part of their lives. They have to be very careful in money matters.
Name number 20
It is not a material number so it is doubtful regarding financial success. People having name number 20 may have occasional delays and obstacles in their plans but these obstacles may be removed through their developing patience. They will serve society with a sense of dedication.
Name number 29
Life of these people is filled with uncertainty, treachery, deception from others, unreliable friends and unexpected dangers. These people should certainly change the spellings of their name as this number is not satisfactory in many respects.
Name number 38
With the passage of time this number can give fame and position. They can rise to heights in their career. Though number of positive indications is there in life but still they may have to face unexpected incidents in life. Also they may have dangers from hidden enemies.
Name number 47
They will have great development in terms of money. But again unexpected incidents and unreliable people may surround them. They should follow the path of the spiritually to have peaceful and successful life.
Name number 56
These people lives extravagantly luxurious life. But some of these persons earn through foul manners. They will be successful in competitions, games etc. They will not stick to one job or they try to do many things in their life.
Similarly there are characteristics of persons having name numbers like 65, 74, 83, 92 and 101.
A combination of good letters can bring success to those having negative effects on them in their life.
Numerology 2018 Forecasts
This year, you guys will shift your focus from practical things to emotionally-driven decisions. The year 2018, career-wise, will work in your favor; you might just land up your dream job. As emotions would drive you crazy, be careful in managing your current relation, as even a small mistake may cost you, someone, dearly. 2018 is going to be a fruitful year in all aspects. You'll be successful in streamlining of personal life and career. This year 2018 is promising your prosperity. Reunion with family members and friends will keep your spirits high. There would be growth and progress for children. Health of elders needs attention.
Money, Career and Business :
There is a possibility of getting new opportunities on your business front. You as Birth Number 2, have a great chance to enhance your success in the fields of medical, pharmacy, sports, chemicals, hotels, restaurants, Films & TV, Real Estate etc. because you possess ample of courage and you also love indulging in adventures. You have excellent leadership qualities but you should try to control your anger. You are slightly rude by nature and you should try to change this behavior. Share marketing business will give average results in first half of 2018. Real estate business will start slowly and catch speed by the third quarter of this year. You are loyal to your responsibilities and always try to perform moral deeds.
Marriage and Love :
The year 2018 provides good opportunities to those who are still unmarried or who are desirous to have marital alliances. Couples should encourage clear and healthy communication to avoid misunderstandings and misplaced thoughts. You might get reasons to worry, as the health of your child looks getting affected. You should change your lifestyle to impress your partner. Existing relationships will be better than before. You need to be careful and at the same time be clear and straight in your dealings with your spouse for better relationships this year. Changing your reaction to problems or offering more love than usual will help bring your family, friends and loved ones back to where they should be loving you.
Health :
It is a great possibility that you will possess fairly good health throughout the year. Common cold, cough, and knee pain may take place. Nothing major will disturb you this year; still, it is better to take care. Have enough rest, exercise, avoid stimulants, try to have an organized schedule. You could easily lose control now or expose yourself to dangers.
Tips for Enhancing Your Luck in 2018 :
Keep 10 uncooked grains of rice in white cotton cloth and try to keep in your pocket at least when you go for important work. You can keep for all the time with you.
Celebrities :
Amitabh Bachchan (11/Oct), Shahrukh Khan (2/Nov), Rajesh Khanna (29/Dec), Vinoba Bhave (11/Sep), Mohandas Gandhi (2/Oct), Ajay Devgan (2/Apr), Sonakshi Sinha (2/Jun).
Lucky Year : It's very favorable year for those who is in their 10th, 11th, 16th, 19th, 20th, 25th, 28th, 29th, 34th, 37th, 38th, 43rd, 46th, 47th, 52nd, 55th, 56th, 61th, 64th, 65th, 70th year etc.
Lucky Numbers : 2, 1, 7
Lucky Months : January, February, June, October
Lucky Days : Sunday and Thursday
Lucky Color : Off White and Navy Blue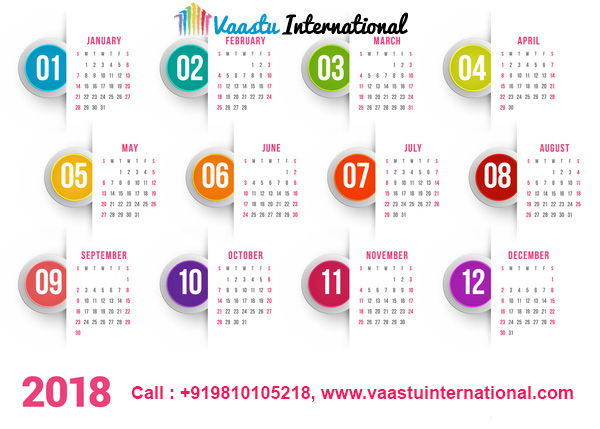 Click on your date of birth to find out the business suitable to you, your marriage partner, your lucky stone, your enemies & friends and the colour of car/ two wheeler suitable to you. Make 2018 your Best Year Ever with the help of our extremely useful forecast.
1 2 3 4 5 6 7 8 9 10 11

12 13 14 15 16 17 18 19 20 21

22 23 24 25 26 27 28 29 30 31