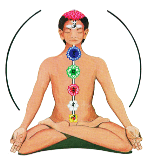 The Chakras are basically subtle energy centers in the human body, can be sensed logically. Their positions are being stated in Spinal Cord in the microform. They rotate in the formation of clockwise & anti-clockwise resulting to create invisible energy by which the organs of our body work. This invisible energy makes an outer circumference of our body (known a Aura) and protects us from negativities & diseases. It is as per the ancient Indian Sanskrit sutras (Spiritual books).
"They are not in the form of matter"
They are being known in traditional Asian Alternative Medicines for thousand of years (i.e. Reiki, Ayurveda, Acupuncture, Acupressure etc.). They are used for diagnosis as well as for treating disorders on the physical, emotional & mental levels.
Rameshwar Prasad invites you to the Wonderful World of Reiki
CONTACT THE CONSULTANT
Engineer Rameshwar Prasad (B.Tech., M.Tech., P.G.D.C.A., P.G.D.M.) VAASTU INTERNATIONAL
49 C (Second Floor), Pocket- B, SFS Flats,
Mayur Vihar,
Phase-III,
New Delhi - 110096,
INDIA
TeleFax : +91-11-22615299 (Landline), Mobile : +91- 9810105218
e-mail : vaastuinternational@yahoo.com vaastuinternational@gmail.com